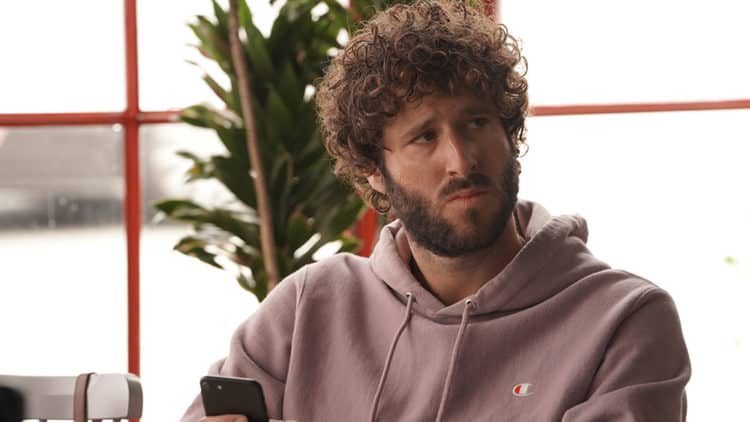 In 2011, comedian and rapper Lil Dicky set the music world on fire by dropping songs and mixtapes that captured the hearts of millions of fans. By the time 2020 rolled around, the famous rapper officially had his first television show simply named Dave, which follows a somewhat fictionalized version of the artist's life as a rapper. Currently, the FX show has received high praise for its content in the past two seasons, with a high rotten tomato score from both critics and audiences. The show is gearing up to wrap its second season and we wanted to take a look back at the best moments of the FX comedy show thus far.
Dave Raps In Front Of Rapper YG And His Crew (Season 01: Episode 01 – The Gander)
During the first episode of Dave, we're introduced to the up-and-coming rapper, who had a successful song called, My Dick Sucks, but is still trying to get some mainstream love. Enter GaTa, who meets Lil Dicky, and the new rapper gets a possible opportunity to get a feature from the professional rapper. After the whole confusion on whether Lil Dicky was getting screwed over for the money he sent to YG's manager, the Jewish rapper finally gets in the room with YG and he's put on the spot to spit a beat on Instagram and he freezes. Lil Dicky's stage freight was shown earlier in the episode when he couldn't perform his music for his girlfriend Ally. So when Lil Dicky bosses up and pulls off an impressive rap performance for the rapper, the full moment is an important character growth for the naturally shy star, and the whole rap was hilarious and entertaining to watch from the beginning.
GaTa Reveals That He's Bipolar (Season 01: Episode 05 – Hype Man)
Through Episode five, the audience venture back into the life of Dave's hype man, GaTa, where the shopping mall incident clearly indicated that something wasn't right with the rapper. Flash forward to the present day when GaTa and Dave are rehearsing for their big show and GaTa is sleeping during the whole session. Naturally, Dave isn't too happy about his hype man resting on the job until GaTa finally reveals that he's bipolar, meaning sometimes he's lazy and sometimes he's crazy. What makes Dave great is that they've never been afraid to shy away from what makes these artists human, and having GaTa announcing that he's bipolar was a powerful and heartbreaking moment. The show did an excellent job of covering this subject in a delicate and sensitive manner, though GaTa talking about Elz's being a normal black guy and Mike & Dave's bath sessions were laugh-out hilarious.
Dave and Alley Sing Together (Season 01: Episode 09 – Ally's Toast)
This tender and sweet moment was the beginning of the end for Ally and Dave. What the show does well is spotlight the hardships Dave goes through while trying to get his rap career going. Without noticing, Ally didn't feel number one in Dave's world and that came to a head throughout Ally's weekend at her parent's place. However, before the explosion that leads to a huge breakup between the lovely couple, the moment of Dave and Ally singing showcases the pure love that the rapper has for his girlfriend while also highlighting the importance of his music career at the same time.
Dave and Emma Help Create A Rap For Their Advertising Agency (Season 02: Episode 07 – Ad Man)
Ad Man gave more insight into Emma and Dave's friendship and how Dave's knack for the spotlight affects his relationships. During the flashback, Emma and Dave come up with a catchy jingle for Mountain Dew, and not surprisingly, the executives love the rap song. However, the key to this moment is the dynamic between Dave and Emma, where it's clear that Emma is not being truly being recognized for her hard work on the graphics and that doesn't sit too well with her, while Dave is oblivious to Emma's feelings because he's living on a high thanks to the spotlight being on him. The show does an excellent job of depicting the highs and lows of fame, namely the impact of his relationships by Dave's growing success.
Dave finds out his father has depression (Season 02: Episode 08 – The Burds)
Let's be honest here, Dave's mom was a total bitch in this episode. Her outbursts on Don and Dave were unwarranted; however, the moment of Dave finding out that his father has depression further cemented how Dave's drive for success has affected his intimate relationships. Episode eight was full of heartbreaking moments, with Ally rejecting him after Dave confessed his love for her being another tearjerker. The second season of the FXX show has been heavily character-focused on Dave, his friends, and family, which is likely setting up for a big character-changing moment for the title star. With Dave realizing how focusing on his rap career has severely damaged most of his relationships, will he give it all up in the near future? We'll surely find out soon!
Tell us what's wrong with this post? How could we improve it? :)
Let us improve this post!