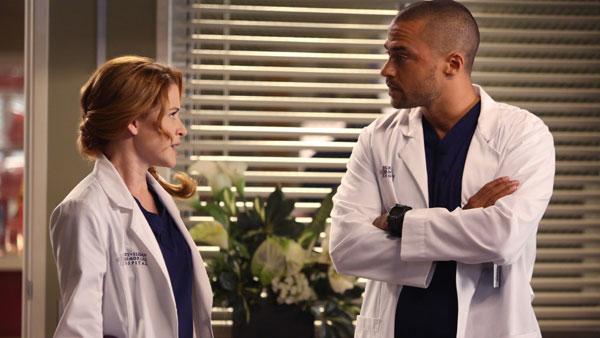 When Grey's Anatomy first began, we couldn't have anticipated that there would be another couple as equally destined which could rival Derek and Meredith. Then we got Jackson and April. Fans have watched as they went from friends to lovers to married. They've been to hell and back together, the question now is are they able to come out on the other side together? There's been a lot going on with the rest of the cast, so this Japril-dedicated episode requires a little bit of back-pedaling, and then some.
We're going through the best of the Jackson and April moments we didn't see, going all the way back to when they first met as interns at Mercy West. Can you believe that was back in Season 5? We start in the most recent present, and it's a heartbreaking reality. Jackson and April are both at the table ready to sign divorce papers. It's obvious they still love each other, but they no longer know how to be together. Not even the passion they still share for each other can save what they have.
Go back a year, to the time after April first went to the Middle East, and we find out that she wanted them to go together, but Jackson missed the flight. April managed as best she could after that, and Jackson coped by trashing Samuel's nursery. Skip back to right after Samuel first died, and it was clear that since they never grieved together, it was impossible for them to have healed together.
After all of this, it's nice to remember that Jackson and April were once very happy. We get to officially see Jackson and April announce their pregnancy with a dance party, their wedding, the conversations they had after April played Runaway Bride. And before they were married, before they were lovers, they were friends. They had an awkward conversation about April losing her virginity to Jackson, and Jackson clearly thought April was weird from the moment he met her. Yet still, they love each other.
Through this entire comprehensive view of Jackson and April's relationship, we do get some interaction with a patient, specifically Jackson's patient Tatiana. Jackson started treating Tatiana right after he and April first started, and in the present Jackson is able to be there on her wedding day. When she first came to Jackson she didn't know if she would be able to have a wedding considering they met when half of Tatiana's face was melted off. Tatiana was Jackson's first solo patient after Mark died, and as much as he's seen her through, she has seen him through. Which is why despite his marriage being in shambles, Jackson still believes in love and has the honor of walking Tatiana down the aisle.
After everything they've been through, including everything the audience didn't see, April and Jackson still can't get through it. Seconds before they are about to sign the divorce papers April asks Jackson if this is really what he wants. I'm sure this is not the "speak now or forever hold your peace" they had in mind. You can tell Jackson wants to scream no, but he doesn't. They officially get divorced. Jackson spoke up at April's wedding and never regretted telling her he loved her and marrying her. He's going to be kicking himself when he realizes he didn't speak up and his now ex-wife is pregnant. Yeah, who said love was simple?
So no amount of conversations, arguments, make-ups, or anything else they've tried was able to save their relationship. Could a fresh start and a new baby be the answer?
Grey's Anatomy Season 12 Episode 11 Review: "Unbreak My Heart"
Summary
The state of Jackson and April's marriage is not the biggest shocker on this week's Japril-centric episode of Grey's Anatomy.