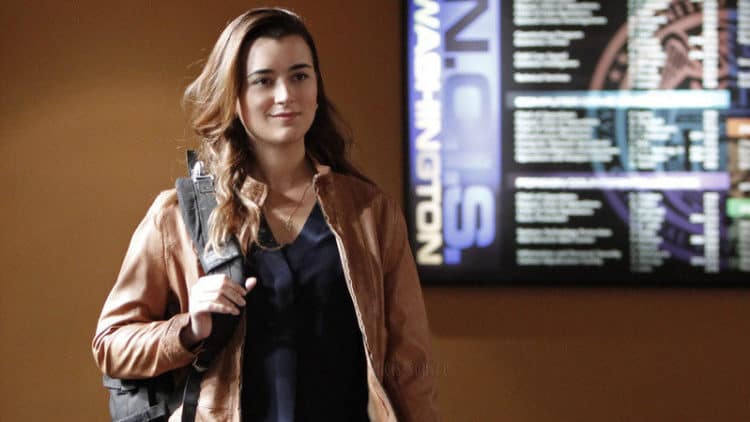 It's safe to say that Ziva broke hearts quite a few times on NCIS. Ziva David was a regular character on the hit TV show from season 3 until season 11 (2005 to 2013). The extremely talented Chilean-American actress Cote de Pablo played the character, and she was easily a fan favorite from the get go. One thing, among many things, that NCIS does right is casting. Even 16 seasons later, the creative team behind NCIS still knows how to put the right actors together. Cote fit in with the rest of the A-team quickly, and she did so up until we last saw her on screen.
Speaking of seeing Cote on screen, that hasn't happened since she left the show in season 11. That was one real heartbreak for many seasoned fans. For many years, the show teased a relationship between Ziva and Special Agent DiNozzo, played by Michael Weatherly. There were plenty of flirtations and slight romance in the 8 years that the two characters worked together on screen, just as this article from Buzzfeed pointed out. When Ziva left the show in 2011, we found out that she and Tony did actually have something real going on. They even consummated that love before Ziva left for good. Way to go, Tony. Thanks for being so last minute about it.
Fans got what they were rooting for all these years, but it was so short-lived that it was almost painful to watch. Then not too long after that, we found out that Ziva finally met her match and died. How heartbreaking that was–for NCIS to finally kill off Cote's character. It also killed off any hopes that Cote might come back to the show. According to this article from Cinemablend.com, Cote left the show in hopes that the creative team would have a better script written for Ziva's character. Even though that may be the case, Cote had always been vocal about the possibility of going back to NCIS if there's something good to come back to. Cote also always expressed how much she loved being on the show and how much she respected her character and her co-workers. Maybe it was just time for the actress to move on. There were some speculations back in 2013 that Cote was just itching to do other projects.
And that she did. After Cote left NCIS, she starred in a couple of things that went mostly under the radar. The first was a mini TV series called The Dovekeepers. The show had mixed reviews, but it was clear that Cote was still just as talented as ever. She executed the role impeccably, and fans couldn't have been any prouder of the NCIS alum. The only other project Cote did was a film called The 33. It was based on the events of the Chilean mine disaster in 2010. Along with Cote, the movie also featured other excellent actors including Antonio Banderas, Juliette Binoche, Rodrigo Santoro, James Brolin, and Lou Diamond Phillips. Roger Ebert called the film "technically impressive," but it was really more touching than technical.
Cote was excellent in that film, but we didn't see her in any other projects since. Once in a while, NCIS would somehow bring her character's memory back into a storyline. When Michael Weatherly announced that he was leaving the show, fans knew that the show was up for a little shakeup. Just before Weatherly's character Tony left, we found out that Ziva actually got pregnant and had Tony's baby. We got to see the beautiful result of years of character buildup, only to get our hearts broken again with Tony's departure–along with his baby with Ziva.
After Tony left, NCIS occasionally brought up Ziva's character in remembrance. However, the hints became more and more pointed, especially this season. There was a special promo ad that played during the Superbowl this year that blew fans' minds everywhere. The ad heavily hinted that there's going to be an episode devoted solely to Ziva. The episode in question was season 16 episode 13, titled "She." This articlebasically outlined how Ziva kept following up on a case she never solved, and she was actually doing all the work from a private office close to town. That was one heck of a revelation. Ziva was alive all this time, and she was right next door.
The question in all of our minds now is what NCIS is going to do with this new development. Is Ziva actually coming back? Is she just going to make a quick appearance? Or is her name just going to live in conversations just as it has in the last few years? Cheatsheet.com reports that NCIS executive producer Steve Binder already said that something huge is about to happen in the series. He also said that they wouldn't have teased Ziva's return without actually putting anything into play. While it's still all a little too cryptic, we can at least be sure that we'll get a little bit more Ziva information in the coming week. But given the trailer for the season's finale, we can probably expect something serious is about to happen.
Although the trailer showed or talked nothing of Ziva, we could see Gibbs acting strangely out of character. One of the few reasons we could think of why Gibbs would go out of control is Ziva. They had such a deep relationship; Gibbs treated Ziva like his own daughter. His behavior in the trailer could have something to do with what's happened or what's happening to Ziva. The episode is also called "Lost Time." There has definitely been a lot of lost time between Gibbs and Ziva, and maybe a reunion is what's coming up. We're well aware that Cote is not coming back unless there's a good story to play, and the trailer definitely teased one story that's not to be missed. If Ziva even shows up a little bit in the series finale, it almost guarantees that she's going to be active in the next season. NCIS season 17 has already been confirmed, and whether Ziva will be back or not will be clearer after next week's season finale.
Tell us what's wrong with this post? How could we improve it? :)
Let us improve this post!