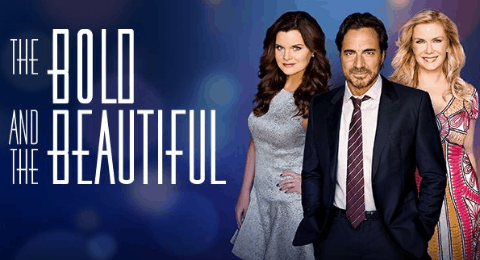 Bold and the Beautiful fans know that love is always in the air. It's not a holiday specific thing that goes around LA. They are always dealing with love stories of some sort around here, and we have a few love stories in 2020 that really do make a statement. Some of them are the greatest, and some of them were just so good in the moment. We know very few of them – if any of them – will actually make it, but we have to say that we are really into some of these stories. So, which love stories make us happy in 2020?
Ridge and Shauna
Their love story is over, but we have a feeling it won't be over forever. He and Brooke never make it work for long periods of time, even if they can find a way to make it work long-term. She broke his heart, and he couldn't get over the fact that she kissed Bill – again. When he told her their marriage was over, he engaged in the sweetest and most whirlwind relationship with Shauna. They were darling together, and we couldn't get enough. We knew when they got married and he did not remember that it would never last, but man-oh-man did we enjoy it while it did.
Bill and Katie
They will never find a way to make things work long-term while Brooke is in the picture, and they know it. They are always on again and off again and we fully expect that they will be on again and off again many more times. However, it was at the beginning of the year when Katie was hospitalized and fearful she would die without the transplant that Flo gave to her that their love story was beautiful. He would have done anything for her at that point. He would have stopped the moon and given it to her if he could, and the way tha the stepped up in that time was nothing short of entirely lovely. We called that the greatest love story they've ever had.
Sally and Wyatt
These two are just meant for one another, even if some people believe it's Flo he is meant for. So, Sally had a really rough year. So, she did some horrible things like lying about dying so she could win him back. So, she knocked Flo out and tried to cover it up. So, she lost her mind. So, she's not even on the show any longer. However, these two were so happy for so long. They were so simple. They were so sweet, and they were just meant to be. They stayed out of the drama and the issues so many other people had, and they were beautiful. We loved their love, and we really thought their love story might end in a happily ever after back before the pandemic hit.
Steffy and Liam
They haven't been together all year, but we know that they are the ones who are really meant to be. He's not happy with her new man. He's not happy with her addiction. She's not happy that he is always all about Hope. But, these two have gotten along so well this year – well, at the beginning of the year – and they formed a deeper love and connection with one another over their daughters than they ever did before. We thought it was going somewhere for a while, but it did not. We still believe that they have some seriously underlying feelings for one another, and we think their love story is just playing out as a non-love story right now. The issues he is having with her dating. The issues she's had this year. We think they're all a part of a huge love story that is just going to begin to come out as the year closes and the new year begins.
Ridge and Brooke
We are going there. They are officially back to being a unit, though we assume this will not last very long. Of all the love stories that this year has brought to us, theirs is always an epic one. They cannot get their lives in order – ever. They constantly fight about their kids. They constantly go behind one another's backs, but they always end up back together. Despite the fact that he and Shauna had one of the best love stories of the year, this was one we really had to add. The fact that he simply cannot be with anyone else is just too much for us.
Tell us what's wrong with this post? How could we improve it? :)
Let us improve this post!