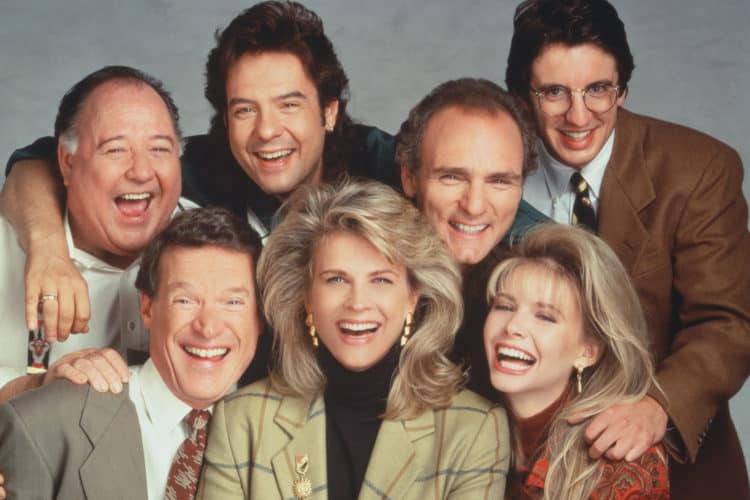 Murphy Brown is a sitcom that aired on CBS in 1988, featuring a fictional newsroom helmed by Murphy Brown, an investigative journalist and anchor. Created by Diane English, Murphy Brown was one of the most popular shows during its time, constantly ranking within the top 10 most watched shows during its middle seasons. It waned in popularity, however, but still maintained to keep its fans hooked until the very end. Recently, the show was revived for an 11th season, but was canceled after low ratings. Bergen spoke about waiting for the appropriate timing to revive the show, according to TV Insider: "People had talked to us about it over the last few years, and [creator] Diane English and I always said, "Why? We did it already." But now, because of the election, frankly, it seemed the right time." Talking about the feminist legacy of Murphy Brown, TIME wrote that the character Murphy Brown is the feminist hero we all needed in 2018, when #metoo and many other feminist issues were being tackled in mainstream media. "Researching the history of Murphy Brown while writing a book about female showrunners, I was amazed by how familiar all these battles felt. The cast of characters has changed, but we are once again living through a culture war that may yet prove to be more savage than the late '80s and early '90s version. It makes perfect sense that CBS has announced it is rebooting Murphy Brown." While the revival only ended a few years ago, the "official" end of the series happened more than 20 years ago. Here's what the cast has been up to since the finale of Murphy Brown aired.
Candice Bergen
The veteran actress Candice Bergen played the titular character, Murphy Brown, in Murphy Brown, a role that netter her multiple Emmy nominations and wins. After Murphy Brown, Candice Bergen continued an illustrious on-screen career, appearing in various film and TV projects. She's had guest roles in House, Sex and the City, Battle Creek, and most recently The Conners. Bergen notably played a lead role in Boston Legal, alongside William Shatner and James Spader. Bergen also reprised her role as Murphy Brown in the revival of the show, but it would soon be canceled due to low ratings. In a conversation Candice Bergen had with Sandra Bullock for Interview Magazine, Bergen said about her journey towards becoming Murphy Brown: "By the time Murphy came along, I was going a little crazy not working. You know what it is. You develop these muscles, and then you get sort of twitchy when you don't use them. Murphy meant that I could stay fixed in one place, which, as you know, with a child, is important, especially when they're school age. My husband wanted us to move to Paris, and then Murphy Brown came up, and my mom and my brother lived in L.A., and it was a wonderful solution. But it was very complicated for Louis and for me because of the distance." She also talked about her career moving forward, saying that she doesn't ask too much as far as her acting career goes. "You know, I'm not that ambitious. I'm always grateful when I get offered something that engages me, it's for the right amount of time, and I don't have to leave my husband for more than a week or two. That's really all I ask. This last year, I've gotten to do a few really interesting things that intrigued me, and I worked hard. The work is really fun and rewarding when you put the time in."
Faith Ford
Faith Ford plays ex-beauty queen and reporter Corky Sherwood in Murphy Brown. She also reprised her role in the 11th season of the show, which aired in 2018, 20 years after the 10th season's finale. While Ford has sparingly appeared on film after her days in Murphy Brown, she has remained active on TV, appearing in various sitcoms and dramas. These include Criminal Minds, The Middle, and My Name is Earl. In 2003, she played a main character in the sitcom Hope & Faith, costarring Kelly Ripa. According to an interview she did with Watch, via Adelaide Now, Murphy Brown's revival would not have been possible if Donald Trump weren't president. "We've certainly never had a voice like this president in my life from what I can remember or even studied about in history," Faith tells Watch. "First of all we never had Twitter or anyone who speaks to the public through Twitter the way he does. I mean, look he did a reality show where he was firing people all the time and I thought 'well, he's not really going to do that when he gets into office', but he is doing that."
Joe Regalbuto
Joe Regalbuto played investigative reporter Frank Fontana in Murphy Brown. He reprised his role in the 2018 revival of the show. After Murphy Brown ended in 1998, he appeared in Ally McBeal and Ghost Whisperer. He also played Mr. Rogers in the crime drama Southland, a role for which he received critical acclaim. TV Guide wrote of his performance: "his character feigned grief in what Det. Lydia Adams (Regina King) called 'an Academy Award-winning performance.' He's not eligible for an Oscar, but Regalbuto might just get an Emmy"
Grant Shaud
Grant Shaud played TV producer Miles Silverberg in Murphy Brown. He did not appear in seasons 9 and 10 of the show, but returned in season 11 20 years later, cast as a main character. After Murphy Brown, Shaud appeared in shows like Curb Your Enthusiasm, The Good Wife, and Younger, as well as films like Waltzing Anna and The American Side.
Pat Corley
Pat Corley played a lead character, bar owner Phil, in Murphy Brown until season 8. Corley died in 2006 of heart failure.
Charles Kimbrough
Charles Kimbrough played veteran news anchor Jim Dial in Murphy Brown, being a main cast member until its 10th season. For the 11th season of the show, he returned in a recurring capacity, reprising his role. Charles Kimbrough has semi-retired, no longer appearing in anything beyond 2002. The last projects he worked at are The Zeta Project and Marci X.
Tell us what's wrong with this post? How could we improve it? :)
Let us improve this post!