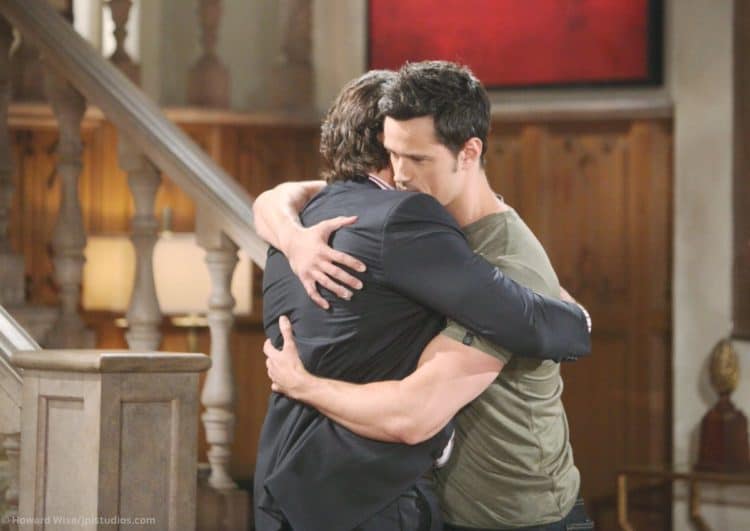 Bold and the Beautiful fans know that there is nothing that Thomas will do to make himself or his family happy. He is too selfish for that, and he is not in his right frame of mind at all. He is a young man in a bad place. He is a young man who cannot make good or healthy decisions. He is a young man who is struggling to make things work in his life, and he will not be able to make this happen for himself. He will do anything and everything he can to take down his own family and the family that belongs to Hope. He hates all of them, even his father and sister who tried to help him and make things right. He no longer cares about anything other than finding revenge, and this is going to be the tone used to set the week in place.
Then there is Shauna. She's into Ridge, and she's going to let him know. She's already been there for him when his wife wasn't. Brooke hates his son and what he did to save him, and she's not happy that things are working out like this. He's frustrated himself, but he cannot go to his wife with his problem as a result of her feelings. So, he's turned to Shauna, who has some serious feelings for him. She's decided to let him know that this is where she wants to be, and this is only the beginning of her feelings for him. She's not done, and she's not quitting. She's going to be here for him, and that's all there is to it. She's got this on lock down, and there is nothing he can do to stop her. That's interesting to us.
What's Happening on Bold and the Beautiful
https://twitter.com/BandB_CBS/status/1176916080867962881?ref_src=twsrc%5Etfw
We agree with him, too.
What's Next on Bold and the Beautiful
https://twitter.com/BandB_CBS/status/1175771733661560833?ref_src=twsrc%5Etfw
The workplace is going to get a little more interesting this week as we see Steffy decide that Hope for the Future is going nowhere. This is not going the way she wants it to go, it's not working for her, and she's not going to allow this to go on any longer. She has to make some business decisions, but they will not feel like business decisions to those involved. Hope and Liam will see it as her making up for the fact that she lost her baby to them. She's not happy about that, of course, but no one of them could have ever seen this coming. And, Steffy is a shrewd business woman who is not wrong about any of this. She's got to do what she has to do, and this is what she has to do in the moment. For now, they will not like it, and they will accuse her of trying to punish them for taking their baby from her.
Then there is Xander and there is Zoe. They have to do something with their lives. They cannot hide out forever, and they have to find something that will make them seem better. They have to redeem themselves with the Forrester family, and they are doing this by sharing their concerns that something is not right with Thomas. They have some concerns an some worries, and they are going to share those with the family in the hopes that they will find themselves in a better place. Will this work?
Stay tuned for more The Bold and the Beautiful and be sure to check out TVOvermind daily for the latest The Bold and the Beautiful spoilers, news, and updates.