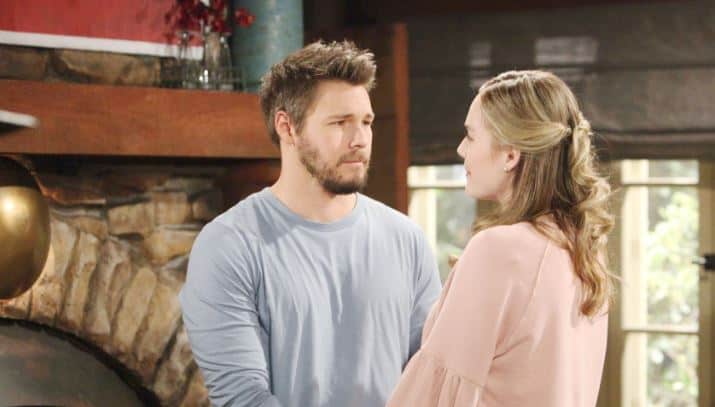 The Bold and the Beautiful fans are sure that something awful is going to happen soon. We know that it already happened on one level when Reese decided to replace Hope and Liam's baby with a dead baby so he could steal their baby and sell the little girl for a huge profit so he could pay off debts. His life and his daughter's life are on the line if he cannot make that payment, and what he did was unthinkable. There is a couple who continues to grieve because they feel their baby is dead. There is a woman with a small daughter of her own who just bought this baby and adopted her, and she's in love with this baby who belongs to her ex and his wife. And this will all blow up. For one, Zoe is on to something, and she's not letting Flo out of her sight without some answers.
Second, we know that Ridge and Brooke are both concerned that there is something not quite right about this. They might suspect that Taylor is being used, but we don't think they suspect she's in on this because she would never do anything to hurt her own daughter like this. But, she and Steffy might both choose to ignore the red flags in this situation since they love this baby so much and want her in their lives, and this is something that will end up costing them more than they ever imagined. Not that the baby won't be a part of their lives when the truth comes out, but she loves her like a mother — and it will crush her not to be this child's mother in the future. This hurts us to watch in every single manner possible.
What's Happening on the Bold and the Beautiful
🌧🌧🌧 is in the forecast on #BoldandBeautiful today! Don't miss @kellethcuthbert playing the guest role of Raine on B&B! pic.twitter.com/EOPuDNQMak

— Bold & The Beautiful (@BandB_CBS) February 6, 2019
We love a great guest star, and this is one of those stars that just makes us smile.
What's Next on the Bold and the Beautiful
He stole from one woman and conned another, but the biggest threat to him is his own daughter. It's all coming up this week on #BoldandBeautiful! pic.twitter.com/Xb3ry5IWn6

— Bold & The Beautiful (@BandB_CBS) February 3, 2019
It seems that things are about to fall apart in the adoption process as people begin asking questions that might get a little uncomfortable. Wyatt and Sally are going to come spend some time with the babies, and they are both going to notice that the new baby Steffy just adopted is a lot like Kelly in terms of her features and her looks. There's a lot happening around there, but we think that someone is going to start putting back pieces that don't work, and it will all come out. Reese should be running scared right about now. In fact, he should be running in general right now. He's not going to make much sense of his own life if he doesn't.
Liam is going to break down to his wife. He will tell her that he feels that the death of their baby is all his fault and he is feeling all kinds of guilt and all kinds of horrible feelings because of it. They are in such a bad place right now, and they don't have too much they can handle with one another in the meantime. They are having so many horrible thoughts in their minds, and we cannot handle what might come of that in the meantime. They do have something going on, but we don't know for certain if they will get past this before they learn that their daughter is alive and well and living with the name Phoebe. We'd like to see them find this out soon, though. They need that.
Stay tuned for more The Bold and the Beautiful and be sure to check out TVOvermind daily for the latest The Bold and the Beautiful spoilers, news, and updates.