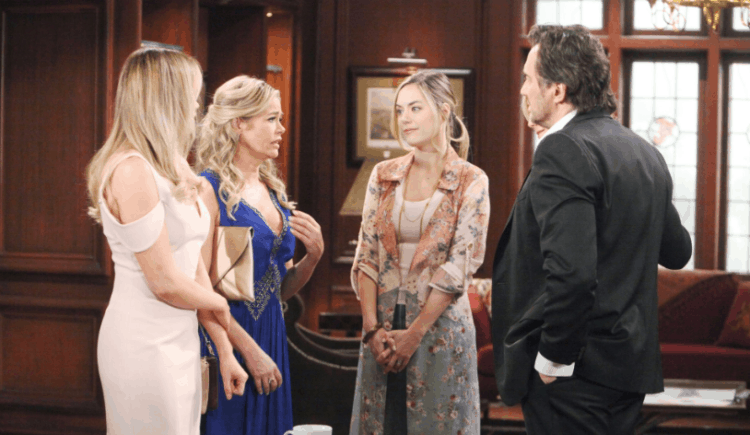 The Bold and the Beautiful fans know that Xander is looking for his girlfriend to open up to him, but we know he really does not want her to do that. He cannot handle what she has to say to him no matter how hard he thinks that he can handle what she will throw at him. He cannot do it. He will not do it. There is nothing he can prepare himself for that will make all her secrets seem even remotely acceptable in any way, shape, or form. There is nothing. It's too much. But, there is a chance we can see things through in a new way. Perhaps we can see things from another angle. Ridge, we know, is working very hard to be kind to Flo. He is aware that she is a part of his wife's family, and he would like to be there to make her feel good and to make sure she's in a good place. He would like to help her out in any way he can.
And then there is the fact that we know she's a mess. She cannot handle meeting her brother-in-law and facing the kindness he has to offer her. Hope has offered her a job, but she's not strong enough to be around Hope and her family every single day of her life while she holds onto this secret she has. She cannot do it, and we are not surprised that she thinks this is the truth. They are too kind to her, and that means she cannot handle it at all. She's not in a good place, but she's working on things as she can. She's trying to make sense of it all, and she's missing her chance to make things right and get ahead of this mess she created.
What's Happening on the Bold and the Beautiful
We just love these leading ladies! 💖 Our #WCW's are #BoldandBeautiful's nominees for Outstanding Lead Actress. ⭐️ pic.twitter.com/UcwKfEOb4B

— Bold & The Beautiful (@BandB_CBS) May 1, 2019
We just cannot wait to see this entire show!
What's Next on the Bold and the Beautiful
Spring Fever symptoms include:
Rapid Heart Rate
Restlessness
Appetite for Love
🌷Don't miss it all this week on #BoldandBeautiful! 🌷 pic.twitter.com/pZzfxcg62G

— Bold & The Beautiful (@BandB_CBS) April 28, 2019
Things are taking some turns right now as people get to have a way with their own lives. Shauna is going to have a chance to wear a Forester Original design for an upcoming event, and she's not about to let that go. She's all in, and she's loving his new life she's getting to live thanks to the fact that her daughter is now related to all of these people. She's not about to let her daughter share this secret she has and ruin her new welcome into a life that is filled with glitz and glamour and fashion and wealth. She likes it, she wants it, and she's not about to lose that. So, she will do anything and everything she can to make sure her daughter stays quiet about this baby thing.
Meanwhile, Hope has no idea that Thomas is using his own son to get to her. It's a little disgusting watching a man use his child to get what he wants, especially when his child is hurting. He just lost his mother, and his father is using him as a pawn in a game that will allow him to get a woman who is married to another man, by the way. He will not let this go, and he will do anything he can to make sure Hope wants to spend time with Thomas so that she will have to spend time with him by default. In his mind, there is nothing wrong with what he is doing, but we are a little bit grossed out watching this specific situation. Kids are not to be used.
Stay tuned for more The Bold and the Beautiful and be sure to check out TVOvermind daily for the latest The Bold and the Beautiful spoilers, news, and updates.