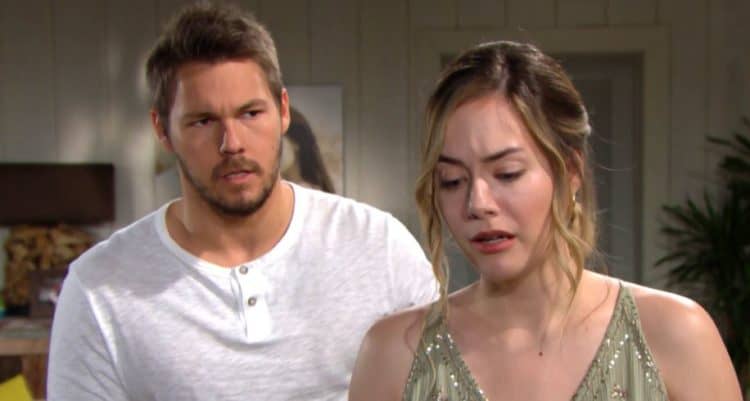 The Bold and the Beautiful fans aren't sure why Shauna is so shocked. She's visiting her daughter in jail. She wants to see Flo, she wants to spend some time with her, and she wants to find out what she can do to make this all go away and to potentially help, but things are a bit more out of control than others imagined. You see, there is nothing good about any of this. There is not a thing that will make this situation easier on anyone, and there is nothing we can do to make sure anyone else is good to go. She's not sure what she thought she might see in here, but she is really facing reality now that she's there visiting her daughter. The entire weight of this situation did not sit on her shoulders until just now, and we cannot believe she didn't know how serious this was until now. What was she thinking?
And then there is Ridge. He doesn't believe Brooke. She, in his mind, pushed his son over the edge of that cliff in an attempt on his life, and he will not believe that his son didn't fall by accident. This is the end of that marriage. There is not a chance in the world they will ever find themselves able to make it work now, and we get that. We get that there is nothing they can do to make this right, but there is nothing else we can do to help. They are never going to be able to forgive one another for this type of ugliness, and we get it. We know that is the truth, and we don't expect anything less of either of them. And, in fact, we aren't that upset about this ending situation.
What's Happening on the Bold and the Beautiful
Season 33 of #BoldandBeautiful will begin on September 16th! 🌟 Find out more about what you can expect to see during premiere week here: https://t.co/9oCC3GIytH pic.twitter.com/exPOwJZBAS

— Bold & The Beautiful (@BandB_CBS) August 27, 2019
That is a lot of seasons.
What's Next on the Bold and the Beautiful
A devastating fall puts a family on the edge this week on #BoldandBeautiful. pic.twitter.com/KLWdv5JYTF

— Bold & The Beautiful (@BandB_CBS) August 25, 2019
Shauna finally gets to see that her daughter is really in jail, it's not a joke, and she's not getting out. She's got the full force of two families behind her to keep her there, and no one is amused by what she did. So, she's going to turn to an old friend and ask for help, but we cannot assume she will do that for her. Let's face it, two of the young women who Eric loves have been hurt greatly by what just happened. And he's not going to allow his wife to help this woman, even if she is an only friend. But, that will not stop Shauna from going to Quinn and asking her for help. Quinn herself is a little more than slightly upset that Flo lied and did this to her son, and she's not going to jump at the chance to help this young woman if we had to guess.
Ridge is not happy with Liam right now, either. His own son is unconscious and close to death, and he's going to walk into the hospital room to find Liam screaming at him for all he did to his family. For keeping this secret. For trying to harm the woman they both love. For lying about his baby. Liam and Ridge will argue, but we cannot see either of them backing down about their feelings about what Thomas did and the hurt he's caused this family. It's not good news for anyone around here.
Stay tuned for more The Bold and the Beautiful and be sure to check out TVOvermind daily for the latest The Bold and the Beautiful spoilers, news, and updates.