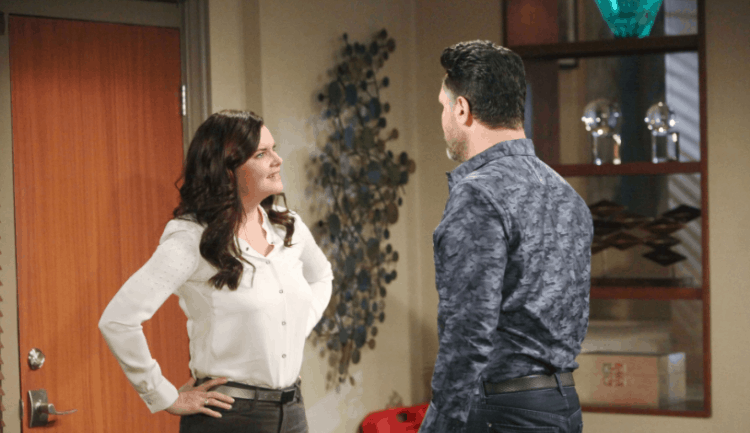 The Bold and the Beautiful fans are not surprised that Will has been caught. He's been working so hard to match his mom and dad together so he can have the happy household of his dreams, and now they know that he's the one behind it all. We think it's sweet that he did this, but we also hope that his parents don't spend so much time focusing on what he did that they cannot see that he did it all with such good intentions. We love him, and we hope that he gets what he wants from this situation. On other hands, however, we have to assume that things will not work out for everyone. Brooke is so mad at her husband because he has taken the 'side' of his ex-wife who is looking out for their daughter. He doesn't feel that Taylor is wrong to want to watch out for Steffy's best interests (need we remind them that she can handle herself, again?).
This makes Brooke feel as if he's taken Taylor's side and doesn't feel good about her side, but she also forgets that Steffy is Ridge's daughter, too, and Hope is not. Hope does not belong to Ridge, and he will always protect her, but he will always put his own daughter and her needs first as long as they are the needs in question. Brooke is a little delusional to feel that he should do things in a different manner, and we simply don't get it. However, we do know that sometimes people do things crazy when it comes to love and their kids, and that's one of those situations that doesn't always make a lot of sense. Will they figure this out, or will she let this grow into more than it needs to be?
What's Happening Bold and the Beautiful
Sending you ❤️ and 😘 going into the weekend! #BoldandBeautiful pic.twitter.com/mC8ldcgDg2

— Bold & The Beautiful (@BandB_CBS) March 29, 2019
We love this, even if we are like a half a week late and currently looking forward to the upcoming weekend even more.
What's Next on Bold and the Beautiful
This week on #BoldandBeautiful, it's the mother of all shockers! PLUS @DENISE_RICHARDS makes her B&B debut. 🌟 pic.twitter.com/SrIMeCmm9c

— Bold & The Beautiful (@BandB_CBS) March 31, 2019
Things are taking ugly turns around here. Quinn has apologized to Sally for the things she said about Flo and her son last week, but we all know she did not mean anything she said when she told her she was sorry. She only said sorry to appease her son, and now she is in the middle of telling Sally that she feels that her son has no intention to marry her or be with her, but that he has every intention to be with Flo and take his life there. Sally, of course, disagrees as she knows how much they love one another and how much they are meant to be. But this is not going to end well for one of them, and we think that Quinn is going to go out of her way to make them all miserable in the end.
On the other hand, no one will be surprised to learn that Brooke is off causing all the problems. She's arranging for a secret meeting with Liam in regards to her daughter and the life she wants to lead. She knows that Taylor has a plan, and Brooke wants to get ahead of that plan by asking Liam to make her a promise. He will make her a promise, and she wants to make a secret deal with him that he will not allow things like that to happen to him and to Hope. Brooke wants to see her daughter stay married to Liam — though we are certain only so she 'wins' him and not Steffy — but we think Hope is making another bond with another man these days, and it's going to escalate quickly.
Stay tuned for more The Bold and the Beautiful and be sure to check out TVOvermind daily for the latest The Bold and the Beautiful spoilers, news, and updates.