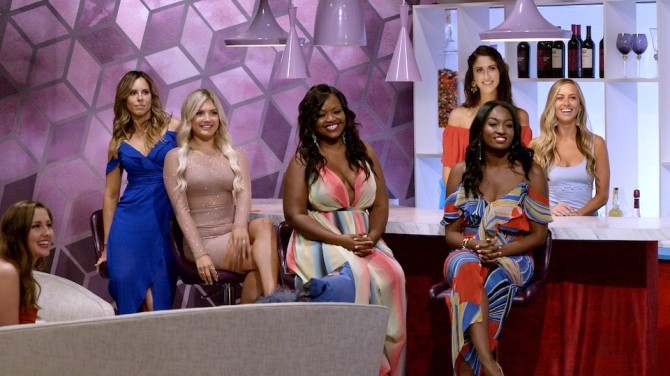 The dating world is no child's play. If you're lucky enough to already be in what seems like a solid relationship, you have every reason to thank the high heavens because the streets are not kind. Netflix has figured this out and decided to roll out a couple of dating shows for us to binge on. Each with a different concept, drop-dead gorgeous castmates, and drama, just how we like it. These are shows that are worth your time:
9. 'Love Is Blind'
Hosted by power couple Nick and Vanessa Lachey, Love is Blind is a potentially dangerous show if protecting your heart is a priority. The show is based on the premise that looks don't really matter. Participants are therefore required to connect emotionally through a wall, and, if all goes well, propose without ever seeing each other. If you are looking for good drama, this is the show you need. In between falling for many people at the same time, hiding truths only to reveal them later, going for second options when the first one doesn't seem to work, we've had some successful marriages come out of Love is Blind.
8. 'The Ultimatum'
In relationships, when one party is ready to move to the marriage stage while the other isn't, there is always a need for an ultimatum. That's exactly what The Ultimatum is about. Someone's tired of going over the same things again and again, someone else can't come to an agreement with her boyfriend on having children, another's waiting to be financially ready. The plot? Put all these people in a room as 'singles' and allow them to mingle. Once they're drawn to a potential mate, let them live together. Soon after, they have to go back to their original partner. As you can tell, the plot is a hot mess, and the show captures that to perfection.
7. 'Too Hot To Handle'
If the plots on some of these shows aren't already messy, wait till you hear this winning idea: Let's get a bunch of incredibly hot people, possibly young people who generally suck at relationships. Let's put them in a very romantic setting, something like…an island? Afterward, we'll fool them into thinking they're going to have amazing sex, only to hit them with the harsh truth: If they want to win a $100,000 prize, they should not so much as a kiss. Of course Lana, the virtual assistant, is always watching.
6. 'Are You The One?'
By now, it's clear that Netflix has an affinity for singles who are bad at relationships. At least in Are You the One?, someone tries to match them. Within a group of ten ladies and ten gents, each of whom is a perfect match for the other, they have the gruesome task of finding the correct matches. If they do this, they have a chance at walking away with $50,000 each. Sometimes this game becomes more logical than it is emotional, especially when someone realizes the one they love is not really a match. Things can get messy when your supposed love is sent to a honeymoon suite with someone else.
5. 'Dating Around'
Originally broadcast by the streamer in 2019, Dating Around was Netflix's very first dating show. In each episode, an individual goes on a blind date. The cast is a range of anything from a mama's boy ready for a round of 'What's your favorite color?' to the nice guy who simply doesn't want to be in the friend zone anymore. There are a couple of bizarre hobbies, and passions for the most common of things, like cheese. The show's second season premiered in 2020. Not a word has been made about the third season, but if you need a reminder of why finding 'the one' is very difficult, this is good company.
4. 'Twentysomethings: Austin'
Would you move to a faraway city to live with strangers and possibly fall in love? If this concept sounds interesting, then Twentysomethings: Austin is as close to Friends as you can get, except this is real life. A bunch of twenty-somethings, each with their own baggage; divorce, loss of work, a background of having never dated because of having strict parents, you name it, are all looking for a fresh start. The cast members do everything from helping each other shop, becoming wing women and men, searching for work, trying out a friend with benefits relationship, and all the good stuff you do when you are twenty-something.
3. 'Love On The Spectrum'
Australian dating show Love on the Spectrum first premiered on ABC in November of 2019. It soon showed up on Netflix, and a second season was released in 2021. The show has received positive reviews, with Brett White of Decider saying it is unlike any other dating reality show on Netflix, in the best way possible. We follow the cast, unique because of battling autism, as they try speed dating, go on the very first dates of their lives, meet each other's parents, try out dating apps, and eventually get married.
2. 'Back With The Ex'
What happens when exes have unfinished business? Do they try to rekindle things behind closed doors or do it on television, where everyone can have an opinion? It matters not whether they have been seeing each other on and off for a couple of years, treading the murky waters of a long-distance relationship, trying to find the love they used to have back in high school, or have been on and off for so long and it's become tiring. Back with the Ex is a true test of just how much expectations ruin or uplift relationships, especially in situations where trust has been breached. There is the reminiscence of sweet beginnings, love letters from the past, hard conversations, astonishing revelations, and difficult decisions. The show hasn't been renewed since its 2018 debut, but it sure is worth the time.
1. 'Single's Inferno'
On Single's Inferno, there are two islands. A bunch of singles are confined to an island, all of who barely know anything about each other. This is the inferno. Away from it is a different island, which is as close to paradise as one can get. In paradise, they get to have the best time of their lives. But there's a catch. These singles have to couple up to get to paradise. Will they fall in love? Will they make it to paradise? Only by watching can you find out.
Tell us what's wrong with this post? How could we improve it? :)
Let us improve this post!