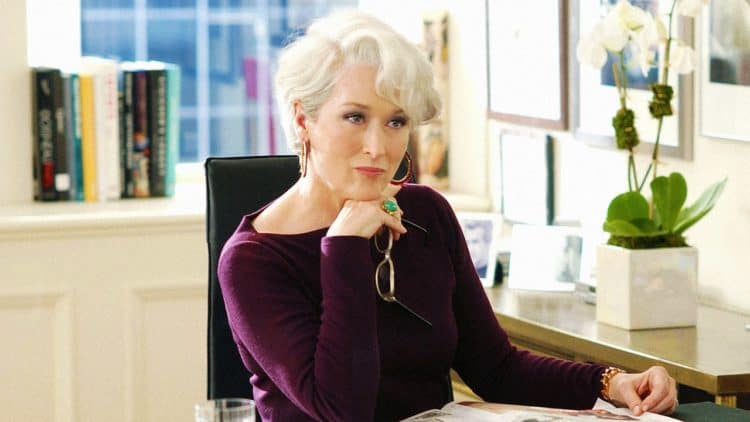 Acting is not a walk in the park. While most of us only get to see the glamorous side of the job; movie premieres, fashion, and awards, behind-the-scenes, it takes a lot of blood, sweat, and tears to get a breakout role. In most cases, finding a footing in the business is often as difficult as sustaining the craft. There's a lot to be learned from people who have weathered the ups and downs of an acting life successfully and have become icons in the industry. Here are a couple of great pieces of advice from some of the world's greatest actors:
Meryl Streep Says Empathy Is The Engine
She holds a record of 21 Academy Award nominations and has won eight out of her 32 Golden Globe Award nominations. Meryl Streep strongly believes that empathy has played a big part in her success as an actress. " Empathy is at the heart of an actor's heart, or as Leonard Cohen says, ' Pay attention to the cracks, that's where the light gets in.'" Streep said as part of a past speech. In addition to empathy, Streep believes in listening since it's 'how you learn everything…The worth of acting is listening to people, who maybe don't exist or are voices in your past, and through you come through the work and you give them to other people.'
Will Smith Believes In Keeping An Emotional Toolbox
As an actor, Will Smith needs no introduction. In addition to winning four Grammy Awards and having a handful of Golden Globe and Academy Award nominations, Will Smith has certified himself as a box office success. While he has tried method acting in the best, Will Smith's strategy to acting involves keeping an emotional toolbox. He defines them as a collection of emotional perceptions, that you can call on in any given circumstance. " As acting exercises, you run through all the different ones [emotions] until you find the ones that hit it for you," Smith said at a past interview. He added that it was important to understand oneself, since knowing oneself also helps them understand their characters.
Viola Davis Uses Little Of Prepared Material To Collaborate Better
Famed for her role on How to Get Away with Murder, and being the first African American Actress to garner the Triple Crown of Acting, Viola Davis has formulated her own art of better collaboration. " One of the things I do when I collaborate is, whatever the [other] actor gives me, I use. I don't go home and prepare a performance, and come to the set, and use that performance that I prepared. Whatever I work with at home, I only take it to a certain extent. And then when I go on stage, I prepare myself for the fact that the actor may give me something completely different." Davis mentioned.
Leonardo DiCaprio Owes Composure To Friends And Family
If his 51 million Instagram followers are anything to go by, it's clear that Leonardo DiCaprio has earned fame through good old hard work. With such popularity, one can easily lose their footing. While promoting the role that finally landed him an Academy Award, Di Caprio said he was grounded by friends and family. "What gives me strength all the time is to be able to have formulated a group of people around me that are my friends and my family. You know, those two words are mashed in my opinion. It's given me a grounding that, as insane as my life can be sometimes, is always refreshing and they're always honest with me. And I'm so thankful."
Matthew McConaughey Reads His Lines Everywhere
Memorizing lines can be quite difficult, and it's the one question Matthew McConaughey gets asked all the time. On his YouTube channel, McConaughey shared how he memorizes his lines. " You don't try to remember all the lines. You look at what's on the text. First, you read it, you try to understand it. You read it again. Me, I read it after a run when my endorphins are flying. I read it late Saturday night when I've got a good buzz going, I read it when I'm feeling…right after church, I'm feeling in a very forgiving mood. I read it when I'm mad, sad, glad, happy, excited."  McConaughey said. Reading in many places allows him to have a different look of the same script.
Dwayne 'The Rock' Johnson Says, 'Be Yourself'
For a number of years running, Dwayne 'The Rock' Johnson has topped the list of highest-paid actors. Perhaps his greatest advice for being in the business and succeeding in it lies in the advice he gave fellow WWE star-turned-actor, John Cena. In an interview with Jimmy Fallon, the former WWE star revealed that he was nervous about auditioning for a movie. " …And I had an audition, and I had to put myself on tape for a movie called Trainwreck. I hadn't yet gotten any news that I was gonna be in the running for anything to be involved with the movie, and I was really nervous. And I'm like, ' Well, I should talk to the one guy I know who is in a lot of movies.' And Dwayne just happened to be at WWE. I'm like, 'Hey Man! Is there any advice you can give me?'…He gave me a piece of advice that still rings in my ears like he said it yesterday… 'Just be yourself, man. That's why they asked you there in the first place.'"
Jennifer Aniston Encourages Beginners To Manifest Their Success
Jennifer Aniston grew to prominence as part of the ensemble cast of Friends. Having been at the top for a solid ten years and still practicing the craft decades after the show wrapped, she, more than most people, knows what it takes to begin a successful acting career. During an appearance on The Ellen DeGeneres Show, Anniston gave acting advice to a teenage actress who was just starting out: " I just wanted to say that was so sweet. I know that feeling. Just like, 'What do I do? What do I need to do?' And Ellen really said it beautifully, which is, just manifest it. Just believe it to be so. And know it and the confidence with you to manifest this you say, 'Universe, thank you for this beautiful acting job. Thank you for this wonderful opportunity to work with this cast and this crew. I'm so grateful for this opportunity.' As if it already exists and is happening."