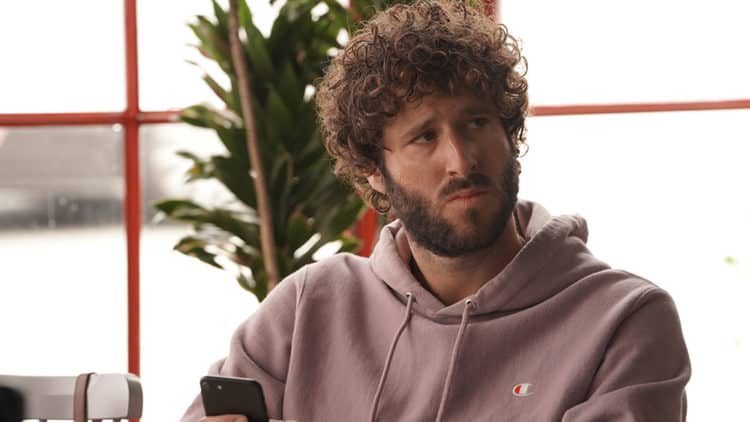 Dave is one of many strange comedies from FX, but unlike a good portion of them, Dave is based on the life of real-life rapper Lil Dicky. The show showed the ups, downs, and every strange thing in between that happens to someone like Dave Burd from his birth defect to his struggles of bringing comedy to rap music. On top of that, right from the start Lil Dicky is more privileged than most but still has many interesting obstacles to face as he climbs to the top of the obscene tower that he calls rap music. Overall, the show follows the lives of Lil Dicky, his hype man GaTa, and his manager Mike and everything insane that happens to them. While most people Dave interacted with in the show find him to be a joke, his journey of being a neurotic white rapper in his 20's is well worth the watch. Below, we've gone over the most interesting moments from season 2 of the hit comedy Dave from Lil Dicky and The League creator.
20. Dave and Dave East
Season 1 of Dave we saw Lil Dicky meet quite the characters along the way in the form of real celebrities, through altered encounters of course but when artists and actors play themselves, it peaks my interest. When Dave met Lil Yachty and Dave East at the Rap Class of 2021 event, Dave informs Dave East that they went to school together. While of course Dave is easily forgotten as Dave East doesn't remember him, Dave shows that he is determined as always. However, Dave is often shrugged by people such as Dave East with much more confidence than himself.
19. Ally's Song
Ally's Song is a song that was written by Dave when he was, and has been, thinking about his ex girlfriend Ally and while this is a song that was brought up originally in season 1, it is brought up again by Mike when he's going through Dave's songs. The song was something special and close to Dave in many ways as we saw in season 1 but when it's brought up now, it's more known. Last season only Dave heard the song he had recorded but this time around we got Ally and Mike to hear it and had different opinions.
18. Dave and Benny's Relationship Makes GaTa Uncomfortable
Dave and Benny Blanco met during season 1 of Dave and have retained a strong and very interesting friendship ever since and season 2 of Dave explored that a little more. Season 2 of Dave explored this interesting relationship more by showing that Dave and Benny are just as close as they were when they first met but now they are being strange in public. Originally Dave stated that it made GaTa uncomfortable but it came to light that what Dave and Benny do is considered white privileged bullshit to them.
17. That's a Joke!
Upon hearing it, the audience and the character of Lil Dicky in the episode simultaneously hear the song played by Alter Ego Dicky and suddenly it all clicks. "It's a joke" should be the literal slogan for Lil Dicky since, by the shows standards, nobody seems to understand the concept of comedy the way that Dave does. In that sense, it's perfect for Dave to literally state that it's a joke in a song so that people literally and figuratively understand what it is that the artist is trying to accomplish. Unfortunately for Dave, he has been so lost in his own mind that he didn't see how simple it was and that it was always right in front of him. From this moment Dave had finally seemed to find his true self and be able to focus on his music.
16. Dave Texting Doja Cat
In episode 6 of season 2 of Dave we saw that Dave was actually showing interest in someone else and texting them after they swiped on each other. The person that Dave was texting just so happened to be pop star Doja Cat and as we soon discover, she is just as messed up and twisted as Dave has shown to be. This was immediately fitting with Dave's personality, however things changed fast when she was busy and Dave got caught up in his own head. Overall, Dave pushed Doja Cat away by freaking out when she was away from her phone and not answering.
15. Dave and Elz Basketball Scene
During season 2 of Dave we saw a lot of tension that started to build in season 1 as both Dave and Elz, Dave's longtime friend and producer, became more and more famous in their own way as time went on. With that happening, the two struggled to keep the same friendship that they had prior due to fame and stress. Overall, the two make up and come to terms with the fame getting to each of them, even if it is a public and slightly violent way during a game of basketball.
14. Rush Hour
Further extending upon the friendship of Dave and Benny against the friendship of GaTa and his friend, the guys get into the conversation of how there isn't a black bromance comedy movie because black guys don't act like white guys. While it was followed by silence, Dave eventually mumbled to himself that Rush Hour was a black bromance movie. However, judging by their response, or lack thereof, it seemed pretty clear that they don't agree with that movie choice.
13. Dave Meets His Ego
Earlier on our Dave season 2 most interesting moments ranked list, we mentioned Dave's alter ego introducing him to "That's a Joke!", the song he's been trying to write but has been too lost in his own mind to do so. In this specific moment, Dave's alter ego showed him a different song referencing things such as The Rock and masturbation. While this may have seemed obscene to someone watching the show that has to recollection of it's past, these words practically define Lil Dicky, strangely.
12. GaTa Bar Mitzvah Performance
Earlier in our Dave season 2 interesting moments ranked list we mentioned Dave and Elz fighting while playing basketball, that ended in them leaving the party without a performance. However after Lil Dicky and Elz left, GaTa showed up and much to his surprise, the kid the party was for happens to be a fan of GaTa's. Taking advantage of this GaTa helped the kid out by saving his Bar Mitzvah by performing on the street and launch his career a little further as well.
11. Dave and Ally Being Friends
After Dave and Ally have a rough night of Dave randomly going to Ally's after she had a small procedure and Dave ended up throwing up on her, the two of them started hanging out again. The first we see of this after she leaves Dave at her house the day after he threw up on her, they are hanging out together with Emma. While Dave says and acts as if he is trying to just be friends, he raised some suspicions with Ally when he was still giving her pet names that he used to call her.
10. Dave and CL
When season 2 of Dave started, we found out that the artist was in North Korea and was filming a video for the song with an artist that was featured in the song, K-Pop star CL. While this is the first interaction we saw between the two, from this encounter and the rest of the episode we see the guys talking about how corrupt the life of a K-Pop star can be. Overall, we learn that this is not the case with CL, she just has a hectic schedule and things are not as simple as they are in America for stars here.
9. Waking Up In Korea Music Video
The very intro to season 2, as referenced above in our Dave interesting moments ranked list, featured Dave in Korea and filming his first official music video for his debut album. The video, clearly as obnoxious and loud as most of Dave's music, is just what you'd expect from the artist while visiting another country. Of course things could never be simple for the artist as he overthinks everything almost pushes his featured artist, CL, out of the video.
8. Dave's Officially Inspired
Several times so far in our Dave season 2 most interesting moments ranked list we mentioned Dave meeting his inner self, or rap ego, but this moment mentioned here specifically is immediately after Dave finalizes his internal struggles and finds himself. The entire episode, Dave spent his time being frustrated and trying to rush the process upon entering the property of Rick Rubin. The entire time that he is at Rick Rubin's legendary studio Dave is constantly fighting against the strange techniques of the producer.
7. Dave Discussing His Surgery
While Dave appeared to have an absolutely awful time so far this season, both as an artist and as himself, with constant struggles up until the point that he goes to Rick Rubin's and finds himself. Upon this, Dave seemed to finally be achieving the level of success he'd been reaching towards as he is now set to perform at the VMAs. Several issues pop up during this of course and of those issues is the most interesting of all: Dave getting surgery on his penis on live television. While ultimately we talked about this performance at the end of our Dave season 2 ranked list, this part of the performance was set to be very controversial.
6. Dave and Doja Cat
This interesting moment from Dave season 2 showed us Dave as he tried to record with GaTa and Elz but Dave keeps slacking off in order to use a new dating app that he's signed up for. As Dave is praising the kind of men and women that can be found on that app and the girl that he currently has a date lined up with, he matches with the earlier mentioned Doja Cat. While above in our Dave season 2 interesting moments ranked list we talked about Dave ruining what they potentially had, here they just met.
5. Dave's VMA Rehearsal Performance
In episode 9, at the end, we finally saw Dave come to terms with his ego and finally chill and embrace the rapper he has been trying to become and embody in order to become his exact idea of successful. With Dave coming to terms with himself being the post season finally moment, it was highly interesting but also left a mystery. However with the season finally opening up to Dave's insane and excessive VMA rehearsal, it seemed clear that everything was going as planned for the artist.
4. Dave and Gata's Argument
Season 1 of Dave, while hilarious most of the time, was also filled with many serious and sometimes dark matters and one of those interesting, and serious, moments of season 2 was when GaTa and Dave were in an argument about what everyone means to Dave and how he tends to hack at their souls from time to time by putting himself first and not treating his friends properly. Overall, the two make up and create one of the most monumental and interesting moments from the entire series so far.
3. Rap Class of 2021
Influenced in one way or another by Lil Dicky's actual appearance in XXL's 2016 Freshman alongside the earlier mentioned Lil Yachty and Dave East, among several others this was one of the most interesting moments from season 2 for a few reasons. Dave immediately stands out as much less confident about himself and definitely less ready for this appearance than the other rappers. However, Dave had a secret plan and of course in what is starting to be classic bad luck, the beat changes so Dave has to think of what else he can do to ensure that he is more than prepared for the spotlight event.
2. Dave's Mountain Dew Rap Pitch
Towards the end of season 2 we see glimpses of Dave's life before he took up the persona of Lil Dicky when he worked at an ad agency. While we're given glimpses of this previous point of his life there we discovered many things about Dave's past that makes these moments very interesting. One of the most interesting of these moments is when Dave was tired of being pushed around at the ad agency so he took over an pitch meeting and used what he was good at to truly sell his idea.
1. The Real VMA Performance
Finally, the interesting moment that earned the number one spot on our Dave season 2 ranked list is when Dave's VMA performance finally came around and he changed his entire performance to almost everyone's surprise. The only person that wasn't surprised at the moment that we were is GaTa, besides Lil Dicky. After their argument we mentioned earlier in our Dave season 2 interesting moments ranked list, Dave decided to include GaTa in his performance, and proved his appreciation of GaTa.