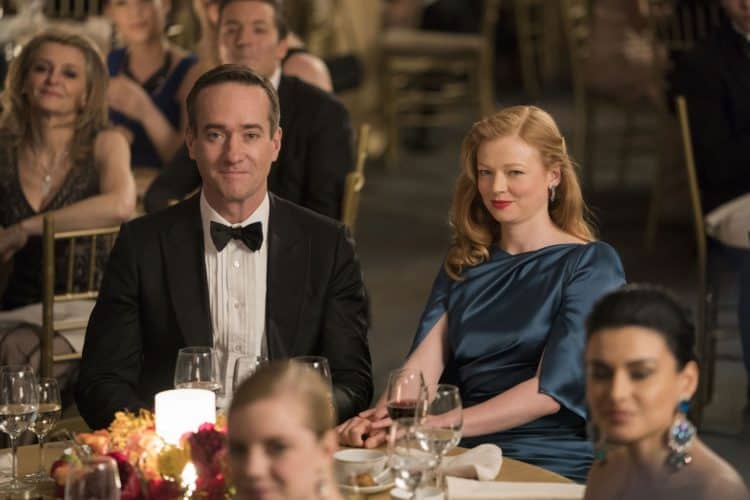 When outsider Tom, boyfriend of Shiv, explains the inner workings of the mega rich Roy family to cousin Greg who is looking to become a part of the family business he states: "Look, here's the thing about being rich, it's like being a superhero, only better. You get to do what you want. The authorities can't really touch you. You get to wear a costume, but it's designed by Armani and it doesn't make you look like a prick." This monologue succinctly sums up the ethos of the HBO show Succession. It follows the beyond affluent Roy family who is headed by patriarch Logan. The Roy family owns the media and lifestyle conglomerate Waystar Royco. It is made up of a Fox News-style television station, a film production company, cruise lines and theme parks. Logan is facing old age and declining health setting the stage for his four children to vie to take over. Created by Jesse Armstrong and loosely modeled after the Murdochs, this show paints a bleak cynical cautionary tale about the ostensibly wealthy. Amazingly, when watching these highly unlikeable characters, the audience finds itself rooting for them and pitying them. Let's take a look back at the first two seasons and what's ahead for season 3.
Succession Season One Recap
Meet the Roys. Just your average well-to-do family living its best opulent life. There's Logan Roy (Brian Cox) who runs the family business Waystar Royco and his four eccentric children. There is quirky first born Connor (Alan Ruck) who lives in a ranch in New Mexico and seems to be constantly trying to find himself. Next is second oldest Kendall (Jeremy Strong) who is a recovering addict and heir apparent. The third oldest is only daughter Shiv (Sarah Snook) who currently works in politics and is in a relationship with Tom. The baby is slacker Roman (Kieran Culkin), who thinks he should be given more responsibility.
In the pilot episode, Logan Roy suffers a stroke and goes into a coma. Kendall steps up to take over the company. When Logan regains consciousness from his coma, he wants to head back to work but acts strangely spilling coffee all over himself and peeing in his son's office. Cousin Greg attends a family party and asks for a job. Tom, boyfriend of Shiv, and Greg become friends. Kendall attempts to have the board vote his father out in a vote of no confidence but is not able to make the vote himself because of traffic. Logan is able to hang on to his power by strong arming the board. When Tom takes over the cruise ship and theme park division, he is told about a conspiracy of sexual assault and murder scandal that the company buried. Tom decides to have Greg get rid of the evidence but Greg holds on to some just in case. In an attempt to show family unity as a publicity stunt after the board meeting, the family meets at Connor's New Mexico ranch. Kendall shows up high and drunk forgoing his sobriety.
Logan tries a second attempt to gain power of the company. He attempts a "bear hug" acquisition with Stewy and Sandy Furness which leaks to the press. Kendall is forced to tell the family at Shiv and Tom's wedding. Shiv works as a consultant in liberal politics not the family business. She is working for a Bernie Sanders type figure Gil Eavis and after weighing whether or not to take her family down with the cruise conspiracy information she decides to help broker a peace agreement between her father and Gil. This leaves her in a good position to play both sides. When Roman tries to take on more responsibility and oversees a rocket launch, it explodes. This gets him into some minor legal trouble. Connor, not wanting to be left out, decides he wants to run for President. At Shiv and Tom's wedding, Kendall tries to score drugs with a waiter and ultimately gets into a car crash that kills the waiter. Logan offers to take care of the situation if Kendall will kill the acquisition. The season ends and Kendall appears to be back under his father's thumb.
Succession Season Two Recap
Season two opens with Kendall going through a rehab program in Iceland. He is called back into action by his father Logan and gives a press conference saying his deal was not the correct move for the company. Logan is advised to sell the company and name his successor. He asks for his children's advice but is not given a direct answer. He offers CEO to Shiv. Kendall tries to dissolve the bear hug acquisition deal with Stewy and Sandy. Shiv is promoted to chief of staff of Gil's presidential campaign. Logan wants to acquire rival media giant Pierce Global Media. The family and top employees meet at a hunting lodge in Hungary. There Greg, Tom and Karl are subjected to a vicious hazing ritual called "Boar on the Floor." Logan finds out that Roman talked to PGM before he had the chance. Logan and Kendall meet with Rhea Jarrell, CEO of PGM and after a shooting scare get her to agree to present a $24 billion offer. The Pierce family and the Roys meet to discuss the offer. Logan is pressed to name a successor but will not. Shiv announces she will be CEO but Logan disagrees.
The offer is briefly a no go but the Pierces change their minds. Kendall continues his downward spiral and Connor continues to make plans to run for President. At the Argestes, an international business conference, the cruise scandal breaks. The PGM deal is officially over. At Logan's 50th anniversary at Waystar in Scotland, Rhea is named CEO. Ewan, Logan's brother, comes forward to warn Greg that he will loose his inheritance if he continues to work with Logan. We find out a whistleblower is going public with the cruise scandal. Most of the Roy family testifies in front of Congress to save the company over the cruise scandal. Shiv talks a witness out of testifying. Roman goes to Turkey to see if they can get funding to take the company private but gets held temporarily hostage. Rhea decides not to be CEO. The Roy family meets on their yacht to see who will take the fall for the cruise scandal. Kendall is chosen. He is sent to do a press conference taking the fall but instead goes off script and blames his father Logan. Logan watches the press conferences on television and smiles. The audience is left wondering if he planned this all along. This sets the stage for a juicy season three.
Succession Season Three: What We Know
Pending any pandemic drama, Succession is set to return in fall 2021. Twitter users have already speculated that filming has begun spotting Jeremy Strong in a track suit in Brooklyn. You can view the teaser trailer above. Brian Cox told The Hollywood Reporter this about season three: "I nearly fell off my chair because he [Armstrong] never tells you about the next series. We never knew from episode to episode what was going to happen. But then he told me. And it's jolly thrilling. That's all I can say."