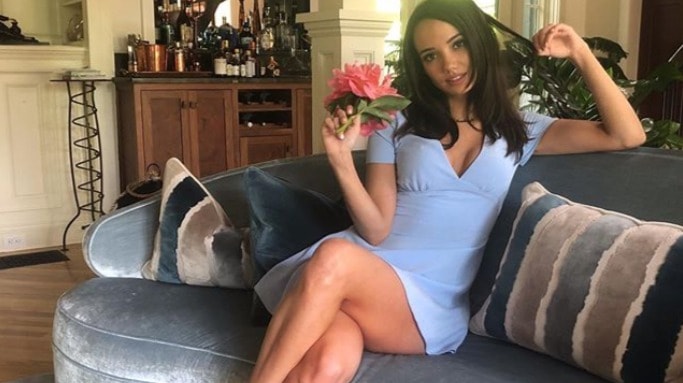 Internet personality Sofia Franklyn has gained fame for herself as a podcaster and blogger, as well as for her association with the high-ranking popular blog, 'Barstool Sports'. That's not to mention the following she has on both Instagram and Twitter, which grows literally by the day. Franklyn is also known for co-hosting a podcast called 'Call Her Daddy' with Alexandra Cooper, another web personality. She joins the ranks of so many others who have found their fame and fortune in online ventures, and her uncanny knack for knowing what the public likes has taken her there.
Today, most of our readers are fairly familiar with these people and the online presence they have nurtured into a paycheck; some are not. The latter consists of our readers who limit their Internet activities to checking their email, or brief scrolls through their page on the one social media side with which they have an account. The former, on the other hand, are the die-hards, the Millenials, the younger crowd who has grown up without learning to write in cursive or learning to type on a typewriter. The former (you know who you are!) likely is quite familiar with Sofia Franklyn, her blogs, her podcasts, and anything else she has put out for their entertainment. This article, however, is mostly for those of you reading this because you just got done checking your email.
You're wondering who Sofia Franklyn is, and what the heck are Barstool Sports? You're thinking that you've never heard her name before now, and how does somebody get famous from something called a 'podcast'. We're here to fill you in on the ins and outs, ups and downs, and the in betweens of Franklyn and her life. Where she's from, her age, and how many baskets she can make from a barstool (laugh out loud) are only a few of the questions we will attempt to answer below. So don't put that laptop to sleep…keep reading to learn something new and keep up with the kiddies.
Here are 10 things you didn't know about Sofia Franklyn
1. Background Information
Sofia Franklyn was born in Utah on July 21, 1992. She grew up in Salt Lake City, and she attended the University of Utah for her studies, where she studies Economics. While she isn't one to divulge much information about her family or personal life, Franklyn is known to post pictures of them on Instagram now and then. The names of her parents and other family members is not readily available.
2. Social Media Presence
Besides blogging and podcasting, Franklyn is pretty active on social media; she has around 650k followers on her Instagram account alone. As a matter of fact, the very first photo she posted to that account was a shot of two margaritas, which she posted on Cinco de Mayo, 2012. You can check her out on Instagram at @sofiafranklyn; on Twitter she can be found at the same address.
3. Career Path
After college graduation, Sofia worked for a financial firm, but sources say that because she was a creative individual, she wanted to do something more creative, and knew she wouldn't be with the company long. She eventually moved to New York, where she got hooked up with 'Barstool Sports'. She made her blog debut with them in 2018 with an article that focused on her own adventures in sex while back home in Utah. The comedic debut and references she made to Salt Lake City sexual culture made her an instant hit. This job also led to her podcast, which she co-hosts with one-time roomie Alexandra Cooper. The pair came up with the idea for it one night while in a bar together. It seems they were having a conversation about sex while drinking that gained quite an audience. It was a no-brainer, and the pair ran with the attention-grabbing gimmick.
4. Call Her Daddy
The podcast that she co-hosts, 'Call Her Daddy' also panned out to be a hit for her and Cooper. Whether you are already fans of the podcast, or have never heard it before, it's pretty funny. It can be heard from the very first episode by simply checking it out on YouTube. Listeners can learn more about Sofia and Alexandra, and hear the podcasts all the way from the very first one, entitled 'The Making of Call Her Daddy'.
5. More About 'Barstool Sports'
To give it to you more clearly, 'Barstool Sports' is a blog about all things pop culture and sports. It was founded in Massachusetts by David Portnoy, and is currently owned by the Chernin Group. The company acquired the blog in 2016, and it subsequently underwent restructuring, which included major staff changes. Superbowl LI was covered on Comedy Central by the blog, and was televised as 'The Barstool Rundown'. The episode made headlines, and Pat McAfee, former punter for the Indianapolis Colts, joined the blog after he retired (which he announced he would be doing on that televised episode). Michael Rapaport joined in 2017. While the blog has had definite ups and downs publicly, it is said to be one of Franklyn's favorite experiences.
6. 2019 Net Worth
It's truly amazing how one can gain fame, and literal fortune, by utilizing the Internet. According to Networthlist, Sofia Franklyn, whom they list as being a radio host and online personality, was estimated to have a 2019 net worth of $1 million. This estimate was updated on March 15 of this year.
7. Zodiac and Star Sign Traits
Since she was born on July 21, 1992, Sofia is a Cancer who was born in the Year of the Monkey. Children born in this year are said to be inherently clever. In addition, Cancer women are said to be both full of passion and resting at peace. Their emotions shift and change rapidly, like the tide, and cannot be depended on to last. For instance, they can be stubborn, yet submissive; they can be calm, yet very angry. They have a very strong will that is complimented by persistence, so the Cancer female will typically get what she wants.
8. Relationships, Marriage, and Children
Franklyn, by most all accounts, appears to be something of a dedicated single. In one of her podcasts, according to Liveroger, she admitted to dating someone, but she never divulged details, and it seems that they stopped dating shortly afterward. At the current time she is single, and reports say she has never been married and has no children. Whether or not she hopes to wed in the future has not been discussed seriously, but who knows what the future holds for anyone?
9. Keeping Busy and Future Plans
Since gaining fame, Franklyn is said to keep busy during spare time by writing articles that are quite lengthy and focus on a variety of topics. She does enjoy sharing her podcasts with her listeners, and will talk with anyone who is willing to be open and get down and dirty about their personal sex life, as that's what gains listeners. With these things in mind, we can expect that she will continue to do something on the air, whether on the Internet or radio waves likely doesn't matter to her.
10. Pictures galore
You probably won't find it surprising that Franklyn is considered one of the sexiest people working for 'Barstool Sports', but if you've never seen her you can hardly form an opinion. Well, Prosportsextra decided to share a few reasons as to why people see her this way, so check out some of her photos at the link. Photogenic, wouldn't you say? No wonder she makes so much money…
Well, with each passing day it becomes more and more clear why people are getting into the Internet to make their money. $1 billion is nothing to shake a stick at, especially when Sofia Franklyn studied Economics in college. Sigh… No matter; we wish her the best of luck and the utmost success in her future endeavors. We don't think she'll have any problems settling into any job she decides to do, and we cheer her on.
Tell us what's wrong with this post? How could we improve it? :)
Let us improve this post!