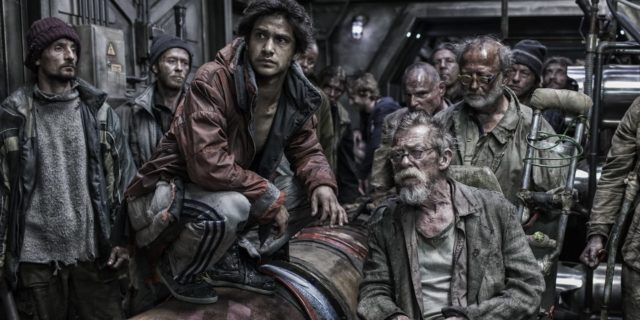 TNT has recently ordered an all new series, "Snowpiercer." Back in September of 2017, Scott Derrickson, the director of "Doctor Strange" announced he would be filming a pilot for this show, which is based in a post-apocalyptic time. Kevin Reilly, president of TNT, announced in July of 2017 that the first season of the show is going to focus on an "ongoing mystery." The cast includes Jennifer Connelly, as well as Daveed Digs, the actor known from "Hamilton," Annalise Basso, Robin Weigert, Mickey Sumner and Alison Wright.
Where Did the Story for the Series Come From?
The original "Snowpiercer" film was directed by Bong Joon Ho, and was based on a graphic novel, which was created by Jacques Lob. The entire story is focused on a future in a post-apocalyptic world, where climate change has resulted in the earth being frozen solid. The remaining humans all live on a train that continually travels around the world. The citizens who are considered low-class, live in the rear of the train, where things are depressing, while the rich spend their time in the opulent splendor found in the forward cars of the train. Chris Evans leads a rebellious group of lower class citizens in a revolution against the privileged elites. This premise of the show, provided plenty of opportunities for allegory as well as action. Minister Mason, played by Tilda Swinton, served as the right-hand man to the train's engineer, who remains mysterious during the show, Wilford, who is played by Ed Harris.
About the New Series
According to Variety, "Snowpiercer" has now been ordered by TNT as a television show. The executive producer of this series is Bong Joon Ho, and other important people and companies include Dooho Choi, Tomorrow Studios' Becky Clements and Marty Adelstein, Lee Tae-hun and Park Cank-Wook. According to TNT's executive vice president, Sarah Aubrey, the show is going to include quite a bit of topicality, to go alone with all the action. The Science Fiction setting is the ideal genre to explore issues related to natural resources, gender, race and class, while providing exciting and thought-provoking storytelling. The new show, "Snowpiercer" is going to explore all of these relevant issues while you embark on an action-filled, wild ride.
Getting to Know the Story
"Snowpiercer," from Bong Joon Ho has already received quite a bit of critical acclaim for the vision he had of a brutal future where all of the old human class divisions are still in place, even though the species is near extinction. However, "Snowpiercer" is much more than just a bleak and dystopian sci-fi flick. Ho has brought both humor and style while providing a touch of craziness to the show. If you are interested in this series, you will have to wait a little longer, as TNT has not yet released when the series is going to be aired; however, it is sure to become one of those must-see shows, week after week in the near future.
Tell us what's wrong with this post? How could we improve it? :)
Let us improve this post!