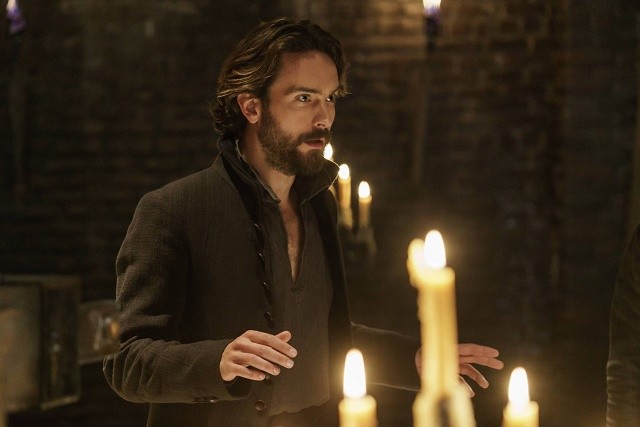 "When faced with an unbeatable enemy, you must make the enemy beat themselves." This quote from Daniel Boone couldn't be more true as Team Witness goes up against Norse Beserkers conjured up by Atticus Nevins, who has been working with Pandora all this time, in order to go after Jenny, who is feeling the aftereffects of the Shard, in this week's episode of Sleepy Hollow.
The episode begins with Ichabod playing a game of chess with Abbie and quoting The Art of War by Sun Tzu, as he captures Abbie's knight. Abbie then easily defeats our resident historian/time traveler, surprising the latter that she kows how to counter Philidor's open, a very difficult chess move to defeat if one is not careful. It is then revealed that Ichabod's mind was elsewhere as he worries over his potential citizenship status, the fate of the archives, and what Pandora has in store for them when she returns. The leftenant assures her friend/roommate that everything will work itself out, but her words of encouragement don't seem to ease Ichabods' mind.
It was fascinating to see Nevins summon the monster of the week instead of Pandora with an ancient Norse spell. His "go fetch" command to the Beserkers was a bit degrading. Yes, they're single-minded monsters, but there's no need to treat them like personal attack dogs. At least when Pandora summoned her monsters, she treated them with respect (well, as much respect as an evil sorceress can give). On a side note, I was a bit baffled to learn that the Beserkers can be defeated with mistletoe. I had a "Yeah, right. It's not going to work out so think of a Plan B stat" expression on my face when Ichabod said that the Beserkers' weakness is the infamous Christmas plant that people kiss under during the holiday. My prediction proved to be true when the arrows that Joe and Ichabod shot into the Beserkers at the junkyard turned out to be useless.
The scene where Ichabod drove by himself to Nevins' place to figure out what spell was used to summon the Beserkers astonished me as he handled the truck with ease. There hasn't been much driving time for the man pulled between two worlds, aside from the near-death experience when he first tried to drive Abbie's SUV back in the first season and that is something to be said about his skills behind the wheel. I was equally astonished that Ichabod knew to use a pencil to make a rub of Nevins' writing on the notepad given that back in Colonial Times, pencils weren't exactly invented yet.
The scene where Abbie was telling Ichabod how to strap on the mountain climbing gear was highly amusing to watch. Ichabod was all "I know how to do this, you don't need to teach me," but that quickly backfired as he tried to figure out the best way to put the gear on. The part where Team Witness descended from the trees to pour test tubes filled with Jenny's Shard-infused blood was very James Bond-like. I wonder if Tom Mison is a James Bond fan (and if so, who is his favorite version of the infamous British spy?). Though the sword that Ichabod used to disintegrate the defeated Beserkers confused me as there's no information given that after weakening the monsters one must plunge a sword into one of them to finish them off. Context, writers, context.
Additionally, Sophie Foster, who is Nevins' associate, wasn't his associate after all, but an undercover FBI agent sent by none other than Agent Reynolds himself. I was as stunned as Abbie was when Sophie revealed her true identity, and I'm assuming that being kept out of the loop must hurt Abbie in more ways than one. Hopefully, when Agent Reynolds returns to Sleepy Hollow, he can offer some sort of explanation as to why he didn't tell Abbie about the Nevins operation.
This episode of Sleepy Holow was good as it shed a light on two things: one, Joe Corbin finally admitted his feelings for Jenny when he kissed her in the masonic cell, which was an "about time" moment for the two of them, and two, we were offered a brief glimpse of what is to come as Pandora ordered a tranced Jenny to kneel before a hooded being, giving him her loyalty to carry out whatever evil plan he has in store. I didn't quite understand why Jenny had to immerse her arms in the little pond thing beneath Pandora's tree before meeting the mystery villain and Pandora. Maybe it was a way of telling them that she has arrived, but I'm just throwing it out there. I look forward to watching the next episode, which will serve as the show's fall finale as more of Pandora's master plan is revealed.
[Photo credit: Tina Rowden/FOX]