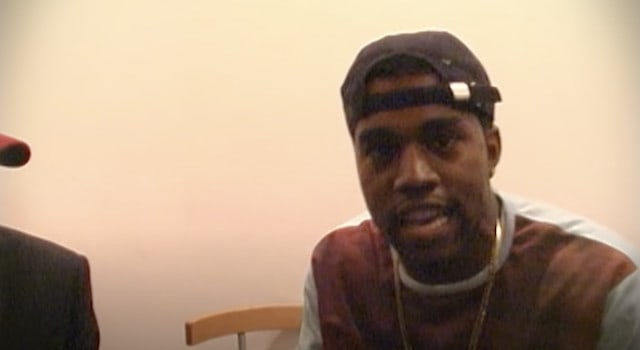 Few people have the ability to spot success from a mile away. Back when he was fresh in the game and hungry for success, Kanye's friend, Coodie, who he met when he was only seventeen, picked up a camera and decided to document the rapper's life. Coodie had seen a hint of jeen-yhus and rolled with it. What resulted was hours of footage of a struggling but determined Kanye starting out as a producer and working his way towards the very top of the world of music. Through Coodie's lens, we got to experience jeen-yhus: A Kanye Trilogy, a documentary that details the highs and lows of the rollercoaster that is Kanye West's life. These are seven lessons we can borrow from Kanye's story:
1. There's No Place Like Home
When people become successful, they do one of two things; they vanish from their hometown, never to be seen again, or embrace the place they come from. Right from the beginning, Kanye knew his roots and stuck by them. The bigger he got, the more love he gave to the city that watched him grow. When he finally got his record deal, Kanye's mom, Donda took him to his childhood home. Their lives were about change, but as things change, others stay the same. Kanye has in the past paid tribute to Chicago and continues to do so. When he isn't talking about his home city in his songs, he is giving his people a surprise performance. His love for Chi-town is deep, so deep that he had to name one of his children after the city that raised him.
2. "A Giant Looks In The Mirror And Sees Nothing"
The most notable quote from jeen-yuhs comes from Kanye's mother Donda, who was a key figure in the musician's life. From the beginning, Donda instilled words of wisdom in her son. Not only that, but she danced to every beat, and knew the lyrics to his songs by heart. She had no doubt that her son would be great, and to prepare him for the moment, Donda said the magic words that are echoed both at the beginning and the end of the film: " A giant looks in the mirror and sees nothing." These words were meant to keep Kanye grounded. "Everybody else sees a giant…" Donda said calmly. Only by staying on the ground and being in the air at the same time could Kanye, or anyone else for that matter, achieve a balanced state of mind.
3. Believe In Yourself, Even When Other People Do Not
Kanye has always had a strong belief in himself. Music production may be what got him through the door, but he always saw himself as a rapper. Other than his mom, who truly believed in him, Kanye knew he could make his rap dreams come true. For a long time, the dream was close and far away at the same time. The executives at Roc-A-Fella only saw him as a producer, and try as he would, they couldn't bank their money on him. Not even getting signed could get Kanye where he wanted to be. Life happened in the form of a tragic accident that eventually led to the record label shelving Kanye's album altogether. To get Roc-A-Fella to finally pay attention to him, Kanye chose to shoot and fund his own music video.
4. Match Self-Belief With A Sickening Work Ethic
The good thing about Kanye is that, despite his over-the-top belief in his capabilities, he has the work ethic to back up his claims. Way before he became a star, Ye was hard at work. When Roc-A-Fella failed to allocate a budget for his debut album, The College Dropout, Kanye went out of his way to make it happen. To prove to everyone that he was the next big thing, Kanye greenlit the production of the video for the song 'Through the Wire', which was born from the difficulties he was experiencing at the time. Only after the record label saw he was willing to bet $33,000 on himself did they decide to give him an album release date and a marketing budget.
5. Celebrate Your Wins, Unapologetically
Way before he won a Grammy, Kanye West was practicing his Grammy speech. By the time he got on that stage in 2005, he knew exactly what he was going to say and how he was going to say it. Kanye's speech read in part: "…When I had my accident, I found out at that moment, nothing in life is promised, except death. If you had the opportunity to play this game of life, you need to appreciate every moment. A lot of people don't appreciate their moment until it's passed…Right now, it's my time, and my moment, thanks to the fans, thanks to the accident, thanks to God, thanks to Roc-A-Fella, Jay-Z, Dame Dash, Gee, My mother, Rhymefest, everyone that's helped me. I plan to celebrate." Kanye's speech was normal, up until he closed it with the most Kanye thing anyone can say: "…Everybody want to know what I would do if I didn't win. I guess we'll never know."
6. With A Little More Success, Comes A Bucketload Of Hate
When people win, there tends to be a naïve thought that somehow, everyone will be happy for them. That couldn't be far from the truth. Even when you have the purest of hearts and want the best for everyone, not all people share that line of thought. Kanye's first taste of hateration came from his own backyard, and it grew even bigger when he couldn't stop at just being an artist. He spoke his mind, and, with the media and his scope of influence growing wider, his words became weapons through which he would be attacked. Kanye was diagnosed with bipolar disorder. He made headlines for the fits he threw online, and attracted as much hate as he did love, both socially, in his personal life, and politically. Still, Kanye's music has always been the way he wins the people back.
7. A Genius Is Defined By The Hours They Put In
The third part of Kanye's documentary begins with a hot debate between Kanye and Rhymefest. Rhyme doesn't really think Kanye is a genius. He's been in the studio with Jay-Z and seen him create a verse in five minutes. "…Maybe Kanye is brilliant, but Jay-Z is a genius," Fest says. He proceeds to define a genius as someone who has developed their craft through experience. Given his definition, it would help to look at Kanye's track record. As of 2022, Kanye has sold over 160 million records and 20 million albums, he has won 22 Grammy awards, he's released a total of 11 studio albums, three collaborative albums, one compilation album, two live albums, one video album, and a total of four mixtapes. In addition to having the culture at the palm of his hands, musically speaking, and going by Rhymefest's definition of a genius, Kanye has earned every bit of the title. He's in every way a genius or jeen-yhus, as he prefers to put it. The music has the final word, and right now it has jeen-yhus written all over it.