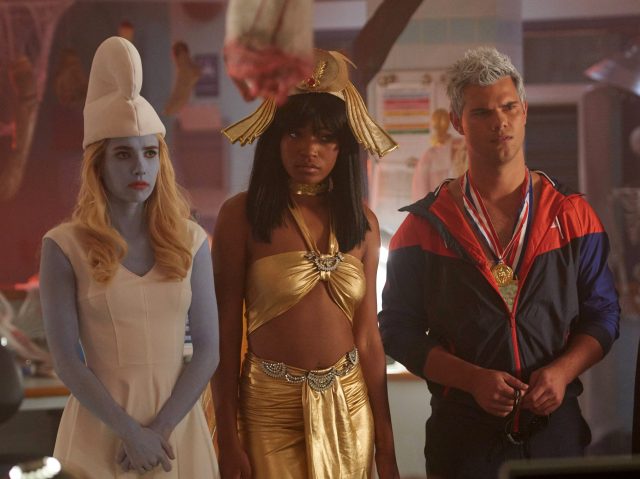 Despite still being relatively early on in the season, Scream Queens has felt more bold this season and the past two episodes were a prime example of that. The choice to kill off Chad Radwell, one of the show's best characters, was extremely bold, but makes it clear to the viewers that nobody is safe. Chad will be very missed, but he was a solid choice to kill off because he isn't as important to the plot as some of the other characters, and the writers actually did a great job of springing the surprise on viewers in a swift final moment of the show. This was a nice step forward for the show because it doesn't feel locked in on the idea of needing to have these characters stay around, and season two has already been a prime example of how the show can move on from previous characters. While Chad's presence will definitely be absent, this episode of Scream Queens finally felt like it was changing things up.
With Chad now gone, it completely changes the dynamic of Scream Queens season two because, as mentioned in the episode, the killer broke the theme of only killing patients. To this point, it seemed like there was not necessarily going to be a personal connection to this killer, but last night's episode continued to make things more personal when the killer has one on one interactions with both Denise and Chanel #5. It's probably the first big step forward in figuring out who the killer is because the show is finally providing some odd insight into things. Just like last year with Boone's obsession with Zayday, it seems like the Green Meanie has a thing for Denise, or at least toying with her. This episode has her face off against the killer where she holds her own and even sends him running from gunfire as she opens up on the murderer. "Halloween Blues" surprisingly was a heavy episode for Denise, who had an ongoing relationship with Chad that Chanel didn't seem to know about, and revealed through some good old Ouija board magic, Chad's ghost stops by and actually admits to loving Denise and only wanting to marry Chanel because of her money. The thing that is interesting though, is none of the characters really have a motive against Denise, who has been a nice side character that is a lighthearted comedic presence to love.
On top of this, Hester being back and free is a complete wildcard addition to things. Hester seems to know who the killer is but is just playing mind games to get back at everyone again. Her Ivanka Trump outfit was pretty amazing, but she seems to have her own plan for taking out the crew of Chanel's. Yet, is Hester working with the Green Meanie? While she is about to take down #5, she stops to let the Green Meanie strike first, almost as if she was the distraction the entire time. Although it would feel repetitive to have only two killers again, Scream Queens has been doing a great job with it's misdirection so far and the confusion over who the killer is, or more importantly, who is involved with the killer and possibly aiding them. Also, considering the show is moving past the Halloween segment of things, will Hester continue to sneak around as a costumed killer, or will she be locked back up immediately?
As for Chanel Oberlin, could she be getting set up to look like the Green Meanie? Aside from the patient deaths, this episode focuses on the three people she would most likely want to kill; Chad, who constantly cheated on her and treated her poorly, Denise, who was having a long-term love affair with Chad, and #5 who she always picks on. It would make sense that Chanel might have found out about Chad and Denise earlier than she was letting on and got her revenge on all of them. However, her character really just doesn't seem that smart, which is why it might be a set up. Scream Queens is great at misdirection, and it would be a ton of fun to have people start questioning and suspecting Chanel might be the killer, but with her newfound blue skin problem, could she also be the next target if she is now technically a patient of the hospital?
This season of Scream Queens has developed another fun mystery, and the stakes have clearly been raised. As previously discussed, the show is showing it's boldness in the decisions to begin attacking and killing off main characters. Chanel #5's fate is still up in the air, but she seems alive for now, which would be interesting moving forward because she was targeted for a reason. The only character who still seems like a mystery is Cassidy Cascade, who the show has revealed the least about so far. His character's dumb party boy background is an easy thing to overlook that would direct viewers attention away from believing he's the killer, but as we saw with Hester in the first season, never judge a book by it's cover. Despite the loss of an incredible Scream Queens character (and my personal favorite) in Chad Radwell, the show is finally beginning to take serious steps forward and display a change in the pacing. The show handles it's balance of comedy and suspense really well, which is apparent in "Halloween Blues" in the ways that it was able to balance Chad's death with a huge amount of fun moments for Denise and Chanel while also giving viewers some actual insight and plot movement.
Other Thoughts:
The costumes are great on this show; Cassidy as Lochte, Brock as the Batman V. Superman script.
So is Hester working with the killer of this season? She claims to know who it is, but tonight seemed like they aren't enemies.
R.I.P. CHAD, GONE BUT NEVER FORGOTTEN.
Scream Queens Season 2 Episode 4 Review: "Halloween Blues"