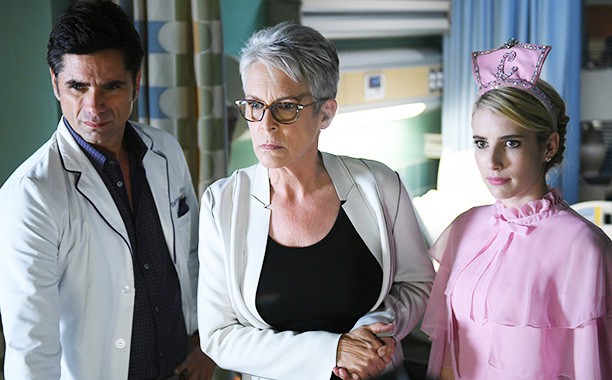 In season two of Scream Queens the show has been doing everything it can to keep things fresh without retreading on the jokes and plots used for the mystery in season one, and so far the show has done a nice job with that. The show has found a nice balance of utilizing it's new cast members and setting up a fresh mystery without ever feeling like it's struggling to push onward. Although characters like Chad and [now] Denise seem to be currently riding the bench, it has opened the spotlight for season two to become a truly separate season of ideas. "Blood Drive" continues to diversify the season in exciting ways that have the final stretch of Scream Queens season two setting up to be very interesting.
One of the more interesting parts of this season is how the show has chosen to give Dean Munsch a relatively serious problem to deal with and put her in a vulnerable position unlike ever before. The whole story behind her disease is hilarious, but it's definitely been surprising to see how much it has actually played into this season. What's especially interesting is that for owning a hospital fixated on the ability to cure any patient, she doesn't seem overly concerned with her situation and isn't pulling every resource at her disposal to make her cure a priority. Munsch is a great character, and Jamie Lee Curtis continues to be a blast in the role, so despite her not seeming to seek out the help she needs, with everything else going on in Scream Queens, it is more fun to have the character in a more worried state. Having Ingrid finally pull her ace and reveal to Munsch she knows everything going on shakes things up even more and brings a new element to that part of the story while also drastically changing the power dynamic.
Another way Scream Queens has successfully upped the ante was by finally fully reincorporating Hester. For awhile she acted as a plot moving device to help fill in some information about the Green Meanie, but she's finally free and back in the normal rotation. Hester is put into a more unique position this season with her claims to know who the killer is, and while that hasn't come up since she first made the mention, it's something to keep in mind. "Blood Drive" had a lot of fun with the character last night and is giving a nice balance of showing her psychotic tendencies, but in goofy ways. Her interactions with the vampire boy were amazing, especially her "Blurred Lines Cure," idea and the various blood food and drink concoctions to go along with it. Hester is definitely a wildcard and it seems like the show is putting her in a position to get really involved towards the end, especially if she believes to know what's going on but isn't aware of the multiple killers roaming around the hospital now.
Last night had a bunch of great moments, but really moved Scream Queens to an interesting spot with all of the new information that was dropped. "Blood Drive" included what might be the show's biggest twist yet, which was choosing to reveal the identity of one Green Meanie; Cassidy Cascade, who is the baby Zayday is looking for. This is how the show constantly throws the viewers off and separates itself from the previous season. Although the show mimics all of the best parts from last year, there has been nice thought put into how to keep viewers on their toes, and this was a first step. Now the audience knows that not only are Cassidy and Ingrid going to work together, but there is a third Green Meanie out there completely unrelated to the original murder massacre from the past. Will the Green Meanies end up working together as a trio? Or do their motives clash and THERE CAN ONLY BE ONE?!
Scream Queens has continued to be so much fun in the second season and really provides a great balance of comedy and mystery. Each cast member seems to be having so much fun with their role and the constant changes to the relationships and power dynamics are fun ways to flip the show on it's head. Despite "Blood Drive," shockingly revealing one of this season's killers, it has only raised more questions and opens up the possibility for confusion in the future. While it has been made clear that Ingrid wants the Chanel's to herself, the unknown third Green Meanie could still be who appears on screen as long as the show chooses to avoid showing us which person is chasing around the victim(s) of the week. With only a few episodes left, anything can happen, but season two continues to be tons of fun.
Other Thoughts:
*Ingrid is Ms. Bean's sister.
*So basically Blood Island is where King Kong is from? Chanel cameo in Kong Skull Island confirmed?
*So…. did Chanel #5 donate all the blood? Pretty amazing, but she is O negative.
*The chase between Chanel and Munsch followed by Munsch throwing the blood drive status pieces at Chanel was incredible. Damn you Stamos.
*I love Chamberlain, he's so nice and sweet. I hope he is truly innocent and not secretly involved, but he's definitely dropped some shady knowledge.
Tell us what's wrong with this post? How could we improve it? :)
Let us improve this post!