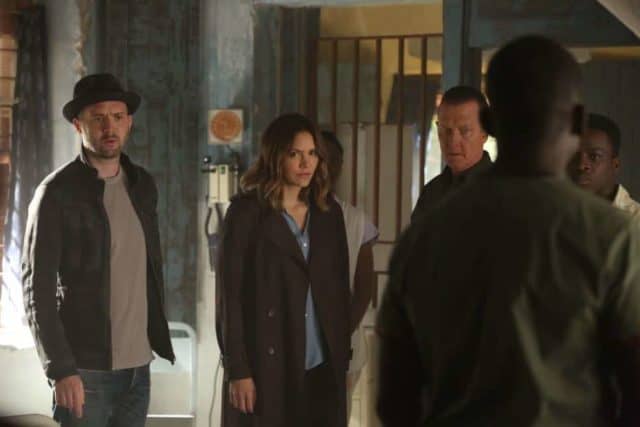 The team heads to Northeast Africa to save a village elder from dying in this season 4 finale of Scorpion. They navigate through an old minefield to get to the fuel depot. It's so they can get the fuel necessary to power the generator that's keeping the elder alive. Walter's white lie also comes to light as Waige begins to crumble. Happy and Toby make an important decision that will change their lives for the better.
The mission was a successful one, of course, since we have the best minds in the world working on it. The way that they worked to get Happy and Walter out of the toppled truck by filling it with sand is brilliant. Reminds me of when Indiana Jones replaced the idol he was retrieving with a small bag of sand. However, I was holding my breath when Walter didn't climb out of the sand right away. I know that he's okay, but I couldn't help but worry.
Kudos to Toby for correctly diagnosing Behranu's illness as polycythemia instead of heart disease. He managed to let out some of the village elder's blood despite the protests of the village doctor. The behaviourist also becomes the unofficial mentor to Cala as he formed a friendship with her as the mission progressed. It is also thanks to the young woman that Quintis decided to adopt instead of having children of their own biologically. Personally, I think adoption's a great way to give children without a family a chance to live a happy, healthy life and have people who will love and care for them.
On a side note, Sylvester's pen pal Alex and the clinic nurse Cala were the cheerleaders for this episode. They encouraged them when the team needed it and helped them solve problems from both sides of the mission. Alex aided with the minefield and fuel retrieval while Cala assisted Toby with saving Behranu's life. However, I don't entirely approve of Sylvester stretching the truth about past missions with Alex in his letters. I understand that he wants his pen pal to see him as this cool person who has done remarkable things, but honesty is the best policy. Even if it might not work out the way that you want to.
While we're on the subject of honesty, Walter's white lie to Paige finally blows up in his face. The liaison found out at the end of the episode that Walter went to the science lecture with Florence. To pour more salt on the wound, Florence reveals that she has developed feelings for Walter. I instantly felt sorry for Sylvester as he is the one in love with the chemist and had wanted to ask her out. I condemn Walter for calling Sylvester a coward for not asking Florence out when he had the chance to.
Paige's speech to Walter, although heartbreaking, does have some truth in it. She's never going to be able to satisfy him intellectually, and he won't do the same emotionally. They need partners who truly understand them. Someone to complement one another regarding skills and emotional needs. Like Agent Booth and Dr. Brennan, for instance, they can read each other like open books. If Waige ever pieces itself back together in the next season (fingers crossed), I hope that Walter will learn his lesson about keeping secrets from one's significant other.
Scorpion ended up falling apart, and two weeks later, the new Team Scorpion meets Team Centipede at Getterman's office. Paige is the person in charge of Centipede and Sylvester, Happy and Toby are working for her. As the episode ends, Walter calls out to Paige in the hopes of reconciliation. Perhaps Waige will be okay after all?
Final Thoughts:
Can't believe Sylvester took Toby's medical books without asking and sent them to Cala. You do know stealing is wrong, right, Sylvester?
Also, the Human Centipede comment from the human calculator? Yeah, not good. I read the synopsis of the film, and now I'm going to have nightmares.
Point of Inquiry: What's Ralph's feelings about not being a part of Scorpion anymore? Did Paige explain things to her son about it?
What do you think of this week's finale? Will Walter get together with Florence or back with Paige? Comment below with your thoughts! Photo via CBS
Tell us what's wrong with this post? How could we improve it? :)
Let us improve this post!