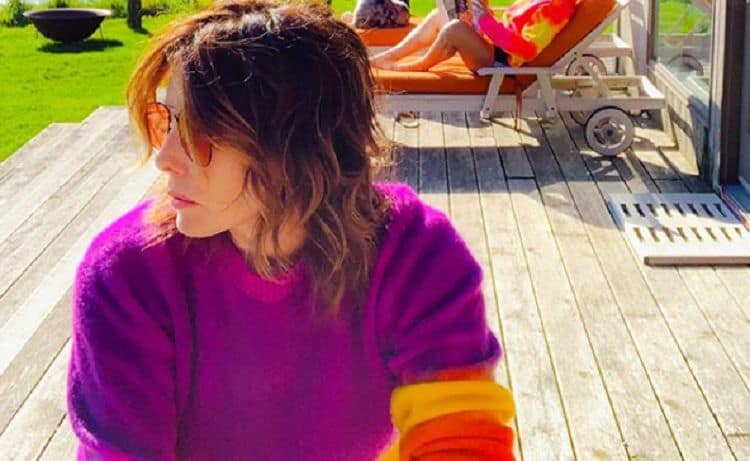 Sally Hershberger is one of the most famous celebrity hairstylists in the United States. She's known for her signature cuts and styles and for giving some of our most beloved stars their signature looks. We wanted to learn more about Sally and how she came to be such a successful professional in the beauty industry. We were amazed at what we learned. Here are 10 things that you didn't know about Sally Hershberger that will give you information about her backstory and help you to become better acquainted with her.
1. She's a native of Kansas
Sally was born in the state of Kansas in 1961. This makes her between the ages of 57-58 as of 2019. She spent the early years of her life in Kansas but her mother moved the family to California to begin a new life. After she graduated from high school, she decided that it was time for her to make some changes in her life and she started looking at career choices.
2. Her mother encouraged her to get a job
Sally didn't start cutting hair until she had graduated from high school and turned 18. Her mother told her that as an adult, she needed to find something to do with her life. It was time for her to find a job that would help her to earn a living to support herself. Cutting and styling hair was something that she was good at. She was hired to work as a hairstylist with Arthur Johns. This was a lucky break for her because she was given the assignment of going on tour with Olivia Newton-John. While on the road and keeping Olivia looking like a million bucks, she met a person who would influence her stylistically, named Herb Ritts. He inspired her to branch out and gain a sense of her own aesthetic sensibilities.
3. She's the lady behind Meg Ryan's signature shag that skyrocketed her career
It was Sally Hershberger who first gave Meg Ryan the signature shag haircut that she became so well-known for. It was called Sally Shag because it was her own creation. She went on to appear in the reality show "Shear Genius" which aired on the Bravo network. Hershberger had established herself as a trendsetting new hairstylist for the stars and she had the creativity to help celebrities find the perfect look.
4. Sally has created hair care products
Sally branched into a few other areas of beauty. She had established herself as a master hairstylist, but she also helped to create some of the more popular brand name products that have been used throughout the past few decades. She partnered with John Frieda to develop two new lines of hair care in the 1990s. They were called Beach Blonde and Sheer Blonde. These were best-selling products that netted an additional $120 million in revenues for the companies yearly.
5. She also has a line of clothing
Sally Hershberger is a name that is well-known among A-listers and when her name is associated with a product, whether it's hair-care or clothing, it draws in customers. She created a clothing line that she calls the Shagg Downtown collection. The line consists of jeans and T-shirts. The clothing articles were released for sale to the public in 2006 and were offered at some of the "better specialty stores."
6. Hershberger has a solo haircare line
Although she was successful in her collaboration with John Frieda, Sally Hershberger developed her own line of hair care products. She called it the Supreme Mead line of products. This was also a very successful venture. When it came to product development, Sally knew what worked the best to nourish and prepare hair for cutting, styling and to keep it in the best possible condition.
7. She made history
Sally Hershberger put in the hard work and long hours to establish herself in the beauty industry. She has worked with some of the most famous names in show business. After she had become well-known for her signature cuts, she was in a perfect position to charge rates that were more in line with the quality and uniqueness of her talents. In addition to being a stylist, she was also known as a creative artist. She had been featured in multiple publications and on television programs and she became the first New York hairstylist to charge a rate of $600 for a haircut. It's a price that her clients were willing to pay, and at present, her rates have climbed to $800 per cut.
8. Her salons are bicoastal
Sally Hershberger has opened three salons. She has one in Los Angeles on La Cienega Boulevard, and two in New York City. The most recent addition to her East and West coast operations opened in 2018 with a partnership formed with Barneys New York.
9. She was raised in a broken home
When Sally was little more than an infant her mother and father divorced. She didn't' know what it was to be raised in a home with both her mother and father present. Her father was an executive in the oil exploration industry who experienced a measure of success, earning him a small fortune. Her father did well financially and professionally for a while, rubbing elbows with president Gerald Ford, senator Bob Dole, and others, but his good fortune ran out and he lost everything that he had gained and even ended up doing time in prison over legal issues.
10. She's known her share of tragedy
Sally has built an amazing career for herself in the beauty industry. She is also a brilliant entrepreneur who has several of her own product lines, along with three high-end salons on both coasts. Although she has achieved a measure of fame and fortune, her life hasn't always been easy. Her father's misfortune with legal issues, financial loss and jail was one thing, but there was even worse. Hershberger lost two of her brothers. One of them died in a car accident and the other passed away from a drug overdose.