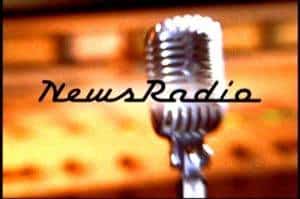 Original Air Date: March 21, 1995
It's time for a new spotlight here at Rewind Recaps, and after exploring the dramatic side of New York with the best of the first season of Third Watch, I thought we'd lighten up a little with another New York-based show that also aired on NBC.
NewsRadio (1995-1999) was the genesis of the modern workplace sitcom, and is probably one of the best comedies ever to see the airwaves. As a kid, I grew up watching this and Wings. Imagine my surprise to rediscover it on TV recently and realize that fifteen years later, it's still just as funny as I thought it was then. The only thing that's changed is I no longer have my childhood crush on Dave Foley. (Although I did meet him in 2004 and again in 2006, when I was covering Bravo's Celebrity Poker Showdown, and I can report he's a very nice guy in person.)
For those of you that may have missed the boat, here's a quick introduction: the show centers around the WNYX news station and its eccentric cast of employees. News director Dave Nelson (Dave Foley, Kids In The Hall) is a new hire from Wisconsin, the straight man to everyone else's weirdness. He very quickly finds love with career-driven Lisa Miller (Maura Tierney, before ER shot her to much-deserved recognition), with whom he'd be on and off again for most of the series. Dave also has to corral strong on-air personalities in the egotistical Bill McNeal (the legendary Phil Hartman) and Catherine Duke (Khandi Alexander, pre-CSI: Miami), and deal with the quirkiness of station employees Matthew Brock (Andy Dick), his secretary Beth (Vicki Lewis), office handyman Joe (Joe Rogan, when he was still acting), to say nothing of his boss and station owner Jimmy James (Stephen Root, pre-Office Space and King of the Hill). It's quirky, sarcastic, sometimes bizarre, and just downright hilarious.
The pilot marks Dave's first day on the job. He's so determined to make a good impression on his new staff that he's timing to the minute when to get on the elevator in order to arrive exactly on time; however, he doesn't realize he's in the wrong building. (There's a fun continuity error here; Dave is wearing a blue suit when he's talking to the security guard in the lobby, but when he gets to the office after the opening credits, he's wearing a black suit. Die-hard fans will also note that Khandi Alexander doesn't appear in the pilot; instead, Ella Joyce plays Catherine. Joe Rogan also doesn't appear.) He turns up fifteen minutes late and walks right into Jimmy, who proceeds to mess with him right off the bat. It seems that Jimmy hasn't bothered to fire Dave's predecessor Ed (Kurt Fuller, before his days as the coroner on Psych), and expects Dave to do it for him.
Dave is completely flustered by this, and it only gets worse when Jimmy tells Matthew he's the new sports guy, a lie which Dave can't help but perpetuate while he tries to figure out how to fire Ed. He suffers a guilt trip when Ed's perpetually bad back goes out again, and Ed tells him that his job is the only thing keeping him sane. Furthermore, Lisa is convinced that she's going to be named the next news director. No one seems to have any clue what's going on except Dave himself. A case in point is his classic introduction to Bill:
Bill: New sports guy, right? I love sports and I heard you're the best.
Dave: Where did you hear that?
Bill: I heard your audition tape. Good stuff, good pipes, clean delivery…
Dave: I didn't send in a tape.
Bill: …You're from Canada, eh?
Dave: Wisconsin, actually.
Everything seems to be alright after, once Bill and Catherine both try to intimidate him over an Al Gore interview, Ed quits. However, Jimmy informs Dave that Ed quits a lot, sometimes multiple times a week and even on weekends when no one's there. True to form, Ed comes back a few minutes later…and makes Matthew upset. Trying to comfort him, Dave tells him that he's about to fire Ed. Matthew tells Beth, Rick and Lisa in a matter of minutes. Everyone knows shortly thereafter, except Ed, who shoves Dave into the booth to do the sports update, with predictably disastrous results. After that performance, Ed tries to fire Dave instead.
Dave finally breaks the news to Ed that he's fired, and Ed does not take it well. Dave, however, has had enough and immediately starts taking the reins of the station, vowing not to be messed with. He survives to the end of the day, when he talks to Jimmy, who admits he may or may not be making everything up as he goes along…including the arrival of a new sports guy (played by a pre-CSI Wallace Langham).
The pilot for NewsRadio is a pretty good pilot, setting the stage for just how quirky this workplace comedy was going to become. We get to meet almost all our main characters (except for Catherine, who has very little to do this episode and is recast anyway, and Joe, who has yet to appear) and get a grasp of who they are, but without really getting into their heads just yet. The pilot doesn't show much of a hint as to just how weird Matthew can become. Bill's a blowhard, but he gets a lot worse later on. It's obvious Dave and Lisa have a flirtation, but it's not even really referenced. Yet by the very next episode, everything's already set to go upside down. Paul Simms and Co. know how to set the table for a hilarious series.
If you've missed any of the laughs, NewsRadio is available on DVD, and is currently airing in syndication daily on the Reelz Channel. It's worth a second look. Come back right here and join me as I recap the best of the first season of NewsRadio and relive the escapades of the WNYX news team!
Tell us what's wrong with this post? How could we improve it? :)
Let us improve this post!