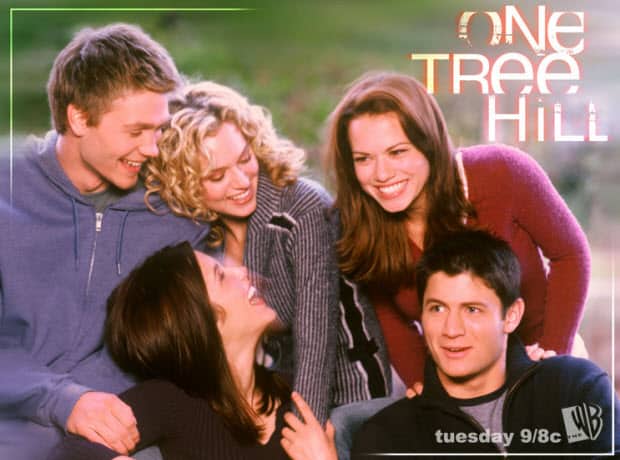 Ten years ago today, The WB premiered a new series, One Tree Hill. Although it initially drew comparisons to The OC, which debuted a month earlier, One Tree Hill arguably stands as the greatest teen drama of our generation. Our older siblings had Dawson Leery, just like we had Lucas Scott to dispense wise words of wisdom.
Nine seasons of drama, laughter and (often times) tears made us love this group of friends that became family, and family that became friends.
Eight babies were born to these characters that we grew to love. A few were named following the Tree Hill tradition of using their mother's maiden name and a best friend: James Lucas Scott, Sawyer Brooke Scott, Davis Nathan Baker.
Seven car accidents, often times involving a main character, made plenty of use of the hospital set on the Wilmington, NC sound stages.
Six different time slots throughout the series' run kept us all on our toes season after season. The show even survived a network shift when The WB was merging with UPN to form The CW.
Five main characters introduced us to this world of the fictional town of Tree Hill, NC. Lucas and Haley started as outcasts compared to Nathan, Peyton and Brooke, but by the end of the first season they were mostly all romantically linked. Love triangles were a big part of the early half of the series.
Four psycho stalkers brought the soap drama to the extremes! Whether it involved a hostage situation on prom night or a deadly chase through a corn field, those episodes always kept us hooked.
Three successful weddings saw our main characters all coupled off. It took Lucas a couple tries to get it right, and once he finally did marry Peyton in the sixth season, we were sad to see them leave Tree Hill. Nathan and Haley remained the strongest couple through the series, starting with their elopement at the end of the first season. Brooke finally found her soul mate in Julian, a new character only first introduced in season six.
Two brothers, Lucas and Nathan, were introduced in season one as enemies both on and off the basketball court, but they eventually became best friends. The same can't be said for their own father, Dan, and his brother, Keith. It's no spoiler all these years later that Dan shot and killed Keith in what will probably always be the show's most memorable episode. If you stuck with the series until the very end, Dan suffered the consequences of his actions and redeemed himself throughout the ninth and final season.
Many life lessons were taught, but the greatest one came at the end of the first season. Lucas was struggling with the decision to leave town with his uncle Keith after a hard year when his mom sat him down for a talk. She was stressing that the answers to whatever questions he's searching for are most often in himself. This quote is the show's take on the old "there's no place like home": "There is only one Tree Hill, and it's your home." This was called back at the end of the final season, when Haley was passing the torch onto her son, Jamie.
What do you miss most about One Tree Hill? The drama and intrigue? The characters who more and more felt like our close friends? The amazing music it introduced us to?
Tell us what's wrong with this post? How could we improve it? :)
Let us improve this post!