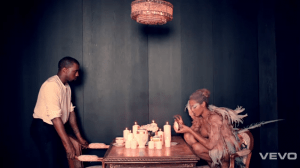 I like Kanye West. That seems almost like a subversive thing to say, doesn't it? Over the past year, the rapper has established himself as one of the most hated people in the music industry, mostly due to his 2009 VMA interruption of Taylor Swift's acceptance speech. We all know the one.
But Kanye has really pulled a brilliant PR turnaround, thanks to the new technology of Twitter, which West joined earlier this year. He quickly became one of the most followed voices on the site, and also one of the funniest. He also began giving away free music every Friday. The tactic, called G.O.O.D. Fridays (the G.O.O.D. is his record company, "Getting Out Our Dreams"), releases some star-studded music featuring artists like Jay-Z, Mos Def, and John Legend. For free.
One of the songs he hasn't released for free is his latest single, "Runaway," which he introduced at this year's VMAs and released earlier this month on iTunes. As you would expect, 'Ye has released a music video for the single, though there's an interesting fact about that video: it's thirty-five minutes long. Yowza.
Well, it's more of a short film than it is a music video, but there is a LOT of music in it. When it aired on BET, MTV, and MTV2 last night, I was actually surprised that there was so much from his upcoming album, My Beautiful Dark Twisted Fantasy, in the film. The film starts off with what I'm assuming is the album's first track, "Dark Fantasy." There's a short scene featuring the instruments and samples from "Power," before going into his upcoming single, "All of the Lights" (my favorite from what I've heard). Then there's the eight-minute performance of "Runaway," which is, naturally, the centerpoint of the flick. Then there's a bit of "Blame Game," featuring John Legend, which is the tenth track off the album. The film then ends with the eleventh track off the album, "Lost in the World," which is easily the most sweeping, beautiful track on the album.
The music really compliments the strangely artistic sensibilities that West, as a director, brings to the film. His acting is horrible, but that's no surprise; he occasionally delivers a good one-liner but mostly he's completely wooden. But his directing is very art-house and surreal, and it really works, for the most part. Sometimes the focus lingers on one shot for just a little too long, but otherwise West accomplishes what he set out to do: create an ultimately trippy, well-put-together music video that is totally ballsy in the world of hip-hop. Lady Gaga made a nine-minute video, sure. But "Runaway" just does it so much better, in my opinion. It's not just a music video for the song "Runaway" — it's a music video for the rest of the album. West should release this on DVD alongside his album at the end of next month.
My Beautiful Dark Twisted Fantasy will drop on November 22.