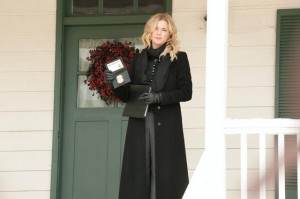 Secrets aplenty were spilled in this week's episode of Revenge as it appears that the Grayson family really is 'on the verge of absolute catastrophe.'This episode did not disappoint as Emily's path for revenge became clearer and Daniel was released from jail. So let's get to the main points of 'Absolution,'shall we…
Charlotte does her homework. Of course I don't mean her homework for school. This girl is still on a downward spiral, getting drugs from her ex and failing calculus. However, Charlotte was useful this episode as she really wanted to learn about her dad, David Clarke. Worried about her half sibling, Emily finds the youngest Grayson surrounded by magazines and information regarding her father. We later see Charlotte and her mother visiting his grave as well. Of particular note is a photograph dated the day he died which shows him writing in a journal. Recognizing the date, Emily realizes one of his journals is missing from the infinity box, which leads us to….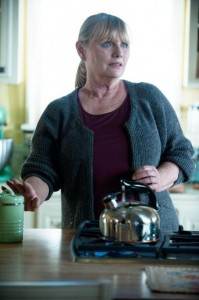 Nolan's secrets. As everyone knows, you can't keep secrets from Emily Thorne for very long. It was just a matter of time before Emily found out that Nolan was hiding a journal from her. In his defense, he was only attempting to protect both his family and David's dignity at the end of his life. At the time of his death, her father had become paranoid and scared. Knowing he wouldn't want her to see him like this, Nolan withheld the book from her. In this journal, David remarked that everything will be over tomorrow when CM is going to help bring the truth to light. So just who is CM? CM is Carole Miller, who at the time of David's incarceration, was working for Conrad and attempting to find out the truth regarding flight 197 to exonerate David Clarke. Just as she had gathered enough evidence, things went sour and David was murdered so Nolan faked his aunt's death and changed her name to Carole Thomas. After a misunderstanding with a shotgun (!!!), Carole tells Emily of a man who worked with Conrad who has white hair and ice blue eyes and that she has only seen twice; once, a year to the day before the plane crash and then on the morning of her father's death. This is the man who killed him.
'When I choose to react, you'll know it.'To make Conrad pay for all of his misgivings, including chasing Dominik away, Victoria finally chooses to use the business card of Mr. McGowen of the Securities and Exchange Commission. In exchange for complete immunity, she begins to spill everything about flight 197 and Conrad and Grayson Global's involvement in the terrorist attack. To be blunt, the _____ is about to hit the fan for Conrad and his company.
Jack's visits. Meanwhile, Jack didn't do much during this episode of Revenge but he did share some valuable information with Daniel after his release from jail. Not only did he give Daniel his cell phone back from Tyler's pocket but he also informed him that the bloody hoodie found with Lee was actually his so it's unlikely he actually killed Tyler. If you're like me you were probably thinking why would Jack do this? It's simple. Emily trusts Daniel and therefore so does Jack.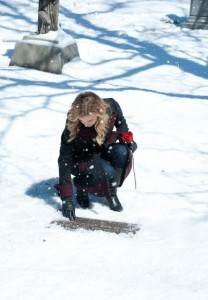 Daniel is finally free. After reviewing the confession from Lee, all charges against Daniel are dropped and he is released from prison. Feeling like the rich always get away with 'murder'especially as the climate of Occupy Wall Street fills the air, the citizens of the Hamptons are infuriated. In order to combat this image, Daniel takes on the press in a big one to one interview. Learning a tidbit from Jack, Daniel yearns to know the truth and he learns it from his father. He learns everything; from who was responsible for his beating in jail to what really happened with David Clarke and flight 197. Despite these revelations from his father, Daniel sticks by his dad during the interview, causing Emily some distress.
So what is Emily's plan now? Simple. She'll marry Daniel, and find the man who killed her father and kill him. Next week we will flashback to 2002 and witness the genesis of Emily's plan for revenge including another trip back to Lydia's infamous New Year's Eve party where she played waitress.
With all these secrets being spilled and more to come as we crank towards the season finale, what did you think of this week's Revenge? Which secret shocked you the most? What do you think will happen with our love triangle? Do you think Takeda and Fauxmanda will reappear before the end of the season? Let us know what you think and your theories in the comments below!
For all of our coverage of the show, including sneak peeks, photos, spoilers and more, browse and bookmark our Revenge page. You can also watch the newest episodes from Hulu there.
Tell us what's wrong with this post? How could we improve it? :)
Let us improve this post!