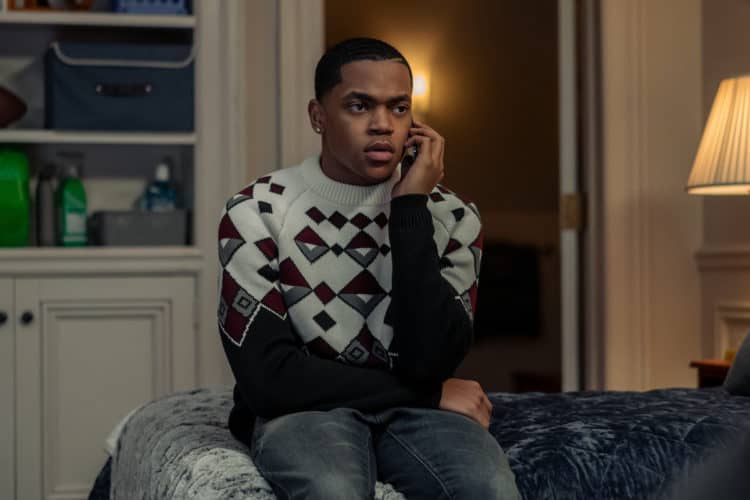 Power Book II: Ghost Season 2, Episode 5 has the internet in an uproar! One thing about the Power universe is their uncanny ability to make use of every single second of the episode, so there's tons of action. In the previous episode, Zeke became the prime suspect in Professor Jabari Reynold's murder after a bad live interview where he incriminated himself. The Tejadas went into damage control mode. Cane dug up Detective Ramirez's body and planted his badge in Tariq's dorm room. In the opening scene of Episode 5, Zeke is voluntarily turning himself in with Monet and Davis in tow. Davis is coaching Zeke on how to conduct himself on the inside while Monet promises to get him out as soon as possible. When they arrive at the police station, they are informed that Zeke is no longer a suspect in the case and that he's free to go. Whew….that was close! However, Zeke is still upset with Monet because he bombed on national television and it can affect his chances of getting drafted. The detectives switch gears and decide to look into the book that Jabari was writing for clues and they bring Carrie on board to help.
Overwhelmed
Tariq knows that he has a target on his back and he asks Brayden if Cane came looking for him. Brayden lies to him. Tariq warns tells him to stay away from the Tejada's. Meanwhile, Monet summons Mecca to her bar. She attempts to finish whatever it is that's brewing between them, but Mecca is very persuasive. He informs her that he has set up a trust fund for Zeke and her other children. Monet makes it clear that she needs a break from everything because she is overwhelmed with everything that's going on. Tariq's plan to stay away from the Tejadas doesn't last long because Monet pulls up on him at school. They drive to a secluded area and she pulls a gun out on him. Monet confronts Tariq about lying about Jabari's murder and he tells her that Jabari knew too much. He also tells her that Cane impulsively shot him, leaving Tariq to have to clean up his mess. Monet agrees to forgive Tariq if he can find out who Cane connect is.
The Book
Carrie helps the detectives analyze the new book and she realizes that Jabari was writing about Tariq. Carrie believes that Tariq's roommate Brayden might be selling drugs even though it doesn't make any sense because he's family is rich. Detective Whitman still believes that Zeke . They listen to the recordings on Lauren's wire, but there's not much to work with. Carrie reveals presses Lauren to try and get more information on the wire by telling her that Brayden might be selling drugs and that it could negatively impact Tariq. Lauren goes to Tariq dorm room while wearing the wire, and of course, Brayden is there with Cane. Brayden asks Lauren about Tariq's whereabouts and she reveals that Tariq is looking for an apartment so he can bring his sister home. Now Cane knows a piece of vital information and the detectives are able to link Cane Tejada to Brayden.
Plan Gone Wrong
Tariq sends Brayden to pick up the re-up from Cane and spies from afar in a borrowed car. He follows Cane right to his plug, but gets caught by one of Mecca's goons, Nuff. Nuff beats Tariq up and turns him loose after Cane denies knowing him. Nuff doesn't believe Cane. Loud and boisterous the goon confront his boss, but Cane vehemently denies knowing Tariq again. Mecca gives his chef the signal and the chef slices Nuff in his throat. Monet visits Lorenzo in prison. However, their visit is cut short when he gets a call from Saxe. Lorenzo nods for Monet to leave the room so he can take the call. Monet is low-key hurt and shocked at how her husband is moving. Saxe informs Lorenzo that he was hired by Diana and that they have a hearing scheduled for the next day.
Wins and Losses
Lauren helps Tariq secure an apartment for Yaz. On his way to the custody hearing, Monet stops him. Gun on her lap she tells Tariq that she's going to make sure he knows how it feels to lose his sister since he failed miserably at finding out who Cane plug was. However, he was able to find out the name of the plug; Mecca. Tariq tells Money some hard truths about what her kids has been up to right under her nose. He tells her about Diana stealing the money to pay for Lorenzo's lawyer, Dru still messing around with the basketball player at his school and Cane replacing the product with sugar so he could bring in a new plug. Monet let's Tariq go so that he could go to the custody hearing. Tariq wins the custody hearing. For a minute everything seems to be falling into place. When Tariq arrives back on campus there are police officers everywhere. Brayden tries to signal to him but the detectives spot him and arrest him for the murder of Jabari and Detective Ramirez! Lauren and Professor Carrie watch as he is escorted into a police car. Tge trust fund attorney visits him in holding to give him a letter from Ghost. A letter he was instructed to give Tariq if he was ever arrested for murder. The letter read in Ghost's voice: " I knew you'd end up here lil n****. Right where you belong."
Tell us what's wrong with this post? How could we improve it? :)
Let us improve this post!