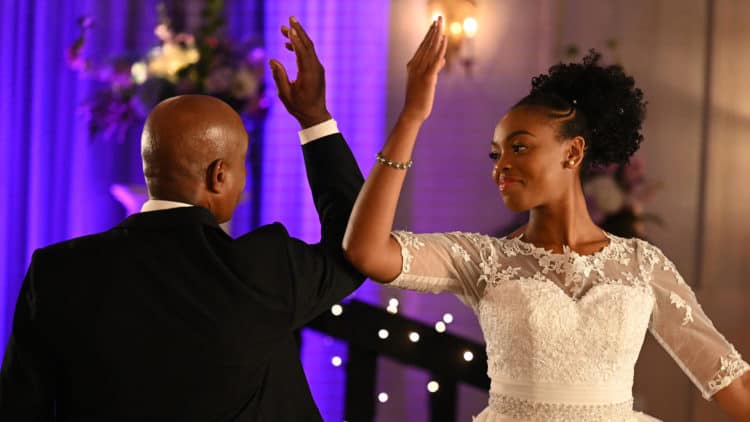 After a two-week hiatus, the crew on Our Kind of People can't back in full seeing not missing an opportunity to bring the drama. After passing out in Episode 5, Teddy is feeling much better in Episode 6 and is back to business in the first scene. He has Tyrique come into his office and he lets him know that he's aware of his relationship with Angela as he saw them coming from his office. Teddy makes it seem as if he has a vested interest in their relationship but when he confirms Leah's suspicion he makes it clear that he doesn't trust Tyrique anymore.
Alex Comes To Town
We find it pretty quickly that things are about to get spicy when Alex, Raymond's first wife comes to town. She's appeared at one of the meetings for the cotillion. Angela steps up and lets Leah know that she has her back. We love the comradery that's slowly but surely building between the two sisters. Unbeknownst to Leah, Raymond had her come back to Oak Bluffs to find out Teddy's secrets so that he could bring him down forcing him out of his marriage once and for all. Mama Liv confronts Alex and warns her to stay away from her family.
Love Triangle
It seems like things are heating up pretty quickly between Nikki and Lauren's now ex-girlfriend Taylor. Taylor wants to escort Nikki to the cotillion and Nikki eagerly accepts. They seal deal with a kiss during their romantic picnic on the beach. Nikki and Taylor's brewing romance is bound to put even more tension in Nikki's relationship with Lauren especially since her cousin is still hurting from the breakup. After being forbidden from attending the cotillion, Lauren has learned her lesson, or at least it seems like she has. She apologizes to Nikki but Nikki accepts it but she doesn't really believe that the ice queen is truly apologetic. Lauren has even donated clothes from her closet to start a business attire charity line for young professionals.
Secrets
Meanwhile, Teddy is up to something. He tells Angela that he wants to escort Nikki to the father and daughter dance. Teddy also lets Angela know that he really just wants to do the right thing and get to know his daughter and granddaughter. Teddy also informs Angela that he was "sent" a letter by her by Nikki's father who's in jail. Teddy has concocted a plan to get him out of jail and break up Tyrique and Angela. Teddy tells Angela that he was able to get a release date for Nikki's father and this makes her furious. But Aunt Piggy keeps it real with Angela and tells her that Nikki should know about her dad and that she's really angry because she's trying to protect her own secrets. Angela voices her concerns to Tyrique and tells him that she's not sure whether Teddy's intentions are pure. Tyrique encourages Angela to Teddy a shot and a chance to develop a relationship with her and Nikki. Angela and Leah are also becoming closer but she confides in her sister about her concerns with building a relationship with Teddy. Angela unknowingly gets under Leah's skin when she quotes the same speech that Teddy gave her. It's obvious that Teddy is manipulating both of his daughters.
In the next couple of scenes, Alex and Raymond are conversing. Raymond wants to make sure Alex is sticking to the plan of taking Teddy down without ruining his marriage. Alex tells Raymond that she didn't want to leave him fifteen years ago but Mama Liv threatened to have her parents deported if she didn't leave him. Angela and Tyrique discover that Teddy was covering up something related to Tyrique's father's death. Tyrique angrily confronts Teddy demanding to know the truth. Teddy claims that Tyrique's dad wasn't killed during a shoot-out while evicting one of his tenants as he had previously claimed. That was just a cover story. According, to Teddy Tyrique's father, shot himself in his car and they needed to devise a story so that Tyrique and his mom would be able to receive the death insurance benefits. Tyrique isn't buying the story and he gets aggressive with Teddy who then passes out. Teddy has a stroke and he's transported to the hospital. Everyone rushes to the hospital when they find out Teddy had a stroke. When Angela arrives with Piggy and Nicki tow they are in for the shock of their life when they realize that Nikki's dad is there in the flesh as well.
Tell us what's wrong with this post? How could we improve it? :)
Let us improve this post!