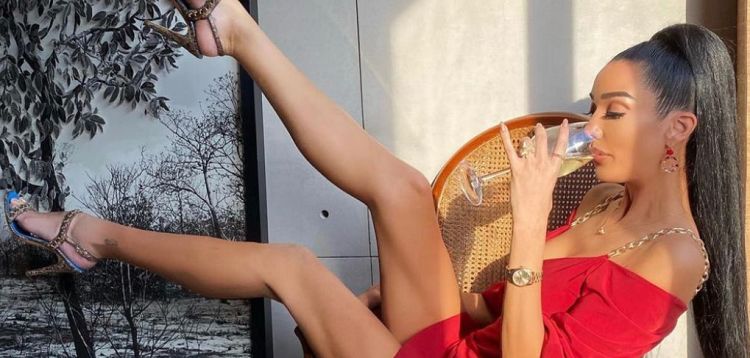 The housewives franchise is massive, and it's all thanks to the popularity of the OG show, "The Real Housewives of Orange County". This coastal California county follows the lives of women from affluent beach communities such as Laguna Beach, Newport Beach, Crystal Cove, and a few of the other beautiful seaside communities in SoCal, and the network always picks the best wives to follow. This season, we are being introduced to two new faces. Season 16 brings about the likes of Dr. Jennifer Armstrong and Noella Bergener, and the world wants to know more about Noella Bergener.
1. She is Liberal
She is proud of her beliefs, and she likes to tell the world that they don't know anyone like her – though we'd argue that it seems as if more people than ever are following suit and announcing their liberal ideals for the world to hear. She calls herself "biracial, bisexual, bilingual," and very outspoken and proud of it.
2. She Doesn't Want to Be Judged
She feels she looks like someone who is not a nice person, but she wants the world to know the inside of her book is not like the exterior. She might come across initially as someone who is unkind or rude if you base her solely on her appearance, but she has a good heart. She's a kind person who wants to do for others.
3. She Thought Her Life Was Amazing
When she was asked to be part of season 16 of the OC, she thought she should do it because she led such an amazing life. She has great friends, adorable children, a handsome husband who is a famous attorney in SoCal, and she lives in the lavish Crystal Cove neighborhood. She didn't see any reason she should not share her life with the world. She also thought her marriage was amazing.
4. Her Husband Divorced Her During Filming
With all that amazingness in her life, she was shocked, floored, and completely caught off guard while she was filming and found out her husband was done with their marriage and ready to move on. She did not see it coming when he filed for divorce. She is relying on support from Shannon Beador – who also went through a very public split – during this tough time.
5. Her Father Was Not in Her Life
Growing up, she did not spend much time with her father. He was not part of her life. He is a black, conservative man, and her mother is a white liberal woman, and she feels that this is something that is very cool and unique for her. However, her father was not part of her life despite the fact that he was very much a part of everyone else's life. He is Christopher Nance, and he spent many years working as the KNBC Channel 4 meteorologist. She made the decision to contact him in the past few years, and then she made the announcement her father died.
6. She Will Not Be Sharing Her Daughter
She's got a seven-year-old daughter with an ex (not the husband she is divorcing), but you will not see her daughter on television. Her ex has asked her not to share their daughter's life on camera, and she respects his wishes regarding that request.
7. She Lives in the Moment
If you want to know how she lives her life, it's very much in the moment. She'd rather just enjoy right now than worry about tomorrow or the next day. She's not someone who is into being caught up in what happened yesterday or what might or might not happen tomorrow, and it's not a bad way to view life.
8. She's More into Forgiveness than Permission
We say it all the time – it is always better to ask for forgiveness than to ask for permission, and that is her life motto. She's going to do what she wants to do, and she's going to apologize later if it offends or upsets someone in her life.
9. She Filed for Divorce
While the news reported that her husband filed for divorce while she was filming her reality show, he simply filed for a legal separation. Noella herself filed for divorce in November of 2021. She says that their differences are irreconcilable, and she's not happy about that. Together, they share a 2-year-old son whose name is James Jr..
10. She's Only Been Married a Year
What is interesting to us is that she's only been married a year, and she is filing for divorce now. She and her husband welcomed a baby two years ago, they got married a year ago, and he's been fighting off some serious financial issues that she was unaware of until just recently. It seems like there was more trouble in paradise than she thought, and maybe the divorce is not such a shock.