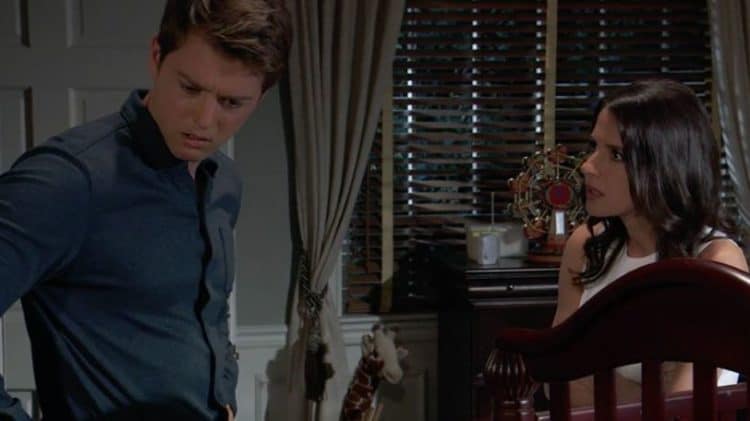 General Hospital fans know that Finn has every opportunity to get his life together and help people out with his knowledge and what he knows, but he's not doing it. He is not getting involved, he is not opening his mouth, and he is not offering up any help that people so desperately need. He's being someone who will not go out of his way, and some people are going to blame him for that. Some people, of course, will not blame him and his choices. Others simply will not understand that this is going on and that he is making this choice for a reason. It's not good, but it's what it is. And then there's Kiki. She's been working so hard to prepare for her trial, and she's not there yet. She's upset, she's nervous, and she's determined. And she's also still trying to hide her secret from her mother.
Julian is grateful, but things will turn around for him before much longer. He can never stay out of trouble too long, and that brings us to Jordan. She's working her butt off trying to make sure that Nelle spends a very long time in a jail cell so that she never gets to go free and live her life. Brad and Lucas are living their dream with their new baby, but it's anything but a dream for Brad. It's more like a nightmare for him given the fact that he stole that baby from a healthy family. Well, he made a deal to switch Nelle's live baby with their dead one so that no one would know any different, and seeing Michael and his family as they grieve is all but killing him slowly from the inside out. We wonder how much longer he can hold out on this one.
What's Happening on General Hospital
PICS: #VerneeWatson, @josh_swickard, @japastu, and @TamaraBraun all rocked the red carpet last night. Check out all the fun now! #TCA #GH55 pic.twitter.com/ihfonCdTNt

— General Hospital (@GeneralHospital) August 8, 2018
This week was a red carpet kind of situation for many of the stars of GH, and we got to see them hit the red carpet in their finest. They looked good, and we can't help but wonder if there is a chance they could even look better. Well, no, there's not. They do clean up nicely, and it's fun to see them getting along and being friends instead of destroying one another behind their backs. This was fun to watch, and we want to see more of it when the chance comes. It's time for us to check out their pictures.
What's Next on General Hospital
"You need to give me proof that Anna's alive!" #GH55 pic.twitter.com/CA2EmJV8YM

— General Hospital (@GeneralHospital) August 8, 2018
Franco is making things worse. We know that he's done some good things lately, and he is working so hard to make his life better, but he always makes things worse. He helped to get Carly free, and now he is paying for it by making poor decisions and not doing what he needs to do to get his life in order. Expect to see some more of that in the near future. We can also expect to see the fact that Sonny is going to have one of the best worst days of his life. Something wonderful is going to happen for his family, but it's also the hardest day of his life because of everything that's gone down lately. It's going to be a moment in which we all smile, but with tears in our eyes at the same time.
Jordan is taking the initiative to get things handled. She's not sitting around and waiting on things to fix themselves or anyone else to do it for her. She's making moves, and she's going to do things her own way. She's got this under control, and she's making a vow not to allow anything, or anyone, to get in her way and ruin what she's working so hard to prove. She's so close, and she knows that. And now she's going to have to get her situation under control so she can move on and forward with her life. She's so happy to help, of course, but she's going to have a moment in which she struggles badly.
Stay tuned for more General Hospital and be sure to check out TVOvermind daily for the latest General Hospital spoilers, news, and updates.