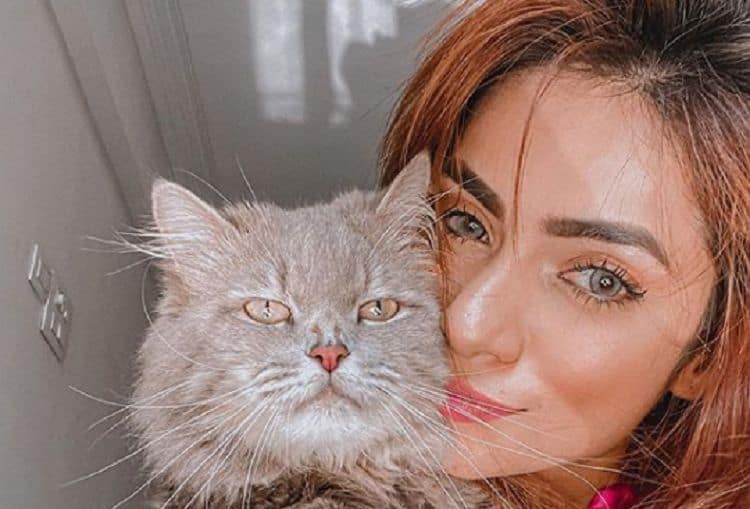 The social media era has given rise to many influencers. These platforms have notably broadened the audience outreach making ordinary people who flaunt their lifestyles and talents get recognition from businesses who usually use them for marketing purposes. One of those celebrities who enjoy fame from the new technologies is India's very own Nagmar Mirajkar. The internet star has become a sensation among the users of the video-sharing application, Tiktok.
Nagma has become a household name because of the content she shares with her fans; she engages her followers through fifteen-second videos of her dancing, singing and lip-syncing. The Tiktok superstar wears many hats besides being a social media influencer and works extremely hard to balance her busy lifestyle. She may appear to be an ordinary Mumbai based lady who shot to fame gradually, but there is a lot more you do not know about her. Here is a list of facts that will enlighten about her past and present life.
1. Has a rich educational background
It is not ordinary to find people switching their hard-earned educational qualification for internet gratification. Behind the 15-seconds entertainment videos lies an intellectual; according to Celebrity How, she holds a degree in Commerce. The Bangalore-born star also holds a Master's degree in Business Administration. She is the typical expression of brains and beauty. Although she has built a strong academic foundation in the business and commerce disciplines, she has found her calling in the entertainment industry. Well, it does not hurt to discover your true passion, especially when it pays the bills, and Nagma Mirajkar is even more thrilled by her newfound course in life.
2. She is a fashion enthusiast
If you are Nagma Mirajkar's ardent follower and you have paid keen attention to her fashion sense, then you must have noticed that she is entirely devoted to staying trendy. She is known for posting pictures of herself in incredibly stylish clothes. Besides her charming smile and pretty face, her style of dressing is among the many reasons she enjoys a huge social media following. She uses her platforms to update her followers on the latest trends in fashion. Nagma's passion has led her to start a fashion blog titled, "Oh My Gorg". As the name implies, it is a collection of her gorgeous clothes which she shares with her fans.
3. She collaborates with Awez Darbar
Nagma Mirajkar got featured by her fellow 27-year-old Tiktok star Awez Darbar, a Mumbai based choreographer. Awez is famous for his dance videos on the app and frequently collaborates with other internet-celebrities in his routine videos. Apart from their joint Tiktok videos, the duo is reportedly set to star in a Zee Company Music video. TellyChakkar maintains that Nagma, Awez, and Ramji Gulati are working on a prospective music video in Armenia. Her collaboration with Awez Darbar has set tongues wagging since the two are rumored to be romantically involved. Neither of them has come out to clear the air on the allegations, but time will tell.
4. She does brand endorsements
Nagma Mirajkar uses her expansive social media reach to push for the sales of products and services. She creates customized content for her audiences with the sole agenda of wooing them into purchasing the products and services. According to Top of Planet Info, Nagma has worked with many international and local brands to boost their sales; some of them include Jean-Claude Biguine, Maybelline New York, Colgate, Reliance Jewels among many other popular brands.
5. She was once an operational manager
Nagma has not always relied on the internet to make a living; there was a time she punched the clock from 9 am to 5 pm like most of us. Following her post-graduate studies, she secured a job at a special events management company, known as SOS nightlife, in Mumbai. She served as an operational manager within the company before fame stuck her and changed her course to the limelight domain.
6. She received a muser crown
Nagma's activities got recognized, and she got the TikTok crown. Although her first video barely had ten likes, she learned how to attract fans and now gets hundreds of thousands of likes with one upload. Consequently, she got the Muser crown, and the icon is on her profile. As a result, she enjoys the bragging rights since the application's administrators pay more attention to content generated by her. Additionally, she has more authority than other Tiktok users.
7. She was part of the Muser Concert Kolkata
As a certified Muser, she graced the Muser Concert 2017 held in Kolkata. The one of a kind festival, first-ever to be held in Kolkata attracted famous Tiktok celebrities from India and around the globe who were also excited to meet their fans. Hosted by Zafire, the event included a wide range of social activities that kept the fans and their stars engaged in a thrilling experience. There were celebrity dance competition as well as a pre- and post-party where fans got to interact with their idols.
8. She learned to use TikTok via Youtube
According to Mid-day, Nagma recounts getting a meagre ten likes on the first video she posted on Tiktok. Now she is among the top in the application's leaderboard. She trained herself on YouTube on how to make incredible videos using Tiktok since the platform has everything, including how to change angles and transition from one scene to another. At first, she admits that it was hard, but with time, she got used to it and now is an expert.
9. First popular video
Nagma's first popular video was based on a viral bun challenge. Under the hashtag #bundropchallenge, she made a slow-motion video of her bun dropping from her head and got a huge reception from fans; she got over 2000 likes. That was the only sign she needed to motivate her to make more creative videos.
10. Her followers on other social media platforms
Nagma Mirajkar shares her popularity spoils across other social media platforms. Besides the 4.5 million followers on TikTok, she also has over 600,000 followers on Instagram. On Twitter, the number is not as large, with only 1,999 people following her. Her Facebook page "Oh My Gorg" has only 4,737 followers.
Tell us what's wrong with this post? How could we improve it? :)
Let us improve this post!