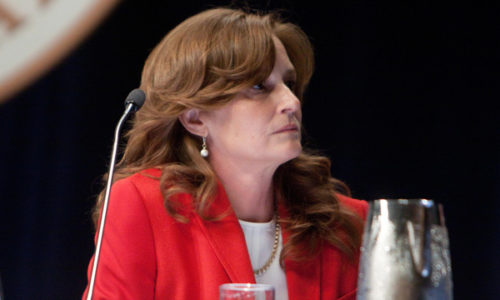 Academy Award winning actress, Melissa Leo is proof that you don't necessarily have to be a household name to have a very successful career in Hollywood. Throughout the years, Melissa has worked on some very well-known TV and film productions. She's mad appearances on shows like Law & Order: SVU and The L Word. She's also had roles in movies such as The Fighter and Olympus Has Fallen. No matter the role, Melissa always brings a grade A performance that proves why she is so highly regarded. Keep reading for 10 things you didn't know about Melissa Leo.
1. She Beat Julia Roberts For A Role
Julia Roberts is one of the most well-known actresses in Hollywood. She was even dubbed "America's Sweetheart" at one point in time. She's landed a lot of roles throughout her career, but one role Roberts didn't get was that of Linda Warner on the soap opera, All My Children. Leo beat Roberts out for the role in the early 80s, and it ended up being the thing that launched Leo's career.
2. She Grew Up In New York
Melissa Leo was born and raised in New York and has continued to live there as an adult. When reflecting on her childhood, she said, "I remember my childhood, my big brother, my block and the neighbors that we could play with. The city was as big as 10th Street between 2nd and 3rd Avenue. We had cousins on the Upper East Side and it felt like we were going to Nova Scotia when we went to visit them."
3. She's Gotten Fired From Roles
Although she's had a lot of success over the years, Melissa has also had some tough times. She's been fired from a few roles throughout her career. The first job she was fired from was her role on The Young Riders. She says she was let go because she wasn't "sexy enough".
4. She Calls Herself 'Last Minute Leo'
Over the years, Melissa has gotten a lot of last minute opportunities for roles that other actors decided to drop out of. As a result, she gave herself the nickname "Last Minute Leo". While some people would be offended by being asked to take a role at the last minute, Melissa is grateful for every opportuntiy.
5. She Doesn't Like Bringing Much Of Herself To Roles
There are some actors who like to play characters who they can relate to. They enjoy being able to bring their own personality and experiences to the role. However, that isn't the case for Melissa. She prefers to bring as little of herself as possible to each role she plays.
6. She Studied In London At 15
Melissa has loved acting from a very early age. When she was a kid, she attended public workshops and was involved in local theater groups. By the time she was a teenager, she knew she was ready to take it seriously. When she was just 15, she traveled to London to attend theater school.
7. She Attended College At SUNY Purchase
Even though she didn't complete her degree from SUNY Purchase, Melissa says attended school there was a great experience. She told the Daily Actor, "I think it was a curiousness and respect for the art of acting that Purchase was designed to be. Not a mill to turn out a commercial, get a job. We were dissuaded from work the entire course of the four years there; it was a conservatory."
8. She Advises Young Actors Not To Focus On The Result
As an experienced actress, Melissa has learned a lot over the years. She encourages young actors to just let things happen and not get caught up focusing on the result. She says, "Have a golden dream in your heart and head, but just do your life like you're acting. Let it happen beat by beat. Be informed by what comes at you."
9. Life Hasn't Been Easy After Her Academy Award Win
Winning an Academy Award is a dream come true for most actors. But Melissa has learned that winning an Academy Award doesn't mean that there will just be roles waiting for you. Melissa says she made a "huge mistake" after winning the award by expecting that she would automatically be given more opportunities.
10. She's Sees Herself As An Actor First
As a woman in the entertainment industry, Melissa is often asked to give her opinion on how she feels women are treated and/or represented. However, Melissa considers herself an actor first and prefers not to have to speak on behalf of women.