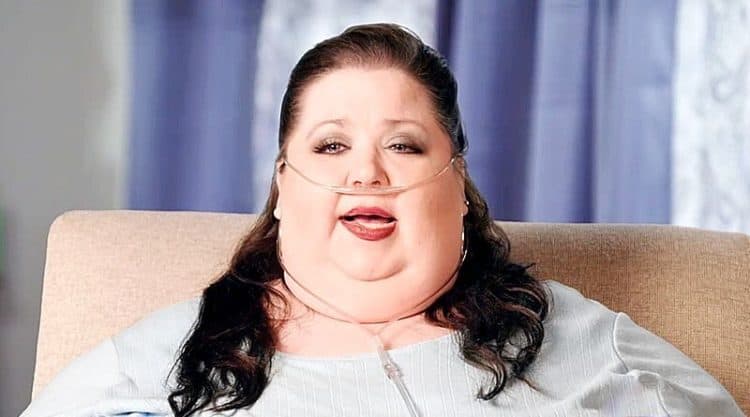 Weight is something Meghan Crumpler has struggled with for most of her life. Eventually, however, her weight eventually reached a point where even the simplest tasks were extremely difficult for her. When she decided that she wanted to make her health a top priority, she knew that she was going to need some help. She enlisted the help of well-known bariatric surgeon Dr. Charles Procter. Meghan shared her journey with the world via the TLC series Too Large which documented Meghan's life before and after undergoing weight loss surgery. Little did she know, though, her time on the show would result in countless people falling in love with her story. Keep reading to learn 10 things you didn't know about Meghan Crumpler.
1. She Is Committed To Living a Healthy Lifestyle
Since undergoing weight loss surgery, Meghan has done a great job of continuing to eat healthily and trying to stay as active as she can. Although losing weight is never an easy journey, Meghan is committed to doing what she needs to do to improve her quality of life.
2. She Loves Playing Video Games
Although the world of video games is dominated by men and teenage boys, there are lots of girl gamers out there who love to play a variety of games and get competitive on the sticks. Meghan is an avid gamer and playing video games is actually how she ended up meeting her fiance.
3. She Went to Beauty School
Beauty and fashion are two things that Meghan has always loved and she has a good eye for both. According to her Facebook profile, Meghan attended Fayette Beauty Academy Inc. No matter what Meghan is doing, you can bet that she's going to look her best while she does it.
4. She Is A Pet Parent
Meghan may not technically have any children, but she has still found a way to put her maternal muscles to good use. She is a very proud pet parent to an adorable little cat who has made several appearances on her Instagram profile. There's no doubt that her fur baby is one of her highest priorities.
5. Her Faith Is Important to Her
We don't have any specific details about Meghan's religious beliefs, but what we do know is that she is a Christian andher faith in God plays a very important role in her life. When times have gotten hard for Meghan, she has always been able to leave on her beliefs to get through.
6. She Is A TikToker
Since getting her feet wet in the reality TV world, Meghan has also been building an online following. In addition to being active on Instagram and Facebook, Meghan also has a profile on TikTok where she posts a variety of content. Once her new show, 1,000 Lb Best Friends airs, her following will likely grow.
7. She Loves Inspiring Others
Even though things haven't always been easy for Meghan, she hopes that there are people out there who can learn from her journey. She enjoys being able to inspire and empower people and help bring some positivity to their lives. She has already impacted lots of people, and she's nowhere near finished yet.
8. She Is A Georgia Native
Meghan was born and raised in the Atlanta area where she still lives today. She is very proud of her southern roots and it doesn't appear that she has any plans to relocate. Fortunately, Atlanta is a great place for people in the entertainment industry and being close to Dr. Procter's office is another major benefit.
9. She Has Experienced Bullying
It's no secret that the world can be a very cruel place. This is especially true for people who don't fit the ideal image of what it means to be 'normal' or attractive. As someone who spent much of her life being overweight, Meghan has experienced lots of bullying over the years. Despite the way people have treated her, Meghan has always refused to let it turn her into a bitter person.
10. She Is An Entrepreneur
While we weren't able to find any information on whether Meghan works a traditional job, we do know that she is all about her business. She has started an online business where she sells a wide variety of items. In addition to selling on popular platforms like eBay and Poshmark, she has also started a Facebook group where she posts items that she has for sale. It'll be interesting to see if she decides to open an official online store in the years to come.
Tell us what's wrong with this post? How could we improve it? :)
Let us improve this post!