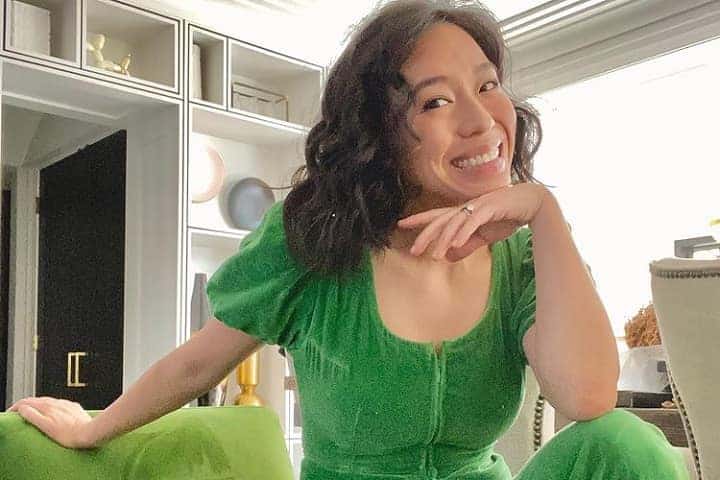 Being in a relationship with someone in the public eye comes with lots of perks and access to all kinds of cool things. However, one of the biggest downsides is that people start to only see you as that person's partner. But anyone who only knows Linda Phan for being Drew Scott's wife might want to think again. Sure, being married to one of the Property Brothers is a major part of who she is, but there's so much more to her than that. She is just as talented as her husband and she's actually played a major role in his success. Linda has lots of great things going for herself and it's about time the world recognized her for them. Keep reading to learn 10 things you didn't know about Linda Phan.
1. She's an Architect
Drew Scott isn't the only one in his household that loves real estate and design. Linda also has a background in that arena. She is a trained architect, but unfortunately, we weren't able to find any information on where she went to school or how she got started in the industry.
2. She's Done Some Work In The Entertainment Industry
Over the years, Linda has spent a good amount of time in front of the cameras. According to her IMDB page, she has appeared in several shows including Drew and Linda Crafting and Brother vs. Brother. On top of that, she has also done some work behind the scenes as a producer.
3. She Enjoys Spending Time Outdoors
Linda is the kind of person who really knows how to appreciate the simple things in life, and one of those things is being out in nature. She loves doing things like going hiking and hanging out by the water. Not only does being outdoors allow her to explore, but it's also a great way for her to decompress.
4. She Likes To Read
All of the book lovers out there know there's no better feeling than getting lost in a good story, and that's something Linda likes to experience as often as she can. When she has free time, she enjoys curling up with a book. Oftentimes, she even shares photos of the books she's reading on Instagram.
5. She Loves To Take Pictures
Linda might not think of herself as a photographer, but she should start. When Linda is outside on her adventures, she loves to capture all of the beautiful moments. She is a natural at knowing exactly when to snap the perfect shot. Her Instagram profile includes lots of the awesome shots she's taken.
6. She's Well-Traveled
If you ask people to name one of the things they would do if they had an unlimited amount of money, traveling would probably be at the top of lots of people's lists. While Linda may not be able to travel as much as she'd like, she certainly gets to travel more than most people. In addition to visiting places across the United States, she has also gone to several other countries.
7. She Works With The Property Brothers
You know what they say, behind every successful man is a great woman, and that looks like it's certainly the case when it comes to Drew Scott and Linda Phan. Even though her background is in architecture, she has also done work with Drew and his brother and she has helped bring several ideas to life.
8. She Isn't Afraid To Stand Up For What She Believes In
There are lots of people who are afraid to speak out about certain things out of fear that they'll rub people the wrong way, but Linda isn't one of them. Linda has made it a point to use her platform to raise awareness about the things that are important to her. One of the causes she is the most passionate about is the fight to end racism.
9. She Likes To Stay Active
For lots of people, exercise is one of the first things to get pushed aside when things get busy, but Linda does her best to make sure that doesn't happen. Linda is a very active person and she loves to keep herself in good shape. In addition to her physical health, working out is also great for Linda's mental health.
10. Family Is Important To Her
News recently broke that Linda and Drew are expecting their first child together, and the couple couldn't be more excited. This moment is especially major for them because family is something that has always been important to Linda. She has great relationships with her loved ones and she always looks forward to spending time with them.
Tell us what's wrong with this post? How could we improve it? :)
Let us improve this post!