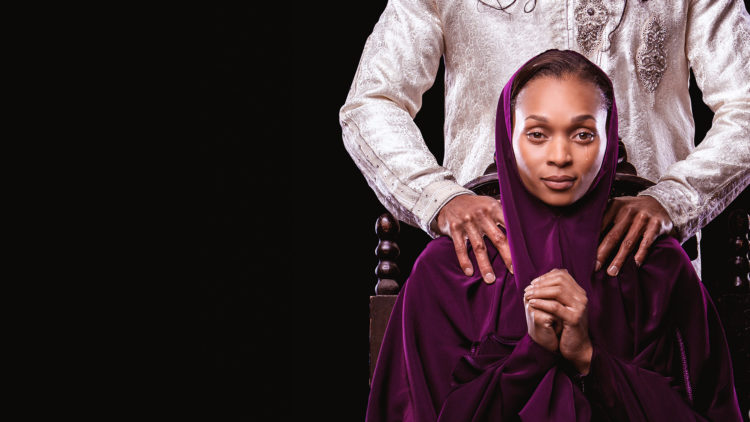 Over the last several years, Tyler Perry has become well known for consistently putting out new content. Among his latest offerings is the BET+ series Ruthless which debuted in March of 2020. The series, which is a spin-off of The Oval, follows a woman named Ruth Truesdale who becomes entangled with a cult. As part of the group, she turns on several people including her best friend. Like many of Perry's other shows, Ruthless features a cast of up-and-coming actors as well as people who have been in the industry for several years. Even if you're not a fan of the show, you might want to make note of its stars because you'll probably be seeing a lot more of them over the years. Keep reading to learn more about the cast of Ruthless.
Melissa L. Williams as Ruth Truesdale
Melissa L. Williams is an Oklahoma native who has been acting professionally for the last decade. However, despite her time in the industry, it wasn't until being cast in The Oval that things really started to take off for her. Melissa will also be in an upcoming TV series called Hidden Springs, however, it's unclear when the show will be released. Outside of acting, Melissa loves traveling and spending time with loved ones.
Matt Cedeño as The Highest/Tyrone Luckett
Matt Cedeño is an actor who you've probably seen on your screen several times over the years. Throughout his career, he has played a wide variety of characters. He is best known for his role as Brandon Walker in Days of Our Lives. Some of his other credits include Power and Devious Maids. On top of his work as an actor, Matt is also an entrepreneur. He is the co-founder of a company called Body Language Sportwear.
Lenny Thomas as Dikhan
Born and raised in New York City, Lenny Thomas' first love was football. However, his future in sports came to an end when he was hit by a car at 13 years old. He ultimately decided to focus on acting and he went on to study at the Neighborhood Playhouse School of Theatre. He made his on-screen debut in 2014 and had a variety of small roles before being cast in Ruthless.
Yvonne Senat Jones as Tally
Like many of her castmates, Yvonne Senat Jones' career didn't really start to blossom until she was cast in Ruthless. Prior to that, her roles had been fairly small. Yvonne is a formally trained actress who studied at both El Camino College and the University of South Carolina. In addition to acting, Yvonne also loves teaching others and has also worked as an acting teacher. Additionally, Yvonne and her husband are the founders of a company called MFB Entertainment.
David Alan Madrick as Jay
David Alan Madrick has only been acting professionally for about seven years, but he's built up a pretty solid resume during that time. That said, being cast in Ruthless has been his big break. While acting is what David is best known for at the moment, that may not always be the case. He is also a talented writer and producer and he plans to do more work behind the scenes in the years to come.
Baadja-Lyne Odums as Marva
Anyone who is familiar with Baadja-Lyne Odums' work will probably agree that she doesn't get as much credit as she deserves. She has been in the entertainment industry for more than 30 years and has earned nearly 100 on-screen credits during that time. On top of being an actress, Baadja is also a tax consultant who runs her own business called IRI Tax Consulting and Notary Public.
Jaime M. Callica as Brian Rollins
Some people may think that Jaime M. Callica is new to the acting world, but that isn't the case at all. He actually started performing when he was just two years old. He made his first on-screen appearance in 2010 in the movie Percy Jackson & the Olympians: The Lightning Thief. Since then, he has been working his way up to bigger roles and he has gotten lots of great experience in the process. In 2021, Jaimie also earned his first writer and producer credit for the film Playground Rules.
Nirine S. Brown as Lynn
Nirine S. Brown doesn't have very many acting credits, but you'd never guess by watching her work. The talented actress has been in the industry for more than a decade, but Ruthless has been her first opportunity to play a major role. In addition to acting, Nirine is also a singer, dancer, and screenwriter. It'll be interesting to see what kinds of projects she decides to focus on as her career grows.
Blue Kimble as Andrew
Unlike many other professional actors, acting wasn't Blue Kimble's first love. For much of his life, he was completely focused on sports and he even made it all the way to the NFL. After his football career, Blue decided to change his focus to acting. He got his first on-screen role in 2011 and he has been working regularly ever since. Although he has a pretty long list of acting credits, Ruthless is his biggest role to date.
Stephanie Charles as Sarah
Born and raised in Boston, Stephanie Charles started acting when she was in elementary school. Some of her early credits include Sister, Sister and Smart Guy. Throughout her career, she has appeared in a variety of movies and shows. In 2018, Stephanie got a major opportunity when she was cast in the Tyler Perry series The Paynes. Some of the other well-known shows. she's been in include Shameless and Black-ish.
Herve Clermont as Mack
Becoming an actor wasn't always part of the plan for Herve Clermont. Initially, he was on the road to becoming a doctor. However, while enrolled as a pre-med student at Georgetown University, Herve fell in love with acting. He started his career in the early 2000s and his resume now includes nearly 30 credits. On top of his live-action work, Herve is also a talented voice actor. Additionally, he is the national brand ambassador for Remy Martin.
Anthony Bless as Malcolm Green
Anthony Bless has more than a decade of professional acting experience under his belt. He got his first major break in 2014 when he was cast in the TV series East Los High. Although things started to slow down for him after that, being in Ruthless has been a big boost for his career. Even though most people know Anthony as an actor, he is also a rapper.
Bobbi Baker James as Cynthia
Bobbi Baker's business relationship with Tyler Perry started more than a decade ago when she was cast in Perry's TV series House of Payne. After being on the show from 2008 to 2012, Bobbi's career slowed down until she was cast in Ruthless. Since then, however, things have been going very well for her. When Bobbi isn't busy with work, she loves spending time with her husband and their son.
Sara Naomi as Benita
Sara Naomi's role in Ruthless is her first on-screen credit, but she's no stranger to being in front of the camera. She is also a model who is represented by Ursula Wiedmann Models. Naomi doesn't just shine on one side of the camera, though. She is a photographer who loves taking pictures of other models and she is a natural at capturing beautiful shots.
Stevie Baggs Jr. as Oliver
Like Blue Kimble, Stevie Baggs Jr. was also a professional football player before getting into acting. During his nearly 10 year career, he played for several teams including the Baltimore Ravens and the Arizona Cardinals. He has been acting professionally since 2012, but Ruthless is the first time he's had a significant role. Stevie is also an entrepreneur who co-founded a company called the CETA Foundation.
Colin McCalla as River
After starting his career in 2018, Colin McCalla quickly began working his way up the ladder. Being in Ruthless has given him a great chance to share his talent with a wide audience and his fan base has grown since being on the show. Even though acting is where he's focused most of his attention, Colin is also a singer and dancer.
Samantha L. Thomas as Paula
Samantha L. Thomas only has a handful of acting credits, but she's already shown that she's more than ready to be a star. Prior to her acting career taking off, Samantha worked as a dental hygenist. As she continues in her career, we hope to see more great work from Samantha.
Michelle Nunez as Zane
Michelle Nunez is a talented actress whose roots are in the theater world. However, she has also proven that she knows how to put on a good show in front of the camera. Although Ruthless is her first big TV opportunity, Michelle is a natural on-screen. She is also equally as talented behind the scenes. Michelle earned her first producer's credit in 2021 with a short film called Demented.
Alise Willis as Lacey
Alise Willis has always envisioned herself being a professional actress, and that dream has officially come true. She started her career in 2014, and she has been moving up to bigger roles ever since. In addition to Ruthless, Alise is set to appear in a mini-series called Echoes which will be released in 2022.
Jael Pettigrew as Clark
Even though Jael Pettigrew doesn't have a lot of on-screen experience, he has been honing his skills on stage for several years. He is a formally trained actor who has a BFA from SUNY Purchase. When he isn't acting, he enjoys playing the guitar and the piano and taking pictures.
Tell us what's wrong with this post? How could we improve it? :)
Let us improve this post!