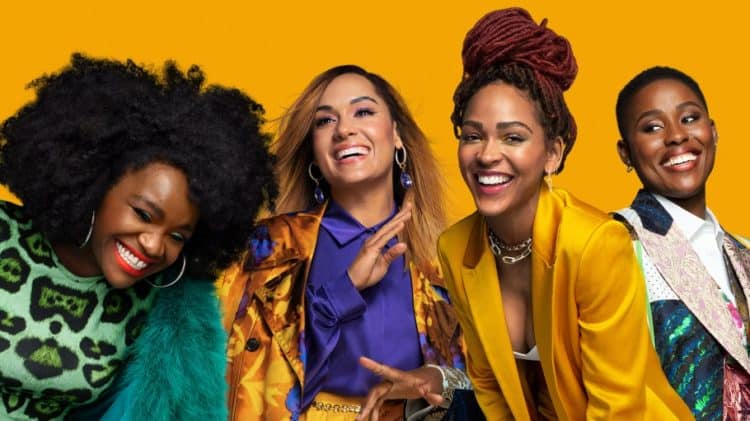 Released in December of 2021, Harlem quickly became one of the most popular shows on Amazon Prime. The series centers around a group of Black women who are close friends and trying to navigate the ups and downs of life. The series has drawn comparisons to Sex and the City and many would agree that it's easy to see why. While there's no doubt that there are many people behind the scenes who have played an important role in the show's success, the talented cast also deserves a lot of credit. With a mixture of newcomers and industry veterans, Harlem has found the perfect balance. Keep reading to learn more about the cast of Amazon Prime's Harlem.
Meagan Good
Meagan Good is easily the show's most well-known star. She began her acting career in the early 1990s and has appeared in a variety of movies and shows. Meagan got a major break in 1998 when she was cast in the TV series Cousin Skeeter. She has also appeared in several other popular projects such as Californication, Law & Order: Special Victims Unit, and Think Like A Man. On top of her TV and film appearances, Meagan has also appeared in the music video for 50 Cent's hit song, "21 Questions". The video now has 430 million views on YouTube. Despite being incredibly talented, Meagan hasn't always gotten the credit she deserves, so it's great to see her finally in a position that is getting some shine. Outside of acting, Meagan married motivational speaker and author DeVon Franklin in 2012. The couple separated in 2021 and ultimately ended up filing for divorce.
Grace Byers
Born and raised in Pennsylvania, Grace Byers studied acting at the University of South Florida and then went on to earn a master's degree in acting from the University of California, Irvine. She began her professional acting career in 2015 when she was cast in the hit series Empire. The role also turned out to be her big break. It was on the set of the show where she met and fell in love with her on-screen husband, Trai Byers. Even though Grace has less than a dozen acting credits, she still has a good amount of experience under her belt and she brings something special to every project she's a part of. In addition to Harlem, Grace also has two projects in the works that are sure to get her even more attention.
Shoniqua Shandai
Shoniqua Shandai was born in New York and raised in Virginia and it was there where she fell in love with acting. She eventually went on to study acting at The American Musical and Dramatic Academy in New York City and she made her professional acting with an uncredited role in 2010. From then on, she appeared in a variety of movies and TV shows. Despite not being new to the entertainment industry, playing Angie in Harlem is her first major role. At this point in her career, Shoniqua appears to be a very private person, so there isn't much information about her personal life. However, based on her Instagram profile, she loves traveling and spending time by the water. She is also a devout Christian.
Jerrie Johnson
Jerrie Johnson has only been acting professionally for a little over a year. However, you'd never be able to guess that by watching her do her thing. The Philadelphia native attended the High School for Creative and Performing Arts and then went on to study theater at Penn State University. Even though she has less acting experience than the rest of the cast, Jerrie was actually the first star to be chosen for the show. On top of her work as an actress, Jerrie is also a model. Jerrie doesn't appear to have any upcoming projects in the works at the moment, but there's a very good chance that we're going to see a lot more of her in the future.
Tyler Lepley
When Tyler Lepley first expressed interest in acting, there were probably a lot of people who thought that he was nothing more than his looks. Over the years, however, he has shown that he actually has what it takes to light up the screen. He got his first opportunity in 2013 when he was cast as Benny Young in The Haves and the Have Nots. In 2020, he also got lots of attention for his role in the Starz series P-Valley. Although the show was renewed for a second season, Tyler's IMDB profile doesn't indicate that he will be returning to the show. Outside of acting, Tyler is also very popular on social media. He had 658,000 followers on Instagram.
Tell us what's wrong with this post? How could we improve it? :)
Let us improve this post!