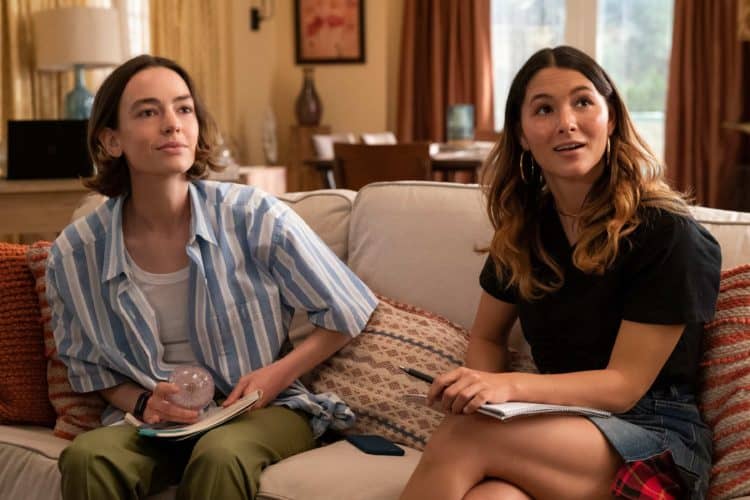 Since its debut in 2017, the Netflix original series Atypical has gotten lots of attention. In a world where the entertainment industry is often criticized for lacking diversity, Atypical offered an on-screen perspective that was fresh and unique. The series follows a teenager named Sam Gardner (Keir Gilchrist) who is on the autism spectrum. Like most young people, Sam is hoping to find someone to have a relationship with. Although the show lasted for just four seasons, it built a solid fan base that includes people from all over the world. On top of that, it offered several talented actors the opportunity to share their talents with a large audience. Continue reading to learn about the cast of Atypical season 4.
Keir Gilchrist as Sam Gardner
Keir Gilchrist was born and raised in London but relocated to the United States at an early age. He started his on-screen acting career in 2003 when he appeared in an episode of Queer as Folk. Although it took him a few years to start landing significant roles, Keir's career really started to take off during the late 2000s. He got his first big break in 2007 when he was cast in a TV series called The Winner. Despite the fact that Atypical is finished, fans can rest assured that they'll see more of Keir in the future. He currently has a couple of projects in the works including a mini-series called Love and Death. In addition to his work as an actor, Keir is also a talented musician who is a member of two bands.
Brigette Lundy-Paine as Casey Gardner
Born and raised in Dallas, Brigette Lundy-Paine comes from a family with a history of working in the entertainment industry. Needless to say, it probably wasn't much of a surprise when she decided to get into acting. Brigette made her first on-screen appearance in 2015 and prior to Atypical her biggest role was in a mini-series called Margot vs. Lily.
Jennifer Jason Leigh as Elsa Gardner
Jennifer Jason Leigh was born and raised in California. Both of her parents are actors and her father, Vic Morrow, was tragically killed on set in 1982 while filming Twilight Zone: The Movie. During the 1980s and 90s, Jennifer was one of the hottest young stars in the entertainment industry. She appeared in several now-classic movies. Over the years, she has proven to have a level of staying power that you don't see often. From the big screen to the small screen, Jennifer has consistently proven that she can play a wide variety of characters. That said, she doesn't plan on slowing down any time soon. She currently has two projects in the works: one movie and one TV series.
Michael Rapaport as Doug Gardner
Michael Rapaport began his career as a stand-up comedian and then successfully transitioned into acting. With his knack for making people laugh, he is a pro at providing comic relief in every project he's a part of. His resume currently has 120 acting credits which include a couple of projects that haven't been released yet. Outside of his work as an actor, Michael is a devoted husband and father.
Amy Okuda as Julia Sasaki
Amy Okuda has only been acting professionally since 2007, but during that time she has built a long list of acting credits. Prior to Atypical, she had been in several successful shows such as How to Get Away with Murder and The Guild. When Amy isn't busy working, she loves traveling and spending time with her dog and husband.
Nik Dodani as Zahid Raja
During his time in the entertainment industry, Nik Dodani has gone from an unknown up and comer to a star with a strong presence. Although Atypical is probably his best known role, he has also been a part of several other shows including the short0lived reboot of Murphy Brown. Being in front of the camera isn't the only way he flexes his acting muscles, though. He also made his Broadway debut in the fall of 2021. On top of acting, Nik has also done some screenwriting. Since starting his career, Nik has used his platform to shed light on the things that are important to him outside of the industry such as politics and LGBTQ+ rights.
Jenna Boyd as Paige Hardaway
Even though Jenna Boyd has been acting on-screen for the last 20 years, Atypical was her first major TV role. However, that is largely due to the fact that she has been focused on movies for much of her career. In fact, she will be in a movie called Good Mourning with a U which is set to be released in 2022.
Fivel Stewart as Izzie Taylor
Fivel Stewart is the true definition of multi talented. Not only is she an actress, but she also has experience on the other side of the camera. Fivel has already accomplished a lot of great things, but she has plenty more where that came from. She has several projects in the works that will be released over the next couple of years.