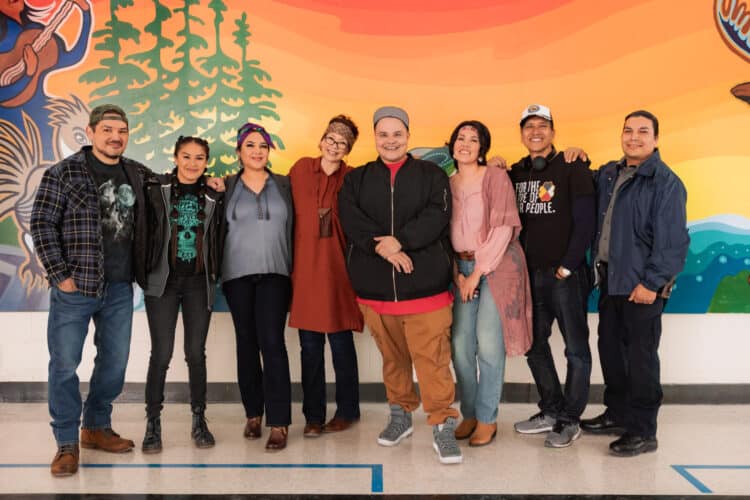 While most everyone obsesses over every single new thing streaming services has to offer, traditional channels continue to do what they're good at — produce excellent shows. In Canada, CTV Comedy Channel has all hands on deck in preparing to launch its latest offering, an upcoming comedy titled Acting Good. "ACTING GOOD is a hilarious take on what it's like to start your life over after plans go awry. With a talented creative team drawing on the rich material from their own backgrounds and experiences, we know audiences will be able to see themselves in these characters and their story," says Justin Stockman, the vice president for Content Development & Programming for Bell Media, the owner of CTV Comedy Channel. "We're excited to partner with Kistikan Pictures to bring these fresh and authentic voices to Canadian viewers and deliver a story we are sure will quickly make ACTING GOOD a must-watch comedy series." Acting Good depicts the story of a "fictional fly-in reserve of Grouse Lake First Nation in Northern Manitoba, a community that lives by its own set of rules." The show features some of the most talented performers in Canada. If you want to learn more about the actors set to appear in this promising series, read ahead. Here are the cast members of the upcoming CTV Comedy Channel TV series Acting Good.
Paul Rabliauskas
Comedian Paul Rabliauskas is starring in Acting Good, a show that is loosely based on his life living in the isolated reserve of Poplar River First Nation. A hugely popular standup comedian in Canada, Rabliauskas is a rising star among Canadian comics. In an interview with CBC, Rabliauskas talked about his comedy heroes as well as the people that inspire him. "Charlie Hill, hands down, is my number one comedic hero. The way he broke down barriers for First Nation comics is profound. Non-Native comics I definitely looked up to: Patrice O'Neal and Dave Chappelle. I'm lucky to have a collective of very strong Indigenous women in my life. They're teachers, mothers and warriors and have shaped who I am today."
Pat Thornton
Pat Thornton is set to star in the upcoming CTV Comedy Channel series Acting Good. A fellow stand-up comedian, Thornton was a founding member of The Sketchersons, a sketch comedy troupe based in Toronto. In 2017, he appeared in Filth City, a drug-scandal-based comedy film loosely based on former Toronto mayor Rob Ford. On January 29, 2019, Thornton was nominated for a Juno Award in the Comedy Album of the Year category for his stand-up comedy album Chicken.
Billy Merasty
Billy Merasty is also expected to appear in the upcoming Canadian comedy TV series Acting Good. He is an Aboriginal Canadian actor and writer of Cree descent. Merasty has an extensive experience working on theater productions, having appeared in Tomson Highway's The Sage, The Dancer and the Fool, Dry Lips Oughta Move to Kapuskasing and The Rez Sisters, Daniel David Moses' The Indian Medicine Show, Lanford Wilson's Rain Dance, Marie Clements' Copper Thunderbird, Kevin Loring's Where the Blood Mixes, Steven Cole Hughes' Ghost Dance and David S. Craig's The Neverending Story.
Roseanne Supernault
Roseanne Supernault is set to star in the upcoming Canadian comedy series Acting Good. She's appeared in shows like Blackstone, where she played Natalie Stoney, and Maina, where she portrayed the titular character. Her more recent film appearances include Juliana & the Medicine Fish, River of Silence, Through Black Spruce, and The Incredible 25th Year of Mitzi Bearclaw. On TV, he recently worked on shows like The Drive and Jamestown.
Tina Keeper
Tina Keeper will be appearing in the upcoming comedy series Acting Good. A veteran actress and film producer of Cree descent, she was a five-time Gemini Award nominee for Best Actress in a Continuing Leading Dramatic Role for her work on North of 60. She joined politics in 2006, having been elected as a Member of Parliament in the 2006 Canadian federal election. After her defeat in 2008, Keeper returned to acting and worked on Mohawk Girls, Heartland, Through Black Spruce, and Falls Around Her.
Rosanna Deerchild
Rosanna Deerchild also stars in the CTV Comedy Channel TV series Acting Good. A Cree writer, poet, and radio host, Deerchild is most prominently known for hosting the radio program Unreserved, a show on CBC Radio One that tackles topics related to Canada's indigenous peoples. Acting Good is Deerchild's acting debut. Deerchild is also a poet. She described her poetry journey, reported in a write-up by Carleton University: "I loved reading sci fi and adult fiction, but then I discovered the poetry section," recalled Deerchild, who delivered the keynote address at the National Day of Remembrance and Action on Mass Atrocities Youth Conference. "Specifically, I discovered E. Pauline Johnson's book of poetry, Flint and Feather: Collected Verse. I had never seen anything or read anything like that before. I wondered if I could write poems like that." "Today, I am a storyteller who gets to tell the stories of Indigenous people doing amazing things," explained Deerchild, who is host of the CBC Radio program Unreserved. "But my heart belongs to poetry. It is my ceremony, my prayer, my drum song. It is how I told my mother's residential school survivor story and how I shared my story of growing up Indigenous in Canada."
The directors
Working behind the scenes of the upcoming comedy series Acting Good are two Canadian show business veterans, Michael Greyeyes and Darlene Naponse. Michael Greyeyes is best known as an actor before tackling the role of director for Acting Good. He appeared in movies like Woman Walks Ahead, Blood Quantum, Togo, Wild Indian, Wildhood, and Firestarter. On TV, he appeared in episodes of True Detective, V Wars, Home Before Dark, I Know This Much Is True, Rutherford Falls, and Star Trek: Discovery. Darlene Naponse directed the 2018 drama movie Falls Around Her, which premiered at the Toronto International Film Festival and won the Air Canada Audience Choice Award. Other works under her repertoire include Retrace, She Is Water, Cradlesong, and Every Emotion Costs. She also taught in the Department of English at Laurentian University.
Tell us what's wrong with this post? How could we improve it? :)
Let us improve this post!