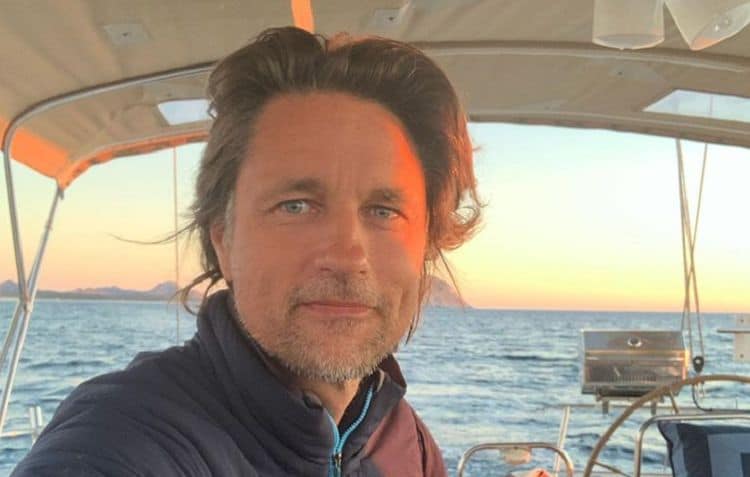 Martin Henderson has come a long way, from getting to the US on a student visa to receiving a paycheck of a five-figure amount for his first Hollywood feature film. However, he still finds Hollywood boring and gets away as much as he can from that life, filling the time between scripts with photography and painting. To him, Hollywood is a facade; hence he prefers keeping his personal life out of the media. Therefore if you would like to learn more about the actor, these facts will let you know a thing or two you did not already know.
1. His being brought in to replace Patrick did not sit well with Ellen Pompeo
Ellen and Patrick Dempsey were in an on-screen relationship, and the fans always hoped the romance would last forever. Unfortunately, Patrick had to exit the show and be replaced with Martin Henderson. Ellen was angry, stating that the ink was not yet dry on Patrick's exit papers before the search for his replacement began. She thought the casting team was crazy, especially since she was on vacation, and they kept sending pictures of different male actors as they sought her opinion.
2. He recalls his kiss with Britney Spears as being real and nice
Speaking to Stuff in December 2019, Martin reminisced about the kiss he shared with Britney. It was for her music video in which he played her toxic boyfriend, and that moment despite being in front of the cameras, was nice, according to Martin. He was blown away by how down to earth the singer was and even tried to catch her in one of her performances after the filming of the video. However, he had a job to attend to, and the two lost touch.
3. He took to social media to confirm he was off the market
Martin may be a private person, but when it came to matters concerning the heart, he could not wait to tell the whole world he had found the love of his life in Helen Randag. The actor must have seen something special in Helen because despite being linked to famous actresses in the past, he never bothered to make their relationship public. The couple is yet to get married.
4. Why he moved to the US
We are repeatedly advised to get out of our comfort zone, and Martin took this advice to heart. While in Australia, Martin had sunk back into living by everyone's rules except his own. Since success came early, all he did was have a wild party life, and slowly his passion for acting faded. He, therefore, knew things had to change if he wanted to remain in the industry he had chosen for his career. Consequently, he moved to New York, where the acting industry would be challenging enough to motivate and help him grow.
5. He had low self-esteem in his younger years
Being famous at an early has its downsides, especially if the fame gets to your head. As Martin told The Big Idea, when he was on "Shortland Street" he was easily recognizable. The exposure gave him a lot of pressure because he was afraid of what people would think if he behaved in a certain way. As a result, even when the actor wanted to hang out with his friends, grab a beer, and chase after girls, he had to pretend to be a saint. Fortunately, with age comes wisdom, and he now lives on his terms.
6. He no longer has a Kiwi accent
Acting is about fooling us into believing whatever we see on the screens. Actors, therefore, have learned how best to portray such make-believe scenes while also changing some of their attributes to fit the roles. For instance, Martin Henderson had to change his accent because he believed his Kiwi would sabotage his auditions. That was years ago, and today, the actor has such a polished American accent that if he switches back to his native one, it sounds terrible.
7. Heath Ledger motivated Martin to stay in the US
As much as Martin wanted a challenge so he could slip out of his comfort zone, things were very difficult while in the US. He slept on the couch in a room he shared with friends, and Martin's father kept urging him to go back home since acting gigs were there waiting for him. However, after meeting Heath in Sydney on the set of "Sweat," Martin got the will to continue hustling in the entertainment industry because Heath loaned him more money. For Martin, Heath's success was the motivation he needed to look forward to better days.
8. His first paid gig
Martin's persistence paid off eventually, and this time, he did not have to struggle to hide his accent. The job was a voice over for Fanta, and they needed someone with an Australian accent. Unfortunately, while it was good news to have his dreams unfolding, the actor did not have a social security number. Consequently, the $3,000 he was supposed to be paid for the gig never got to him, so in reality, Coca-Cola owes him that amount.
9. Heath's death made him reconsider his career choice
Martin's source of motivation died of a drug overdose at the youthful age of 28 years. It was such a big blow for Martin because, to him, Heath had everything going for him, and his future seemed bright. Therefore for Heath to die so young from a prescription drug overdose, it shocked Martin so much that he wondered what he was doing with his life. He even left for Australia to rethink the direction of his life. However, the actor knew he was born to be an actor, so he returned to Los Angeles, which has been home for almost two decades now.
10. His first bartending job was horrible
Since he did not have a work visa, Martin's attempt to get a good job was unsuccessful, and the only one he could find was working as a restaurant runner. The actor held night shifts to help raise his tuition fee. Later one day, when his friend needed someone to help with his shift, Martin offered. Despite having no bartending experience, he was creative in getting the job done, but at 2 am, people were having sex on the countertops. He tried ignoring them, but after one week, he could not take it anymore, so he quit.
Tell us what's wrong with this post? How could we improve it? :)
Let us improve this post!