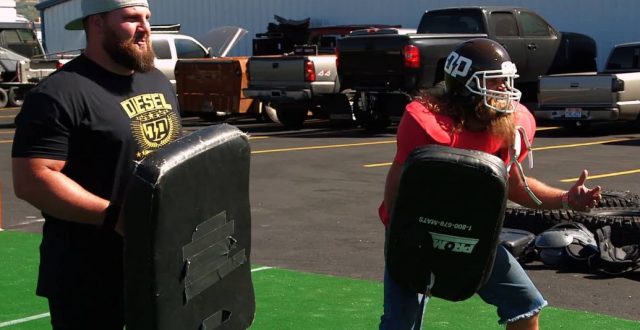 Marshawn Lynch was one of the most memorable football players in NFL history. His running style, which was full out "go through everything hard" became a staple on a Seattle Seahawks team that he won a Super Bowl with as well as appeared in another Super Bowl with. While Lynch is now officially retired with no thought of an NFL return, he's been incredibly busy and hilarious in his permanent off season.
Lynch has been appearing in commercials non-stop as well as having a cameo on Brooklyn Nine Nine this season. Now the former running back is taking his talents to Diesel Brothers in an all new episode. Lynch gives the guys a little lesson in tackling telling them "you don't have to be an athlete to hit anybody, you just have to have the same kind of Beast Mode mentality that you had in those cars."
We then hear chants of "Rudy! Rudy!" TV Ruckus tells us:
Also on tonight's episode titled "Feed the Beast-Mode" Heavy D decides to finally finish the Fail of the Year UTV. He's taken a beating on social media and has decided to put up or shut up. Then again, has anyone ever tried to shut up Heavy D? Betcha' Marshawn "Beast Mode" Lynch could do it….just don't make him.
I think it's safe to say that if you were ever thinking about watching Diesel Brothers, this is one episode you cannot miss. Honestly this trailer is incredible in and of itself. Not only am I certain that Marshawn Lynch deserves his own show called "Beast Mode," I wouldn't be surprised if it's already in development.
Thanks to the folks at TV Ruckus for this exclusive clip!