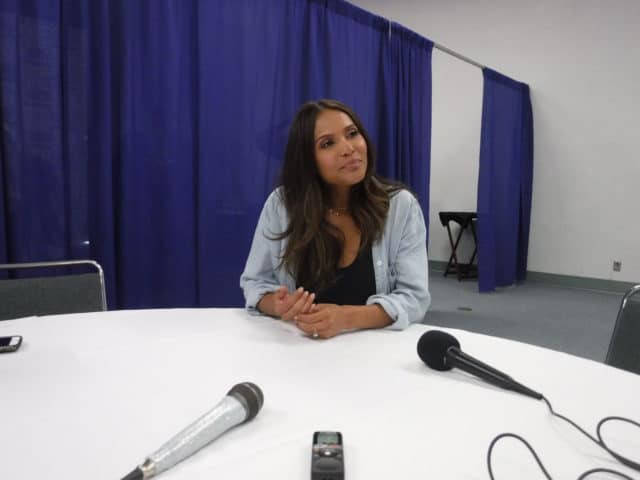 Two kick-butt fight scenes and an entire episode dedicated to her, what more could a demoness ask for? Lucifer Star Lesley-Ann Brandt speaks about doing adrenaline-filled fight scenes and stunts while pregnant. The actress also offers insight into tonight's episode before the second season comes to a close next week.
"We're obviously not playing the pregnancy angle," Brandt said. "So it's just really crafty with the wardrobe and [camera] angles." Yes, very crafty indeed. The actress has kept up with keeping fit, but she's "being a lot more careful now" due to her pregnancy. "My stunt double jokes that she finally gets to do some work because it's usually all me doing a lot of my fights," Brandt said with a smile.
With regards to Lucifer's two-week absence, Brandt says that the relationship between Maze and the Devil has changed. "[Maze is in a weird position now] given that they [were] so connected," Brandt said. "Usually she [knows] what the deal is, and a part of her is [angry] at being left out." I have a feeling that Maze still knows what's going on, she just needs to put all the pieces together.
It's also amazing to see how much Maze has grown as a character. At the beginning of the first season, she was adamant on returning to Hell much to her master's chagrin. "[Towards the end of the first season] she [ended up sacrificing] her ticket with the feather and Amenadiel," Brandt said. "So now her objective is how [does she] make Earth home?" Brandt concluded. We then know later on in the series that Maze ended up working as a bounty hunter for the LAPD. It's very much like her old job back in Hell, but now, she can earn money while doing it.
The demoness is also discovering her humanity. It's what makes her relationship with Trixie so amazing, for lack of a better word. Both of them say what's on their minds and fiercely (on Maze's part) protects the people that they care for. Trixie is now part of Maze's protective circle as is her mother and Dr. Martin. Must be nice having your own ninja bartender/demoness from Hell as your bodyguard.
On the subject of tonight's episode "Sympathy for the Goddess," Brandt says that she can't reveal much other than Maze will butt heads with Lucifer "in a [huge] physical way." "[The same thing happens in the comic books too.] Mazikeen is the character that stands up to Lucifer," She says. "It'll be challenged for sure." I am looking forward to seeing Devil and demoness duking it out on the streets of L.A. That and watching Detective Decker work together with the Goddess of Creation.
Photo via Araceli Aviles