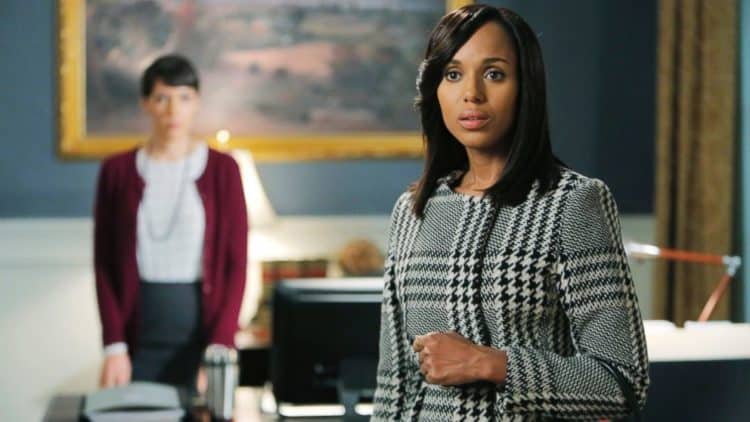 In another life, Gabrielle Union, famed for her role as Mary Jane Paul on Being Mary Jane, would have been Olivia Pope. The same can be said for Taraji P. Henson, who found success as Cookie Lyon on Empire. In this life, there can only be one Olivia Pope: Kerry Washington. It's a marvel how Washington brought her character to life in a way television has never seen before. Scandal, based on the life of crisis manager Judy Smith, achieved critical acclaim and had viewers glued to the screens on Thursday nights. Kerry Washington has in the past said that her character shouldn't be anyone's role model. Lovers of the show would disagree. Olivia had her issues, but when all is said and done, she did give us lessons we could use in real life, especially when she put her white hat on. Here are Pope's best lessons yet:
1. Be The Best At What You Do
Life has taught us not to toot our own horns, but when we first met Liv, one of the things we learned about her was what a kickass problem-solver she was. Liv had clients being sent her way because she was extremely good at what she did. Not only was she the best in town, but she also knew it, and didn't hesitate to tell everyone about it. She'd worked her way from law school, maneuvered around campaigning for Fitzgerald Grant (Tony Goldwyn), and eventually began her own firm.
2. No (Wo)Man Is An Island
As good as Olivia was, it was impossible to execute everything on her own. She had her trusted team of gladiators, Quinn Perkins (Katie Lowes), Huck (Guillermo Diaz), Harrison Wright (Columbus Short), and Abby Whelan (Darby Stanchfield), each of whom Liv saved at one point or another. In return, Liv knew she could count on her team. Even when the dynamics of the relationships changed through the seasons, that original bond Olivia had with her gladiators in suits was never truly broken.
3. Loyalty Is Of Great Value
Not only was Olivia loyal when it came to the people who worked for her, but she'd also extend the same diehard commitment to her friends. When Olivia's father threw Jake Ballard (Scott Foley) into a hole, Liv revived the Sunday dinner arrangement that had since taken a back seat in exchange for Jake's freedom. And when Cyrus Beene (Jerry Perry) thought he was a failure and wanted to quit, she was quick to put some sense into him. " The Cyrus Beene I know doesn't hide in his half-empty closet and wet his pants like a little b**** baby!" Olivia yelled at a defeated Beene.
4. So Is Embracing Change
Time and again, we find ourselves stuck in the same place, doing things the same way, even though we've outgrown where we are. It's okay to make room for change. Though she loved her baby, Olivia Pope and Associates (OPA), when the time came to give it up, Liv let go. She handed the firm to the next best person she knew could run the place, Quinn, renaming it Queen Perkins and Associates.
5. Stand Up For Yourself
Rowan Pope was many things, but not a father one could be particularly proud of. He was always Command, even when Olivia and Jake were in charge. The man had power and knew how to use it, sometimes pushing Olivia to the wall. Despite preaching of a father's love, Rowan talked down on Olivia many times, and sometimes, she proved that she was indeed her father's daughter, and held her own. " I am many things, but stupid is not one of them." Liv said when she refused to board the plane in the iconic 'You have to be twice as good' scene.
6. It's Okay To Choose You
As much as Olivia had her team and close friends, outside relationships with other people, Liv was in tune with who she was. She love her wine and popcorn, exercised in killer fitness wear, and was whole on her own. When Olivia began busting a move in her living room, she said the magic words to Jake, " I'm not choosing Jake. I'm not choosing Fitz. I choose me. I'm choosing Olivia…You can dance with me, or you can get off my dance floor. I'm fine dancing alone."
7. Know What Works For You
Olivia Pope loved her freedom. She thrived when she was in control. Transitioning to the White House where she was surrounded by secret service and couldn't so much as open her own car door proved to be a nightmare. As much as the thought of being with Fitz was exciting, the reality of what she'd asked for was a 360-degree turn from the independence she previously enjoyed. It was…prison. You know it's not right when it doesn't feel right.
8. Good Relationships Don't Hurt
Even though most of what we learned about Liv was based on who she was, there are things we could learn from who she wasn't. Her romantic life was all over the place and she was used to getting the short end of the stick. For her to scream " Earn Me!", she must have had enough. Liv, however, brought it upon herself. Speaking to Edison (Norm Lewis), Liv said, " I want painful, difficult, devastating, life-changing, extraordinary love."
9. Real Power Is Latent
Another lesson based on who Liv wasn't was brought out through her father, Rowan Pope (Joe Morton). Liv was powerful, but one too many times, she let everyone know. People who are powerful don't have the need to show it. They just are. In the words of Rowan Pope: " Real power is silent. Real power is hidden. Real power was there all along. Real power cannot be gained and never can be lost. It is not a commodity. It is who you are."
10. Follow Your Heart
One too many times, Olivia and Jake talked about standing in the sun; a place far from the chaos, where B613 did not exist, and they would pretend not to know the things they know. In 'the sun', there were no cases to solve or press conferences to hold. By standing in the sun, Liv wouldn't have to worry about a world in which she was a mistress. In Liv's eyes, however, the thrill of running OPA weighed more than the peaceful life the sun had to offer. She went with what excited her heart more.
Tell us what's wrong with this post? How could we improve it? :)
Let us improve this post!