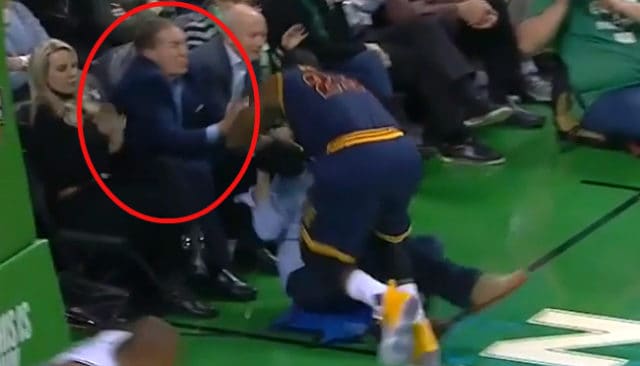 Lebron James and the Cleveland Cavaliers had a pretty rough night last night. Not only did they lose to the Celtics at TD Garden, Lebron James nearly took out New England Patriots head coach Bill Belichick. James himself had a phenomenal game as he usually does in Boston. James finished with 32 points, 18 rebounds, and 11 assists in the 103-99 loss. However the clear highlight of the night came in the 4th quarter when James was going for an offensive rebound.
James lost his balance as many players do and came tumbling into the sidelines. While this is a normal occurrence, the person with whom he nearly smashed into was Belichick. James managed to hold up when he saw who it was. Even James himself commented "I'm not taking no legend out." What's funny is that the literal meaning of this sentence is that if James wanted to he could have easily plowed into the head coach but consciously chose not to.
I would imagine that any fan outside of New England is a little angry at Lebron right now. Here's the clip of the near collision.
LeBron James on almost sacking Bill Belichick: 'I'm not taking no legend out' #NBA #DefendtheLand #Patriots #NFL pic.twitter.com/hoT5wMYKxo

– Jimmy Gower (@SoflaJimmyG) March 2, 2017