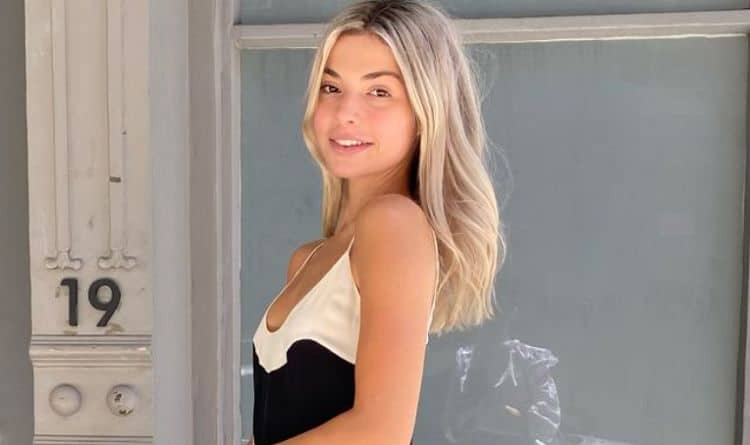 During premiere of the 25th season of The Bachelor, viewers were introduced to the 32 women who are competing for a chance at love with Matt James. Among them was New York native, Kit Keenan. Kit immediately began turning heads when she pulled up to The Bachelor mansion in a Bentley. As soon as she stepped out, it was clear that she came to shut it down. At the end of the episode, Kit was found of the women to receive a rose from Matt which earned her the chance to stay in the house and get to know him better. Only time will tell if she makes it all the way to the end, but so far she's off to a promising start. Keep reading for 10 things you didn't know about The Bachelor contestant, Kit Keenan.
1. Her Mother Is A Well-Known Fashion Designer
Kit has a great sense of style, and that's because the apply didn't fall far from the tree. Her mother is Cynthia a well-known fashion designer based in New York City. Cynthia has her own clothing line and her designs are often featured at New York Fashion Week.
2. She Likes To Switch Her Style Up
The fact that Kit loves fashion isn't a secret, but she doesn't like to stick to just one look. During an interview with Fashion Week Daily, Kit said, "My style is very garden fairy/pink princess most of the time. Then there's my 12-year-old boy alter ego that comes out sometimes who just wants to wear boxer shorts and scour resale websites for vintage skate tees. I think it's important to have balance and mix it up."
3. She's A Podcast Host
On top of her love for fashion, Kit also loves creating content. She is the co-host of a podcast called Ageless which she hosts with her mother. According to the show's description, Ageless explores "fashion, business, wellness, and motherhood through the lens of our adventures around the world." The podcast is available on all major streaming platforms.
4. She Loves Working Out
Putting on cute outfits isn't the only way Kit likes to look and feel her best. She is also a very active person and she spends a lot of time working out. From going to the gym or doing home workouts to hiking, Kit makes it a point to find ways to incorporate exercise into her regular routine.
5. She Likes To Surf
Some people may look at Kit and assume that she's the dainty type who is afraid of everything, but they would be completely wrong in that assumption. Kit has a very adventurous side and she loves to go surfing whenever she can. According to Bachelor Nation, she can even surf in high heels.
6. She's Verified On Instagram
With every season of The Bachelor, there's always rumors and rumblings that there are contestants who are simply on the show to try to boost their personal brand. Some people think that may be the case with Kit. She has 81,000 followers on Instagram and her account was verified long before she got on the show which leads people to believe that she is just doing the show to get more attention. Kit, however, insists that she is genuinely looking for love.
7. She's The Youngest Contestant
The fact that Kit is only 21 also adds fuel to the argument that she is just doing the show for the sake of being on TV. She is the youngest woman in the house and is seven years younger than Matt James. She is also currently a college student at New York University.
8. She Launched Her Own Fashion Line
When Kit was just a teenager, she started her very own fashion line called Kit. During an interview with Town and Country Magazine, Kit shared that she has always been business minded and that combined with her love for fashion seemed like a natural progression to starting her own line. It's unclear whether or not the line still exists.
9. She's Never Really Been In A Serious Relationship
Although Kit says she's ready to settle down, she doesn't have a lot of dating experience. Other than her high school sweetheart, she hasn't really been in a relationship. Going from never having been in a serious relationship to getting engaged in just a few weeks seems like a big jump, but hopefully it's one that Kit is ready to make.
10. She Likes To Cook
Thanks to being a college student, hosting a podcast, and being involved in the fashion world Kit probably doesn't have a lot of free time on her hands. When she does, however, she enjoys spending it in the kitchen. She loves experimenting with different recipes and trying new foods.