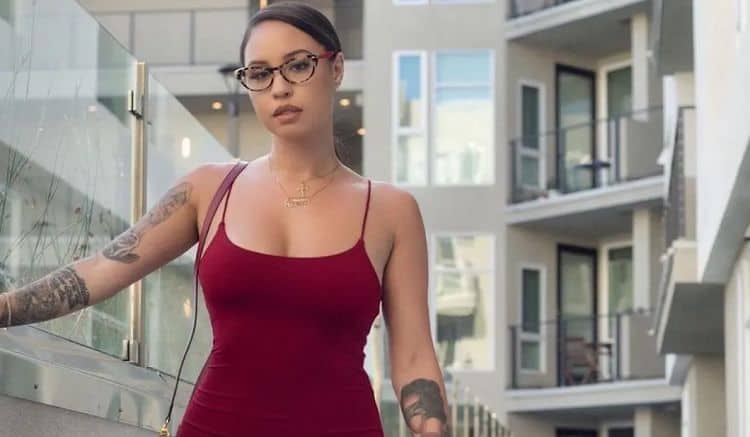 Fans of "Black Ink Crew: Chicago," have always had a thing for Katrina "Kat Tat" Jackson. The former star of the show has that spark fans love to enjoy, and she's made many people fall for her over the years. She's been living her life, providing people with her beautiful talents and her fun personality, and everyone loves to keep up with the star. Right now, she's got a lot of exciting things going on in her life, and her fans are even more curious about what she's been up to in the past few years – aside from her wonderful news of becoming a new mom. We send her the best of wishes with her new baby.
1. She is Exceptionally Talented
Something that Kat Tat has going for her is that she is exceptionally talented. Her ability to provide people with the most beautiful tattoos is something that enamors her fans. She's among the best of the best, and her specialty has always been a delicate portrait style tat.
2. She Tattooed Herself
When you get a tattoo on your body, it's forever. You want the best of the best to work on you because you know you're carrying this ink around for the rest of your life. However, what happens when you want a tattoo and you are the best of the best? You give yourself a tattoo. Kat Tat did this for herself when she was on reality television, and it's nothing that has ever been done before.
3. She Owns Her Own Company
Fans were crushed when their favorite artist left Chicago to change her life and find things for herself. They were not happy to see her go, but many are happy to know that she is thriving. She's currently living and working in Los Angeles. She's got her own tattoo shop called Enigma Tattoo. She's doing quite well with her work there, and the West Coast is happy to have her.
4. She is Into Art
While in LA, she's not just focused on the kind of body art she can create on her clients. She's also into artwork, and that's why she also opened the Enigma Art Gallery in Beverly Hills. She is doing well, and both her gallery and her tattoo shop are thriving in the upscale Beverly Hills scene.
5. She is Dating
Another thing that her fans are excited about is that she's found love and she's happy. She is dating an NFL player by the name of Jamie Collins. He plays for the Detroit Lions, and the two have been happy together for some time now. She doesn't discuss her private life often, but fans love when she shares a sneak peek into her happy new life.
6. She's a New Mom
Kat Tat is good about keeping her life to herself, which is why fans were shocked when she announced her pregnancy at the end of March 2021, and then turned around and announced the birth of her son less than two months later. Her little boy was born at the beginning of June 2021. His name is Jackson, and she is smitten with her new littlest love.
7. She is Inherently Private
Katrina Kat Tat Jackson is a private woman. She's had her fair share of drama being on reality television and being a star, but she is not someone who enjoys bringing the drama onto herself. She doesn't invite it into her life, so she keeps her head down, she does her work, and she lives her life without giving anyone anything to talk about.
8. She Made History
One thing that Kat Tat has going for her is the fact that she's made history – and she's proud of it. She is the first black tattoo shop owner in Beverly Hills, and that's something she's proud of. She doesn't focus on making history, but she's happy to be a role model and a positive example for other young women and young men who aren't sure they can pursue their dreams.
9. She Gets it From Her Mama
When asked where she got her artistic abilities from, she will credit her mother from start to finish. She's been artistic her entire life, but she credits her mom for being the one who passed that talent along to her kids. She was artistic, and she would spend her time making art with her kids when they were growing up.
10. She's A Winner
If you were ever in doubt that Kat Tat is not as talented as you might think, consider the fact that she was a teenage girl whose art was so good she was able to travel to Florida and have her artwork shown off. It was the moment she realized that her artwork could become her future, her life, and her way of living.
Tell us what's wrong with this post? How could we improve it? :)
Let us improve this post!