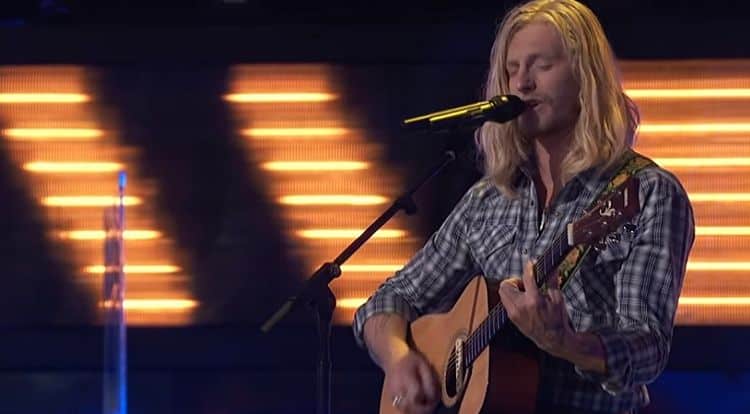 When Jordan Matthew Young got the chance to perform in front of the judges on The Voice, he knew that he had to bring his A game. Not only did he rise to the occasion, but his performance of "I'm No Stranger to the Rain" resulted in three out of the four judges turning around. Even though Jordan had a tough decision on his hands, he decided to join Team Blake. Many viewers felt like Jordan made the best choice given that he and Blake are both country artists. As Jordan prepares for the rest of the competition, there are already a lot of people who see him making it all the way to the end. Continue reading for 10 things you didn't know about Jordan Matthew from The Voice.
1. Kelly Clarkson Is One Of His Biggest Inspirations
Despite not choosing to be on Kelly's team, she will always have a very special place in Jordan Matthew's heart. In an Instagram post he revealed that he purchased Kelly Clarkson's debut album when it was released because he was a huge fan of her voice. He also added that Kelly "was actually a huge inspiration in my life when it came to learning about powerhouse singing."
2. He Released An EP
For the last several years Jordan Matthew has been working very hard to build a strong foundation for his career. Not only has he done hundreds of performances, but he has also put out his own project. His EP, Rain or Shine, was released in 2017 and contains four songs.
3. He Was In A Band
Prior to seriously embarking on his solo career, Jordan was a member of a band called Candy's River House. The band released a few projects including an album in 2015 called American Night. The project received lots of positive feedback and according to Idol Chatter, it won Album of the Year at the Best of Utah Music Awards in 2016.
4. He's Self Taught On The Guitar
During Jordan's blind audition, viewers got to see that he also has some serious guitar skills to accompany his voice. What many people may not have known is that Jordan taught himself how to play the guitar. He is also self-taught on the piano. Anyone who has ever tried to learn an instrument knows just how major both of those accomplishments are.
5. He's An Outdoors Kind Of Guy
When Jordan isn't performing or in the studio working on new music, you can usually find him outside soaking in the beauty of nature. Hiking is one of Jordan's favorite activities. He loves exploring new scenery and being outside is a great way for him to center himself.
6. He Likes To Travel
Music has been much more to Jordan than a tool for him to express himself, it's also allowed him to see things he may not have otherwise had the chance to. Thanks to his musical skills, Jordan has gotten to travel both nationally and internationally. In 2019, he got the chance to tour across the Netherlands.
7. He Was In The High School Marching Band
When Jordan was a teenager he was a member of one of the best high school marching bands in the state of Utah. Unfortunately, he ended up switching schools and the program at his new high school wasn't as strong. Jordan didn't let that discourage him, however. He worked hard to help build up the new marching band and after graduating he was hired to help run the program.
8. He's In A Relationship
Life is always easier when you have someone by your side, and Jordan feels lucky to have found his person. He is in a relationship with a woman named Catherine Davis who appears to be a visual artist and a musician. It's unclear exactly how long the two have been together.
9. He Has A YouTube Channel
Jordan started a YouTube channel back in 2013 and he's posted over a dozen videos, but he hasn't been very consistent with his content. Although he has less than 250 subscribers, his channel has still managed to bring in more than 34,000 views. That number will likely increase as more fans of The Voice continue to find the channel.
10. He Builds Houses
Jordan isn't just good with his voice, he's also good with his hands. At the moment, he earns a living by building houses with his dad. If things go well for him on The Voice, his days of manual labor may become a thing of the past. Even if he doesn't win the season, he could still generate a big enough buzz to become a full-time musician.
Tell us what's wrong with this post? How could we improve it? :)
Let us improve this post!