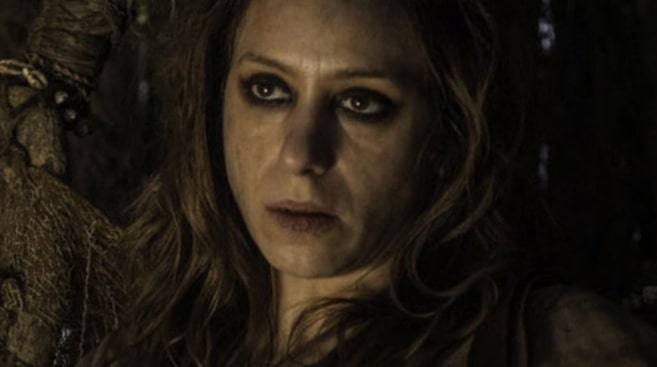 It seems that recently there has been a rise n the number of British performers that we see in movies and on television, but especially on TV. It may just seem that way, since 99% of the television we watch consists of American programming, so since a few shows feature predominantly British stars we think the number is shooting up overall. Or it could simply be that it really is. Whatever the case, a few of our recent '10 Things' lists have focused on different British talents who seem to be coming into their own. Most of them seem pretty new to the game, but there are always those few who have been around for some time, even though we aren't familiar with them. Jodhi May is one of those performers.
The 44-year-old actress has been a show business presence on television, screen, and stage since 1988, when she was only 12 years of age. Since then she has appeared in several movies, upwards of 20+ television films, a handful of miniseries shows, and has won awards for Best Actress (Cannes Film Festival award for 'A World Apart', 1988), Most Promising Newcomer (Evening Standard British Film award for 'A World Apart', 1988), Best Actress (Valiadolid International Film Festival award for 'Sister, My Sister', 1994), and Best Actress (Silver Dolphin Award for 'The Gambler', 1997). In short, she has worked almost constantly, perfoming in one television production, or series, or another, since she started to act.
So, what have you seen that featured Jodhi May? Well, don't fret if you can't really pinpoint anything off the top of your head; it's always easier to spot actors and actreses on the screen or stage once we have learned more about them and have become familiar with them as individuals. That's what we'll take the time to do here; we'll get to know Jodhi May through the normal list of ten facts that you likely didn't know before. We think you'll be surprised what you'll learn about this talented woman.
Here are 10 things you didn't know about Jodhi May:
1. Early Life
Jodhi Tania Edwards was born on May 6, 1975, which makes her a Taurus born in the Year of the Rabbit; her surname was legally changed in later years. She was born in Camden Town, London, England to her mother, Jocelyn Hakim, a French-Turkish art instructor who agreed to marry artist and designer Malcolm McLaren while she was still a student herself; she did this in order to obtain citizenship in England. Her mother paid her father £50 to marry her in 1972. Their subsequent divorce ended up costing Malcolm's mother £2000. It should be noted that May has never named McLaren as her biological father; she only states that her natural father is of German descent. Jodhi successfully complete her primary and secondary education at Camden School for Girls.
2. Further Education and Onset of Acting
After graduating high school, Jodhi enrolled at Oxford's Wadham College, where she studied English primarily. She attended the college only briefly before picking up where she left off with acting, which she had begun at the age of 12. It was then that she was cast in the film 'A World Apart', a movie which had a message speaking out against apartheid. It was for that film, her first, by the way, that she won her first Best Actress award, whaich was given to her at Cannes Film Festival; she was co-winner with her two co-stars, Barbary Hershey and Linda Mvusi. In 1994 she took on one of two lead roles in 'Sister, My Sister', which was based on the Papin murder of 1933. Subsequently she starred in 'The Gambler', and other film for which she won a best actress award. Since, Jodhi has made countless appearances on stage, screen, and television, and has not gone without work since she started out as a youth.
3. Personal Life
At the time of this writing, the actress/ director/writer is not married, nor has she ever been. According to pretty much all sources available, she isn't involved in any kind of relationship at the current time, and she doesn't have, nor has she ever had, children. It seems that the actress is kept very busy with her profession, and it is her first love. Because of this, interpersonal relationships, having children, and /or settling down have not been a focus in her life. Whether or not she has plans for the future remains to be seen.
4. Net Worth
According to Net Worth Buzz Jodhi May has appeared in more than 60 films and television roles over the course of her career, which began in 1988. Since then, she has not only made quite a name for herself, but she has also earned a pretty penny in the process. It is said that May's net worth, estimated for 2019, stands at approximately $3 million, but could be even higher. To break it down, Jodhi earns nearly $150 per hour, and gets between $30k and $40k per television episode she is in.
5. 'The Reluctant Celebrity
Sources say that even though she has been a legitimate actress, starring in Hollywood films and television shows for more than thirty years, it has only been recently that Jodhi has been getting the recognition she deserves as a 'superstar'. But according to The Independent, May finds herself somewhat frightened by the prospect, if not be the word alone. So, what is it about being a 'superstar' that scares her? Well, let's study the facts. Jodhi is a bold and blazoned intellectual; anyone who knows her can tell people this. She also just recently bought her very first television. The Independent says she never owned one before in her life, and that she saw no reason to get one (until now, that is). The truth is that she only got one due to pressure from a playwright who penned 'Friends and Crocodiles', which she starred in recently. Since it was on TV, he advised her to get a TV to keep up on the series. May says she hardly turns the set on. As a matter of fact, there are many things she doesn't 'watch' or pay mind to. One is the rave reviews and praises she gets for being an extraordinary actress. She basically lets these things go in one ear and out the other. She does what she loves, but she places no true importance on the words of critiques, as those words matter very little when it is all said and done. She says she loves her job, but she could do without everything that goes with it. Basically, she got into acting for acting's sake, and the rest of the bells and whistles are something like thorns in her side. But since they can't be avoided, she simply pretends those things don't exist.
6. Zodiac and Star Sign Traits
As previously mentioned, being born on May 6th makes Jodhi May a Taurus. Taurus women are said to be mostly laid back and down to Earth, but they do have a high capacity for provocation if the circumstances are right. They can be very stubborn if things don't go as they desire, which goes hand in hand with their determination and persistence. All of these things together can motivate friends and loved ones of this star sign to become impatient and frustrated with the Taurus female in their life. May was welcome into the world in 1975, which is the Year of the Rabbit according to the Chinese zodiac. Children of the Rabbit born in 1975 are often seen as calm, gentle, and maybe even meek, and are may times perceived as weak because of this docile nature. But the fact is that the rabbit is literally filled with a high self-confidence level, and they are also very strong emotionally and mentally. They are goal oriented, and are blessed with outstanding skills for reasoning and deducting. Because they are quite social they get along well with anyone they meet, but it is difficult for them to divulge their true selves and emotions to others, ; this perceived distance is often used as an escape by the Taurus.
7. An Actress, But She Writes and Directs Too
The 2002 short film entitled 'Spyhole' was actually both written and directed by May herself. It was filmed on 35mm film and is only a mere seven minutes in duration. The film is about a couple whose relationship is in something of a rut, and the spark is gone. So, when their neighbors take a vacation, the wife offers to take care of their pet cat, but once they are gone and she and her husband get inside the house, they discover something that leads them back to the love and passion they left orphaned during the years that passed. She also directed 'Moving On', which she also wrote, as well as the movie 'Clink'.
8. Recent Works
While it is true that Jodhi has been involved in countless projects to date, most likely recognize her from 'Game of Thrones', the hit series in which she played Maggy in 2015. Or she could be familiar to you because of her role as Katharine Bulmore on the series 'The Jury'. Actually, it could be from anywhere. But more recently she is making waves for her role in the new Netflix Original Series 'The Witcher', which is getting more and more popular with each passing day. The show, which documents the life of the journeying of the main character Geralt, also stars Joey Batey, Henry Cavill, Amy Adams, and Freya Allan, features Jodhi May in the part of Queen Calanthe.
9. Social Media
Unlike most everyone else roaming on the surface of the planet today, Jodhi May stands out from the crowd. She may be roaming like the rest of us, but UNLIKE the rest of us, she isn't roaming with a smartphone glued to her hand and poised before her face while she does it. It seems that she is content to let her life take its course away from the intruding eye of the public, and she lets marketing people market her work instead of one of her 'pages' on one social media platform or another. Like the television set she just bought after a lifetime without one, Jodhi can't be bothered to post her life away, and we applaud her for this refreshing truth.
10. Anti-Standing Out
When it comes to television sets, social media pages, or hating critics and reviews, Jodhi May feels the same about them all: She doesn't want anything to do with any of it. She is very protective of her private life, according to the Telegraph, protective to the point that she is borderline obsessed with staying out of the limelight. And the truth is that this obsessive mindset has worked. While the actress has been in more than 60 works on stage, screen, and film, the Telegraph says that we could walk down the street right next to her and not have a clue who she is at all. We call that 'successfully keeping to yourself while being before everyone's eyes'. Kudos to her; if only she had a child to protect from the starving public.
Jodhi May is certainly a busy, and very accomplished actor, writer, and director, and she wants to do it because she loves it, not because others demand it or scream her name while tearing at their clothes. Instead, she is content to just be Jodhi, and in the end, that is really all that this life is about isn't it? Actress or not? We're happy that she has found a way to successfully do what she loves while simultaneously keeping the greedy fans at bay, and we hope she is an example to others with the same desire. We wish Jodhi May the very best, and may she continue to prosper and bless others with her gift just as she has done for the last thirty-plus years.
Tell us what's wrong with this post? How could we improve it? :)
Let us improve this post!