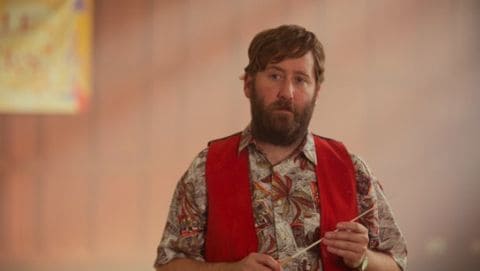 Some of the funniest and memorable television shows have been brought to us from the United Kingdom…it's hard to deny. Music that set the bar has been gifted to us from there as well. It's easy to come up with the topic of a new '10 Things' list with so many to choose from when it comes to performers from jolly old England.
And it is from that vast array of options that we made the choice for this list. Jim Howick is an actor and writer from the United Kingdom who is best known for his roles on British television shows such as 'Ghosts', 'Horrible Histories', 'Sex Education', and 'Yonderland'. He has managed to build up something of a name for himself through acting, and it seems that he will become more known in the US in the future. With this in mind, we thought it would be a good idea to brief all of you in regards to his life, personal facts, and other unknown bits of trivia that will help you become more familiar with the man and his work.
Below is a list of ten things you probably don't know about Jim Howick. From his career to his home life and his relationships with family and friends, you will find most all of your questions answered…questions you would have at this point, anyway. While we're quite sure that you will come up with more things to muse about when it comes to Howick in a few years, we thought the following would suffice for now. So, read on and discover a talented actor from the other side of the pond who is making his mark in show business.
1. Birth and Early Life
Jim was born in Chichester, West Sussex, England on May 14, 1979; he is a Taurus born in the Year of the Goat. He attended Bognor Regis Community College and the Mountview Academy of Theatre Arts, from which he graduated with First Class Honors in 2000. At the current time, the names of his parents and other family are not given.
2. Career Paths
When he was still a youngster, Jim showed others that he was made for fame by performing with a punk rock band called BliSter; he was the drummer. As far as acting, he started out as a sketch comedian before he began to get his television roles, which also included an appearance on 'Peep Show'. In 2010 he won a Children's BAFTA award for his role in 'Horrible Histories', and he also appeared in 'The Kevin Bishop Show'.
3. His Works
Howick not only acts, but he is also the writer of the eight-part fantasy/comedy series 'Yonderloand', which airs on SkyOne; he is also one of the creators of the show. BBC also produced a comedy for film called 'Bill', which Howick starred in with the same gang that he worked with in 'Horrible Histories'; the film is based somewhat loosely on the biography of William Shakespeare. He played Gerry in 'Babylon', Anthony in 'Reggie Perrin', and appears regularly as a guest star in sketch comedies, one being 'The Armstrong and Miller Show'. He also played Aaron in ITV's 'Broadchurch', and he starred in the Netflix original series 'Sex Education' in 2019. In addition, Howick co-created, co-wrote, and starred in the BBC One sitcom 'Ghosts. He has also appeared in a number of films, including Guillermo del Toro's version of 'Hellboy', 'Wannabe', and 'Action Team', to name a few.
4. Vertically Challenged?
Well, we guess so, if height really matters; it's not like he's playing professional basketball, now, is it? According to sources, Jim stands a towering (tongue-in-cheek) 5 feet, 4 inches tall, or 1.64 meters. While he isn't the biggest man in the world, his personality and talent is large, to say the very least.
5. Zodiac Signs and Personality Traits
Jim was born on May 14, which makes him a Taurus. The Taurus man is very down to earth and funny, which makes him seem very attractive and sexy to others. They also tend to be very balanced in their life and choices, as they are sensible, dependable and reliable. They are also very patient, and tend to be sensual when it comes to the opposite sex. He was also born in 1979, the Year of the Goat. Goat children are said to be easy going, a bit timid, steady, and they are very gentle and kind. They also have a very strong loyalty to all things just, and at the same time they seem to be very selfless, as they are always putting others first. Jim's birthdate and birth year make him very grounded, reliable, and funny.
6. Personal Life
While there is no real references made to past girlfriends or romantic interests, Jim did marry Lauren Denny in 2012; the couple have no children. Lauren is a costume assistant on the set of many television shows and movies, many of which Howick has taken part in. The pair may have children in the future, but at the current time nothing is mentioned regarding dates or plans for such.
7. Social Media
At the current time, Howick is active on social media. On Instagram he can be found under @jim.howick, where he has 978 followers. He is also on Twitter under @JimHowick. Fans can find and follow him on these platforms, where he posts both personal and professional status updates.
8. Where He Calls Home…
While Jim does travel for work, as most entertainers do, he makes his home with his wife in England. It is highly likely that he will continue to reside there for some time to come, though he will not let his place of permanent residence interfere with what he is doing professionally. This may very well be the reason that he and the Mrs. have opted to put off starting their family for the time being.
9. Net Worth
Since getting his professional start in 2000, Howick has had his fingers in a variety of entertainment pies, so to speak. Between movies and television shows, and taking into consideration that he is credited several times with creating and writing many projects, Taddlr.com states that, as of 2020, Jim has an estimated net worth of around $12 million. It's safe to say that he isn't doing to badly.
10. Future Plans
As far as we could determine, Jim plans to continue his path as it is for the time being. He will continue to write, spark off new ideas, and act, and he plans to remain very involved with his craft in the future. He and his wife would like to have a family, but that is something that they have not set in stone, date-wise, and they will likely continue to reside in England for the duration.
Jim Howick has shown more than just a smidgen of promise when it comes to his profession of choice, and has managed to participate in a vast array of different works, most of which are comedy based. It is almost inevitable that he will breakthrough onto the American screens (big and small) in the future, and we here in the states look forward to his brand of entertainment becoming a regular thing. However, many of his credited shows and movies can be seen through streaming channels, including Netflix, so check out his work, and you will see what we mean. We wish Jim nothing but success, and hope that he finds the pot of gold at the end of the acting rainbow.