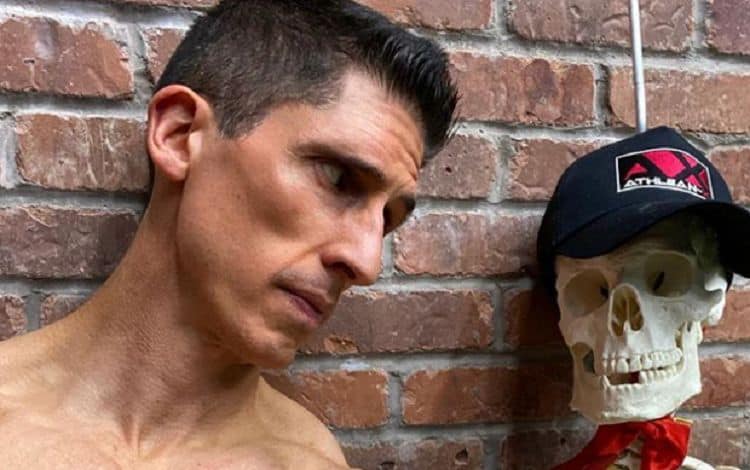 Jeff Cavaliere has had a very impressive career. At the beginning of his journey, he probably had no idea that he'd end up becoming an internet star. As a talented physical therapist and trainer, he eventually brought his knowledge and work ethic to the internet where his brand, Athlean-X, has become a huge hit. His YouTube channel ha 10.5 million subscribers and his Instagram account has 2 million. One of the reasons Cavaliere has become so popular is because he has the ability to make exercise fun, educational, and accessible. If you need a bit of a boost to start burning those calories, Jeff Cavaliere is your guy. Continue reading for 10 things you didn't know about Jeff Cavaliere.
1. He Was A Physical Therapist For The Mets
Jeff Cavaliere first started getting attention when he began working as the head physical therapist for the New York Mets. He worked with the organization for nearly four years before branching out and doing his own thing. While with the Mets, Cavaliere got to work with some of the most talented athletes in baseball including Jose Reyes and Pedro Martinez.
2. He Has A Master's Degree
There are lots of people who have started fitness brands online, but that doesn't necessarily mean they're qualified to do so. However, Jeff Cavalier has all the qualifications and then some. In 1997, he earned a bachelor's degree in physioneurobiology from the University of Connecticut. Three years later, he earned a master's degree in physical therapy from the same school.
3. He's A Writer
Jeff is passionate about sharing his fitness knowledge with the world. While he is best-known for the content he posts on YouTube and Instagram, he has also written content as well. According to his LinkedIn profile 2 has been writing content for the internet since 2004.
4. He's Been Accused Of Using Fake Weights
When you're looking to someone for fitness advice, it's important that you can trust them. But unfortunately, Jeff may have tarnished his trust with some of his followers. Recently, Jeff was accused of working out using fake weights. A fellow YouTuber pointed out some inconsistencies with Jeff's form and the amount of weight he claims to be lifting. Jeff hasn't spoken out in response to these allegations, but it seems like lots of people aren't that concerned with whether his weights are real or fake.
5. His YouTube Channel Has Over 1.5 Billion Views
Becoming a YouTube star isn't an easy thing to do. With countless people creating channels on the platform, finding a way to stand out can sometimes feel impossible. However, Jeff has managed to do it. He is one of the most well-known fitness personalities on YouTube. On top of having 10.5 million subscribers, his channel also has a total of 1.6 billion views.
6. He's A Private Person
Despite the fact that he spends a lot of time posting things on the internet, Jeff isn't someone who likes to post a lot about his personal life. Instead, he likes to keep his content on brand which means that almost everything he posts is related to health and/or fitness.
7. He's A Dad
Even though Jeff doesn't share too many details about his private life, we do know that he is a devoted family man. He is happily married and the proud father of two young boys. He loves to spend time with his sons and often them includes them in his workouts.
8. He's A Sylvester Stallone Fan
Sylvester Stallone isn't just a legend in Hollywood, he's also a legend in the fitness community. Jeff has always been a huge fan of Stallone and considered him his childhood hero. In fact, Jeff initially modeled his ideal body type after the actor. Ironically, Stallone is also a fan of Jeff and all of the work he's done. Stallone has even purchased some items from Jeff's Athlean-X line.
9. He's A Public Speaker
Looking good is always a great motivating factor when it comes to working out and getting in shape, but that isn't the only thing that motivates Jeff Cavalier. One of his main goals is to inspire others. In addition to the content he posts online, Jeff also does public speaking gigs.
10. Science Is A Big Part Of His Training Philosophy
Jeff Cavalier is a big believer in the scientific element of fitness. His program is centered around the science of the body and how all of our muscles work together. For many people, this approach adds an extra layer of legitimacy to the things he teaches and the workouts he creates.
Tell us what's wrong with this post? How could we improve it? :)
Let us improve this post!