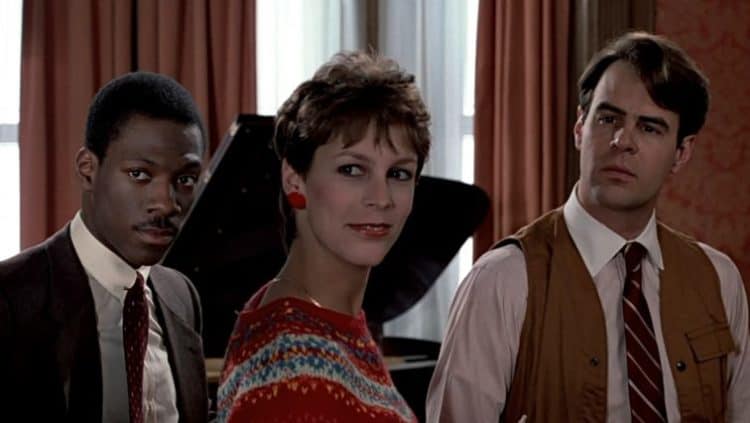 A lot of people are seriously jonesing for the movie theater experience at the moment but until the theaters get to open up again, whenever that might be, it sounds as though Lionsgate will be hosting a live-streaming even on YouTube with Jamie Lee Curtis as the special guest and host. While the service is free of charge there will be some encouragement to donate to the Will Rogers Motion Pictures Pioneers Foundation, which was devised to help out those in the motion picture industry as Ryan Scott of MovieWeb has stated. As a lot of people should be able to imagine this shutdown has gone particularly hard on a lot of people whose jobs have been seen and dubbed as non-essential, meaning that there's no real reason to keep things running as they were considering that the more people who gather together the more likely it is that the coronavirus will continue to spread. This means that studios have been shut down, theaters have been shut down, and in the process everyone that worked in said businesses are currently out of a job. Some folks might be callous enough to say 'just go on unemployment, or find another job' which is practical to say the least but still kind of rough since the prospect of finding a job right now isn't exactly as easy as people might think. Plus, for those that have been working in the theater or entertainment industry there's a good chance that some of them would have to take a serious cut in pay after switching jobs.
The event will be held on Fridays and will be ongoing for up to four weeks it sounds like, which is kind of odd since if Lionsgate is really hoping for people to donate one might think that they'd be wanting to host the experience more often and for a bit longer. After all when people hear the word 'free' they still tend to think that they'll get to partake as much as they want of something without ever having to pay out a single dime, which is pretty much the case in this scenario. However, if Lionsgate were to keep this idea running for a bit, possibly finding a new host every four weeks or so, they might find that people would donate a little more out of sheer gratitude when it comes being given so much content. Right now a lot of people are grousing about having nothing to watch, while some are griping about not being able to go to the theater, and many aren't even thinking of those that are out of work thanks to the shutdown, unless they happen to be the people that are out of work or know of someone who is. Erik Hayden of The Hollywood Reporter has another take on this subject.
This is a way of life now unfortunately, as theaters are and always have been places where people gather to try and enjoy the latest in entertainment and are at times packed in together to where only inches exist between them instead of feet. One might think that comfort of their own home would satisfy a lot of people when it comes to watching movies, but admittedly the subtle magic of the movie theater is something that is easy to understand since it's a luxury, a step outside of our comfort zones and into a place that offers a promise of an escape as we focus our eyes on the big screen and munch contentedly on whatever snacks we decided to buy at the concession stand. The upside of having to watch programs from home however is that we can pause the movie if needed for a bathroom break, can decide from a wide number of movies just when to watch, and don't have to worry about the person sitting next to us talking too loudly or making a bunch of noise. Well, we might still have that issue but it's easier to tell a family member to be quiet than to risk getting into it with a stranger.
Lionsgate at least is doing something to help people both enjoy their entertainment time and give back to the people that have been out of work since the shutdown occurred, which of course is a huge bonus for said individuals since a lot of folks aren't making a lot while off the clock and are likely trying to find something to sustain themselves and their families. Anything helps these days as the coronavirus is definitely making life a little harder as we watch aspects of our lives that were normal only a few weeks ago become inaccessible and unable to be enjoyed at the moment. It's a hope that once the virus is over and done with, or a vaccine is found, that theaters will still be able to reopen. Dan Reilly of Fortune has something to say about this. Until then a lot of people are doing what they can to help people endure.